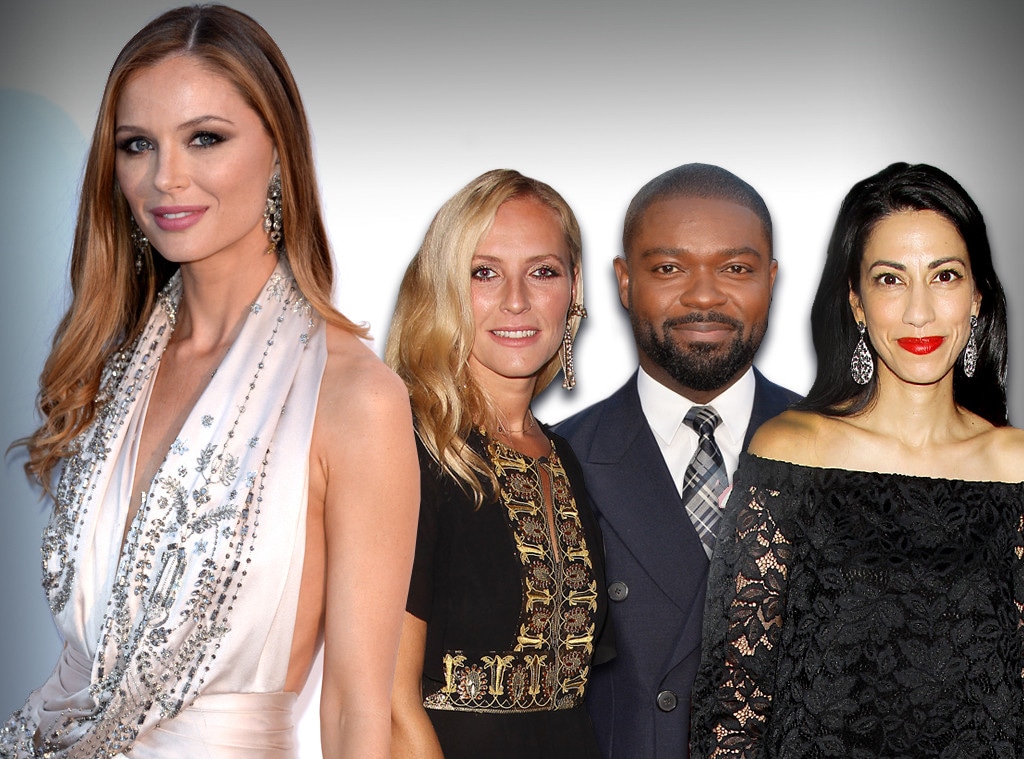 Shutterstock
When can you count on your friends if not in life's most difficult moments? 
For Georgina Chapman, that time has been the last seven months, during which dozens of public allegations of ranging sexual misconduct at the hands of her husband, disgraced Hollywood producer Harvey Weinstein, set life as she knew it ablaze. 
When the initial allegations emerged in early October, "I lost ten pounds in five days," she revealed in a newly published Vogue profile. "I couldn't keep food down."
"My head was spinning. And it was difficult because the first article was about a time long before I'd ever met him, so there was a minute where I couldn't make an informed decision. And then the stories expanded and I realized that this wasn't an isolated incident. And I knew that I needed to step away and take the kids out of here," she explained to the magazine. 
Sylvain Gaboury/Patrick McMullan via Getty Images
While women exposed the alleged secret behavior of the man she had been married to for close to a decade, the designer took their young daughter and son and left New York City, where Marchesa's office and atelier is located. That's when one of her longtime dearest friends stepped in. 
Keren Craig, a former classmate and the co-founder of Marchesa, has been by Chapman's side professionally for more than 10 years and even longer personally, so when her life was turned upside down, Craig sprung into action to pick up the pieces. "Our friendship always comes first, so foremost, I was worried for Georgina," Craig told Vogue. "Secondly, we have so many talented, loyal people who work for us, some who've been here for twelve, thirteen years, so my concern was to get to the office and get the collections out, so that people could be paid and pay their rents."
Dave Allocca/Startraksphoto.com
As her friend hid from the limelight, Craig sang her praises to the curious public. "She doesn't see herself as a victim," she said in an interview with Grazia in February. "That's very important. She's just trying to get on with her life. You've got to realize George is such a strong woman. Don't get me wrong—it's a very hard time. But she's quite inspirational." 
Craig was particularly impressed by Chapman's ability to continue working through such a challenging time, revealing that Chapman had contributed many sketches for their fall-winter 2018 collection. "I feel emotional about it because I actually couldn't believe how incredibly strong she was. She threw herself into her work. She threw herself into protecting her kids," Craig told Grazia while previewing the finished collection. "Marchesa is her life. It is her passion. You see it here: even though she was going through all that, these beautiful things have somehow come out of such a hard time."
While their business was tended to, another pal opened his doors to her—Golden Globe nominee of Selma and The Butler fame, David Oyelowo. As the actor recalled to the magazine, he first set eyes on her on a train ride to a college they were both visiting and, while the they were broken down for several hours, the future stars sparked a conversation. They've been friends ever since—roughly 25 years—and have supported each other's endeavors over the course of their friendship. So, when Chapman was in need, "I kind of found myself in a first-responder capacity,"he told Vogue, noting that he and his wife, Jessica Watson, took her and her little ones in. 
Perhaps the most fortuitous member of her inner circle is Huma Abedin, Hillary Clinton's trusted top aide and the ex-wife of disgraced politician, Anthony Weiner. Weiner is currently serving 21 months in prison for sexting with a minor. 
E! News learned back in October 2017 that Abedin—who had filed for divorce from Weiner months earlier—reached out to Chapman as the allegations against Weinstein grew more and more intense. They had known each other through fundraisers the former couple threw for Clinton, but got closer over playdates with their kids months before the scandal broke. 
"We just...bonded...in allll kinds of ways," Abedin told Vogue. "This particular club, ironically, it's not such a small one: women who have had to endure it in such a public way, women like Georgina and me. People don't feel sorry for us; you don't get that empathy. People think you're beautiful, you're thin, you're rich, you're photographed on the red carpet, and you get stuck in this category. There's so much more depth beyond all that with Georgina."
It sounds like her inner circle can vouch for that.