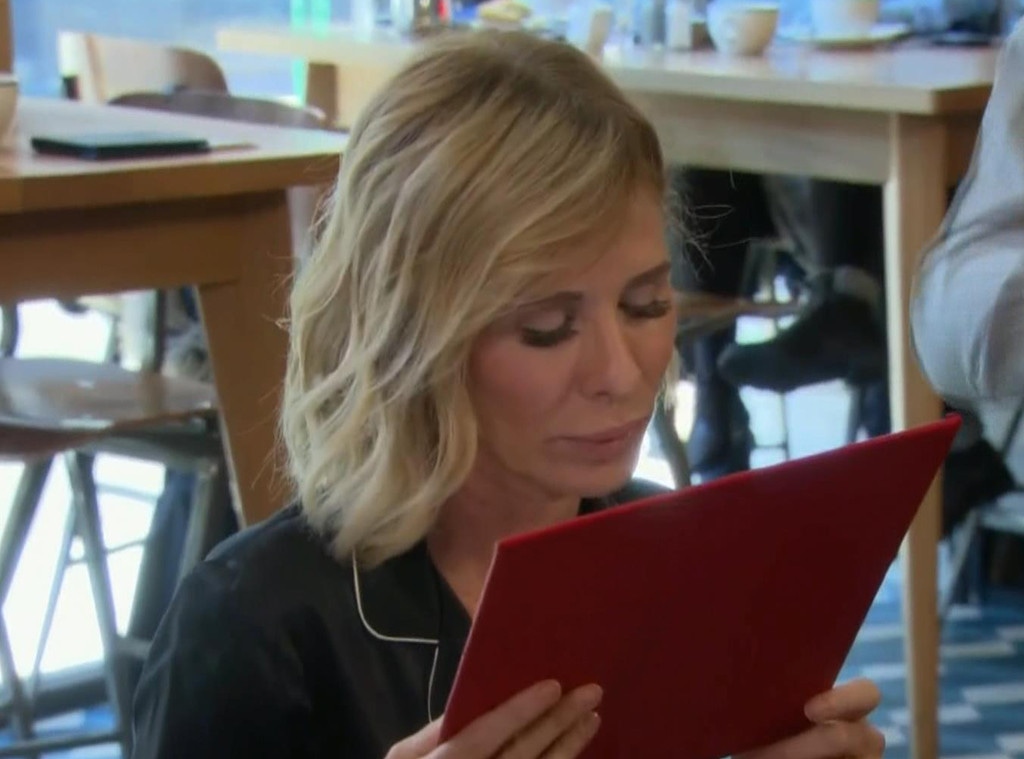 Bravo
Carole Radziwill is setting the record straight.
After last night's episode of The Real Housewives of New York City, fans have been left wondering two things about ol' Cool Carole. 1. Did she really not express any interest in Bethenny Frankel's humanitarian efforts in Puerto Rico, as alleged by her former BFF B? And 2. What the heck is up with her egg order?
Well, she addresses both queries in her latest blog post on Bravo's website. And while the answer to the latter has an easy explanation—"I seem crazy, no? Clearly I'm not having a good week."—it's her response to the former that takes up the bulk of her essay and has us wondering what was really going on between the estranged friends when cameras weren't rolling.
"Bethenny can invite whomever the hell she wants to Puerto Rico, but could it be that I didn't express any interest in going because she didn't express any interest in having me go? I didn't know she and Dorinda [Medley] were going until they were already there," Carole claims of the trip that we only saw the rocky beginnings of this week.
As she explains it, she was only expressing how proud she was of Bethenny while B was "talking smack" about her. "Wow…at this point, I'm just sitting back with popcorn like the rest of you, watching this TV character (who I thought was a good friend) continue to take cheap shots," she says. "It's strange that she would say I have no interest in what is going on in Puerto Rico. I was writing checks. I'd asked her many times how things were going. A good friend of mine works with Michael Capponi, and I connected her and Bethenny."
Ultimately, Carole says, she doesn't really "give a damn" because she believes her actions speak for themselves. "I won't bore you here recounting the endless places I've been to or the stories I've brought back exposing neglect, destruction, and people's sufferings," she continues. "It may not be private planes, cargo ships, and cash cards, but it's something."
In the end, Carole says she's still wondering what caused Bethenny to treat her differently. "I just don't understand why she's fully committed this season to talking about me as though I'm a Miss America contestant who banged her prom date," she writes. "Maybe we'll find out next week. Pass the popcorn!"
In her own blog, Bethenny didn't refer to Carole by name, though this passage seems aimed at her, if you ask us: "Perhaps I brought Dorinda because I sensed she needed a change. Had anyone else asked me (Luann did, in fact, ask to come), I certainly would have included them. Dorinda was curious about what I was doing at my birthday party, so I invited her. I'm sure you can understand why this wasn't a group Housewives activity."
Rather than take shots at Carole, B devoted her blog post to explaining her reaction to Dorinda's drunken behavior at the dinner in Miami, explaining that she's finally realized that it triggers her and takes her back to her childhood. "I won't go into much detail, but I have experience with people acting irrationally while under the influence," she notes.
It's because of this that she has "tremendous compassion" for her travel companion. "Nobody's perfect. I worked on these missions with people with troubled and checkered pasts, brushes with the law, battles with addiction, lack of meaning in life, terrible divorces, death — you name it," Bethenny writes. "No one was judging Dorinda at all. I simply know that this is becoming a pattern around me, and it makes me uncomfortable."
The Real Housewives of New York City airs Wednesdays at 9 p.m. on Bravo.
(E! and Bravo are both part of the NBCUniversal family.)