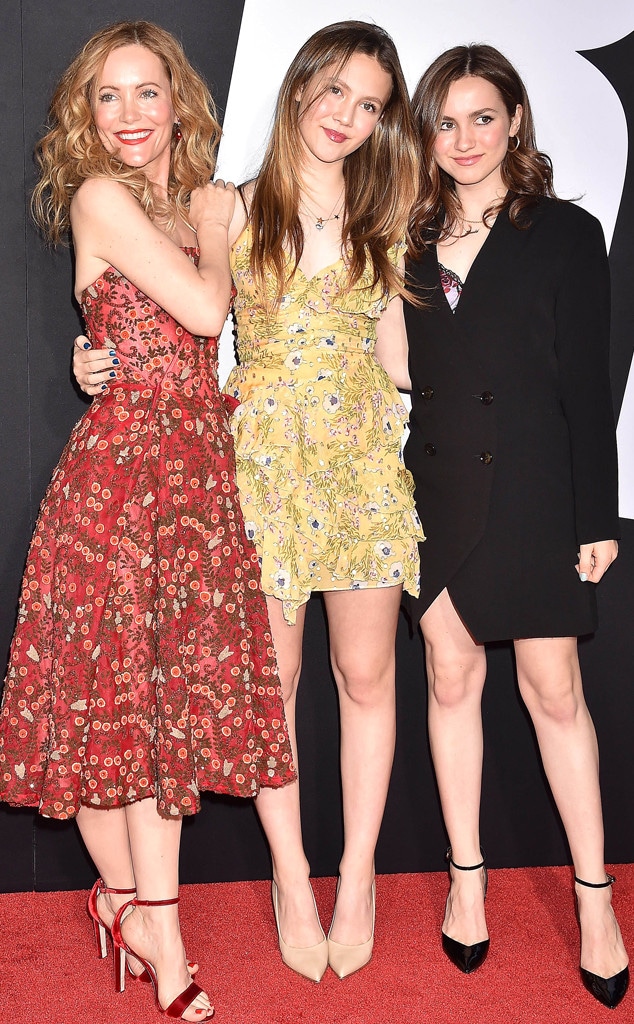 Broadimage/REX/Shutterstock
Mother's Day is almost upon us and while we love our mom—like a lot—we also have room to love celebrities who are moms. More specifically Leslie Mann and her amazing friendship with her two daughters Maude Apatow and Iris Apatow.
Sure, we love their director dad Judd Apatow too, but the female trio he runs with is the best of the best. In honor of Mother's Day Sunday, we decided to give some love to Mann and her girls. They really are the cutest trio and they have the photos to prove it.
From spending time on set together to gushing about how much they love each other, these three are our favorites. They are such sweet women and together they are the girl squad we want to run with.
So, grab a glass of wine and scroll through Mann and her mini-mes' best moments over the years. Then, call your mom because it's the right thing to do, duh!
1. When Mann supported Maude's possible school drop-out plan:
In April 2018, Mann stopped by Live With Kelly and Ryan and revealed that her eldest daughter had been thinking about dropping out of college. When asked if she was okay with that possible decision, Mann's answer was perfect.
"Great. Like, I love her. She's my favorite person in the world and I'm hers. I think. And why not be with the people you love the most and you like the most? Like we really like each other," Mann said. College might not be her calling, and maybe it is, either way Mann has Maude's back.
2. Set life:
When the girls aren't at school or at home they are on set, which is awesome. Even if they aren't starring in the movie themselves the Hollywood sisters have been on set with their mom (and dad) since they were babies. It's not a bad "take your kids to work" day if you're these two lucky kids.
3. All of the Jergens commercial fun:
If you haven't seen the Jergens commercials starring Maude and Mann then you're missing out. They are freaking hilarious. Mann goes into full-on mom mode trying to teach her daughter how to moisturize and we can help but laugh every time we see them.
4. Travel time:
Oh, the places they go. The Apatow ladies usually let their dad tag along on these vacays and they look like so much fun. Can we join next time?
5. All of the funny movie times together:
These three have been a few movies together and each one is funnier than the one before it. It all started on Knocked Up when the girls played their real-life mom's two daughters. Their dad was Paul Rudd. Then they starred in Funny People together before starring in This is 40, which is the continuation of Knocked Up's story.
6. When the family visit Maude at college:
College is fun but having a family you like visiting you at college is even better. When Maude went away to Northwestern her family followed…well for the weekend. They wore matching outfits, watched football and won us over again as the coolest family ever.
7. When Mann admitted she loves acting with her daughters:
Playing a mom and being a mom all in one place seems hard, but overall Mann loves it. "With Maude and Iris I just feel lucky because I get to be with them all day," Mann told The Hollywood Reporter about playing her girls' mom in This is 40.
8. Style sisters:
We're really hoping Iris and Maude raid their mom's closets for all of her fabulous looks. They frequently pose together in fierce ensembles and get ready for events together so we're guessing sharing clothes is on the menu too.
9. Every throwback the Apatow girls post about their mom:
Every chance Maude and Iris get they post retro photos of their mom on social media…all in the name of love. Often these photos include them as babies and they are too cute.
10. Selfie game on point:
We're not always a fan of moms trying to be young AKA being a selfie taker, but in this case we'll let it slide. Mann has mastered selfies with her two daughters and they are all adorable.
11. When Mann and Maude did a Mother's Day guide together:
Ahead of this year's Mother's Day holiday, Mann and her oldest daughter Maude told People the perfect gifts to buy for your mom. They gave Jergens a little shout out before noting a comfy robe, red lipstick and more shopping ideas.
12. Musical love:
Having famous parents definitely has its perks. Case and point, getting to meet the cast of Hamilton backstage.
13. Red carpet fun:
All three of these ladies rock every carpet they are on…especially the ones where they are together. Seriously, we're in awe of how many things they all do together. Plus, red carpets all over the world with your fam sounds pretty legit.
14. Celebrity meet and greets:
With all of the movies that Leslie has done over the years her daughters have met some big names. Remember 17 Again? Well these two met Zac Efron and we're so jealous. Oh, and Iris met One Direction…no biggie.
15. Mother-daughter dates:
In case you hadn't noticed, Mann is a cool mom, not a regular mom. She hangs out with her girls all the time and is always smiling when they're around. She even attended The Strokes concert with Maude, because yes she is a cool mom.