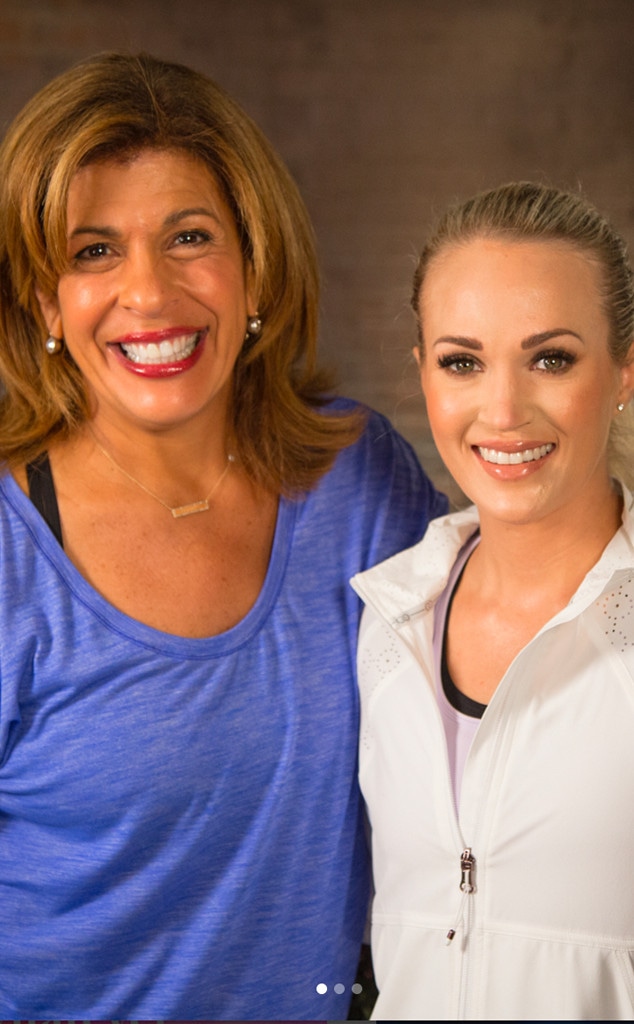 Michael Smith
After taking a break from the spotlight following her "freak accident," Carrie Underwood opened up about her fall on Thursday's episode of Today. 
"Plain and simple, it was just kind of a freak accident," she told host Hoda Kotb. "I just fell. I just tripped. Taking my dogs out to do their business. It could have happened to anybody. I say if I had fallen anywhere else, it wouldn't have been a problem. But there was just one little step that I went to catch myself on and I missed."
The fall left Underwood with a broken wrist and more than 40 stitches around her mouth. In a newsletter to her fans, the country superstar warned she might look "a bit different." She even once admitted she thought her 3-year-old son, Isaiah, would be "scared of me" after her fall.
When Kotb told Underwood she looked the same as she did before the accident, the singer said she "had a dedicated team of professionals who can spackle and paint and paste."
 "No, thank you," she said. "I'm feeling—every day, I feel a little more back to normal."
The fall led Underwood to avoid the spotlight, and she feared how fans would react once she returned.
"Once I started kind of rejoining the world and I'm dropping my kid off at school again, and I'm going to the grocery store, it was kind of like, I feel like somebody is going to creep on me and take a picture and, like, post it on Instagram or something," she told Kotb, "and people are going to be like, 'Oh my God! What happened?'"
Still, Underwood said she used the fall as a learning experience for her son.
"I used it, honestly, as a teachable moment," Underwood recalled. "I was like, 'Playing on stairs is dangerous. Mommy fell. Mommy fell on stairs. Don't play on the stairs. You might get a boo-boo.'"
Underwood made her triumphant return to the stage at the 2018 ACM Awards, where she performed her new song "Cry Pretty" and took home the trophy for Vocal Event of the Year.
The performance was an emotional one for Underwood. 
"When you're singing something that is straight from your heart, it's easy to just be in the moment and be connected to it," she said. "I never realized how much it translates until after the ACM Awards. It was, like, wow, you know, there was something different about that performance."
It could also be described as a Cinderella-moment.
"When I'm singing a song, it's like I'm in the music and I'm right there living it," she added, "and then it's kind of like, as soon as a song ends, I'm like 'Oh man. I'm just Carrie again.' It's like the magic ends somehow and I turn into a pumpkin in front of everybody. I'm not a center of attention kind of person."
In addition to earning her a standing ovation, the song resonated with people in a heartfelt way. 
"I feel like people relate to it because it is like, oh man, like sometimes you just do have to just let it out," the American Idol winner said, adding that people have opened up to hear about all the places they break down. Kotb said she often goes to the bathroom for a good cry while Underwood admitted she lets the tears flow in her car.
"I feel like you just feel like—which I know people can still see you, and they probably have seen me at a stoplight or something and been, like, 'What is this crazy lady doing over there?'" Underwood said.
While many fans and artists are proud of Underwood for overcoming this hurdle, no-one may be prouder than her mother, Carole.
"She's a great mom. She's a great daughter. She's a great person," the proud parent said. "I just want her to always be that way, and I love her."
Watch the video to see her interview on Today.