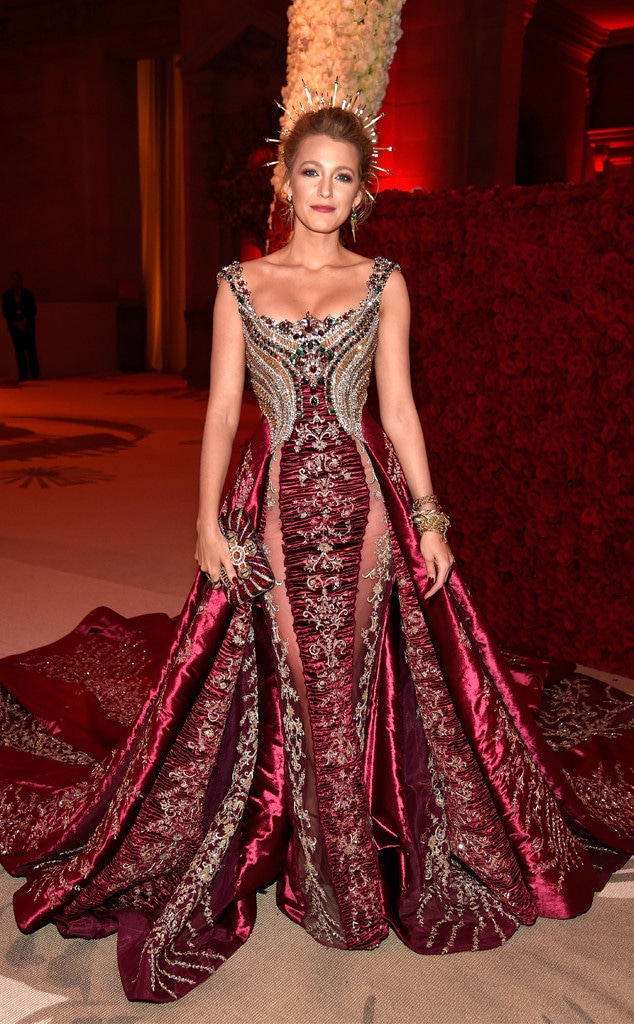 Kevin Mazur/MG18/Getty Images for The Met Museum/Vogue
She may have been last on the red carpet, but she was first on many people's best dressed list...
Blake Lively may have hands-down had the best ensemble at the 2018 Met Gala on Monday night (we're willing to debate you on the topic, but you won't win), but there was a lot going on that even eagle-eyed fans may not have noticed when the 30-year-old opted for the ornate Versace gown.
For the night's theme, Heavenly Bodies: Fashion and the Catholic Imagination, Blake had all eyes on her with her crimson dress, embroidered bodice, bejeweled straps, and train so long you should have gotten a ticket just to ride it with your eyes.
The dress took more than 600 hours to create—by hand. It's pretty much a masterpiece. 
Given all the detail work of the dress, her halo headpiece, and her eye-catching jewelry, it's also possible that many overlooked one small, but very important accessory: her Judith Leiber purse that carried some family secrets. 
Kevin Mazur/MG18/Getty Images for The Met Museum/Vogue
Courtesy of Judith Leiber
Courtesy of Judith Leiber
The custom-made clutch actually had a hidden message—a subtle tribute to each member of the Reynolds-Lively family.
Designed with Austrian crystals, the image on one side of the bejeweled bag featured a bleeding-heart Mary, while the other side had "Reynolds" written in crystals and also the shape of a cross. To make it even more personalized to the mom of two, each point of the cross had letters B, R, J, and I. Those letters just so happen to also be the first initials of each member of Blake's family with her husband since 2012, actor Ryan Reynolds. The pair are parents to daughters James and Ines.
So while Ryan, Ines and James may not have been able to attend the event with the Simple Favor star, at least they were there in Austrian crystals.