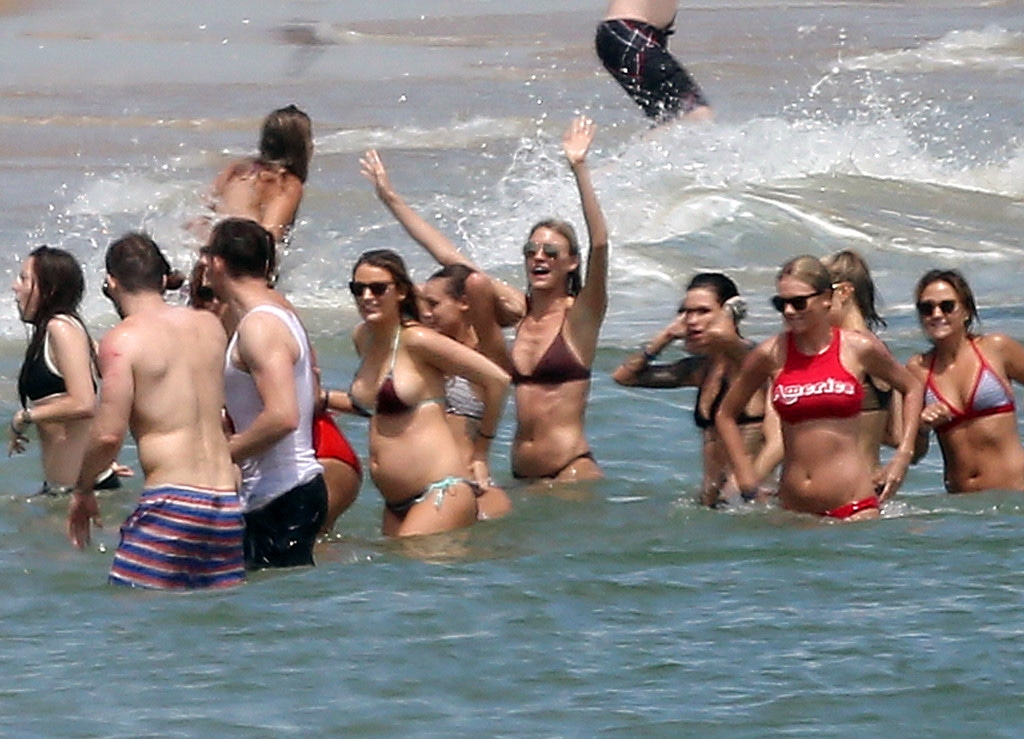 Splash News
It's no secret that celebrities love the Hamptons.
Stars like Jennifer Lopez, Madonna, Gwyneth Paltrow, Kelly Ripa, Jimmy Fallon and as of last year Beyoncé and Jay-Z all own homes on Long Island's East End. These beautiful beachside communities are easily accessible from Manhattan, yet they feel like they're a world away from the hustle and bustle of the big city.
There isn't a big paparazzi presence out east, and the Hamptons' multimillion-dollar mansions are quite capable of providing privacy for famous residents and renters alike. Still, if Lady Gaga goes shopping on Main Street in East Hampton or Jennifer Lawrence enjoys date night at Wölffer Estate Vineyard in Sagaponack, there's a good chance it's going to make headlines. 
Stars who really want to fly under the radar still can, though—they just have to head north to New England. The region comprises six states—Connecticut, Rhode Island, Massachusetts, Vermont, New Hampshire and Maine—and, much like the Hamptons, they boast charming coastal towns, stunning scenery and top-notch (i.e. celeb-friendly) dining and amenities. 
There is, however, a big difference between the two locales: If Taylor Swift has lunch at a café in Westerly, R.I., it might create some buzz in town. She is their most famous millennial part-time resident. But unlike if she were to do the same thing in Southampton, N.Y., the details of what she ordered, who she was with and how much she tipped probably won't be part of the next day's news cycle. And not for lack of the news trying.
"I just think it's kind of woven into the fabric a little bit," Mel Allen, editor of Yankee Magazine, tells E! News exclusively. "You can kind of leave neighbors to their privacy, and if they need your help, you help 'em."
That's not to say that New Englanders don't gossip at all when there's a celebrity in town—they just keep it among themselves. Allen, who is based in New Hampshire, recalls a time when "there was a rumor that Martha Stewart was looking for a house around here."
"It was the kind of thing where a realtor probably took Martha Stewart around, and the realtor told her neighbor, and the neighbor told someone," he explains. "But it wasn't a story, you know what I mean? It wasn't a picture of Martha Stewart getting out of her car looking at a house. It was just a rumor that went around, but it didn't make the press."
Always a good thing!
There are, of course, certain parts of New England that have proved particularly popular as hideouts for the well-heeled. We talked to insiders from these low-key, northern hot spots about what makes each one so appealing for the stars wanting to spend their summers undetected.
Martha's Vineyard, Mass.
Martha's Vineyard is a single island that's made up of six different towns. Spike Lee, Meg Ryan, Diane Sawyer and Michael J. Fox are among the stars who own homes on the Vineyard, while regular visitors include Barack and Michelle Obama, Bill and Hillary Clinton, Jake Gyllenhaal, Amy Schumer, Jennifer Lawrence, Larry David and Seth Meyers. 
"We like to think that we give them their space," George Brennan, news editor of the Martha's Vineyard Times, tells E! News. exclusively. "But of course, it becomes sort of like the talk of social media when you see certain people, and it gets passed around by word of mouth."
SAUL LOEB/AFP/Getty Images
When the stars are on the Vineyard, they often stay "in either rented houses or with friends," says Brennan. "We really don't have any huge hotels, but we do have some boutique hotels, and there are some who stay there."
One of those chic boutique hotels is the Outermost Inn in Aquinnah, which is owned by James Taylor's brother, Hugh Taylor. That's not the only celeb family connection on island, either. 
Chef Chris Fischer, who married Amy Schumer (who apparently is allowed to set foot in town after all) back in February, started a farmstead market and wrote a James Beard Award-winning cookbook named after Beetlebung Farm, which his grandfather purchased back in 1961, and which supplies food to multiple local restaurants. Fischer, a Vineyard native, was previously chef at Beach Plum Inn in Menemsa—and was in the kitchen when the Obamas dined there in 2013. 
"Any of his restaurants—including Covington in Edgartown—are likely to attract celebrities," says Brennan. "You might also see them at places like the Net Result in Vineyard Haven, because that place has great sushi, or at the Menemsha Fish Market to get fresh fish or lobster." 
Nantucket, Mass.
This picturesque island, located about 30 miles south of Cape Cod, has been a popular destination for Boston's elite and Hollywood stars alike for generations. 
In 2016, Kourtney Kardashian vacationed with Mason, Penelope, Reign and ex Scott Disick in a $50 million beachfront rental from Airbnb. Other stars who've been spotted on Nantucket include Amy Poehler, Joe Biden, Ben Stiller, James Franco, Drew Barrymore and Jenna Dewan.
Meghan Trainor was born and raised on the island and, up until 2016, her parents ran and owned a local jewelry store. 
So many stars have connections to Nantucket, actually, that seeing them in town or at the beach doesn't really get much of a reaction. As Bruce Percelay, the chairman and publisher of Nantucket Magazine, tells E! News, "Celebrities who come to Nantucket expecting to be fawned all over will be disappointed, because it isn't the kind of place that reacts to celebrities the way other places do."
"People on the island, particularly summer people, they're there for a different reason," he says. "There are many very successful people and Fortune 500 CEOs and so on, and so it's a very different kind of celebrity environment where the celebrity or someone who's famous or someone whose exceedingly wealthy waits in line for ice cream like everybody else."
When the stars do come to Nantucket, they "typically rent homes—large homes, and ones that have some privacy," says Percelay. Occasionally, celebrities will stay at boutique hotels like 76 Main Street or 21 Broad Street, but according to Percelay, they more often rent private homes. 
Cape Cod, Mass
Hyannis Port went very Hollywood circa 2012 when Taylor Swift and Conor Kennedy's brief summer romance was well documented by the paparazzi. This was quite unusual, because by and large, the 15 towns that make up Cape Cod are shutterbug-free. 
According to Pat Brooks, a longtime resident and the travel and dining editor of Cape Cod Today, low-key locals and summer visitors don't make a fuss when stars like Johnny Depp, Ben Affleck, Steven Tyler, Tom Brady or Gisele Bündchen come to the Cape.
"The local people have grown up with [famous people] walking around," she tells E! News exclusively. "You can see them in the grocery stores or just shopping, and they tend to leave them alone. The most that we do is like a nod or hello, but we don't hound them with photography...They come here for the solitude [and] to get away from their busy lives. They're seeking refuge, and they can find it here."
Brooks says that while a lot of celebrity visitors "own homes or will stay with acquaintances that have really high-end properties on the water," high-profile guests have also been known to stay at Chatham Bars Inn in Chatham, Wequassett Resort and Golf Club in Harwich and Ocean Edge Resort & Golf Club in Brewster.
Westerly, R.I.
Taylor Swift has a beachfront mansion in Watch Hill, which is one of many tiny villages that make up the small town of Westerly. The paparazzi have hounded the pop star at her home here before (and we have that image of Tom Hiddleston in an "I Heart T.S." shirt to prove it), but for the most part, Taylor can blend in to Westerly better than she'd be able to in the Hamptons, where her presence would be more of an event.
Sean Spellman, a local artist, musician and founder of a new art series called Westerly Sound, describes Westerly as "a smaller version of Montauk, like 20 years ago." 
Montauk is located at the far eastern end of the stretch of Long Island that makes up the Hamptons. It's technically a village within the town of East Hampton, but some consider Montauk to be its own separate, star-studded entity. 
"I think the difference is that you've got the commuter train and that proximity to the city. That's how Montauk blew up so quickly," Spellman tells E! News. "Whereas Westerly's kind of protected... [It's] like this little pocket that's a little bit too far south from Boston, and a little bit far north from New York, so it hasn't been totally infiltrated with all sorts of partiers, which I like."
The tiny Rhode Island town does get big-name visitors beyond Taylor, though. At the Ocean House,  a luxurious, five-star resort in Watch Hill, the Clinton family and Oprah Winfrey have reportedly been guests. And according to Annie Philbrick, the owner of Westerly's Savoy Bookshop & Café, stars unexpectedly popping up in her store isn't uncommon. 
"We actually had an appearance right after the election last year where Hillary Clinton and her whole family stopped in the Savoy bookshop," she tells E! News. "It was very low key. We didn't know they were coming, and they were gracious and fine." 
After the Clintons' visit, Philbrick says "people would call us and say, 'What books did they buy?'" But in true New England fashion, the staff at Savoy played it cool. "We were like, 'That's not anybody's business," says Philbrick. "'That's their business!' We're not going to tell."
Outsiders might think having a celebrity in town is newsworthy, but for most locals, it's a non-event. "I was talking to my event coordinator about this yesterday," says Philbrick, "and we were sort of feeling that the tourists are the ones who come and make a big deal about going and checking out Taylor Swift's house."
RTimages-Steffman / Splash News
Westerly residents probably "are sort of proud that Taylor has a house in Watch Hill and the Clintons stayed there," says Philbrick, but locals "tend to leave them alone realizing that they all can have a vacation, and they don't have to be followed around just because they're a celebrity."
If any of those celebrities did want to low-key partake in the local arts and culture scene, there's no shortage of opportunities in Westerly. The Savoy Bookshop & Café regularly hosts live musical and literary events, and Spellman's Westerly Sound series has expanded to include music, film, visual art, food events and more. 
And Swift "of course" is always welcome to perform or attend a Westerly Sound show, says Spellman. "I would love that! I like Taylor Swift a lot—I like her music, and I have respect for her as an artist... It'd be great to have her."
Sounds like fun, and because it's New England, Taylor can do (or not do) whatever she wants. In Rhode Island, her reputation is safe.