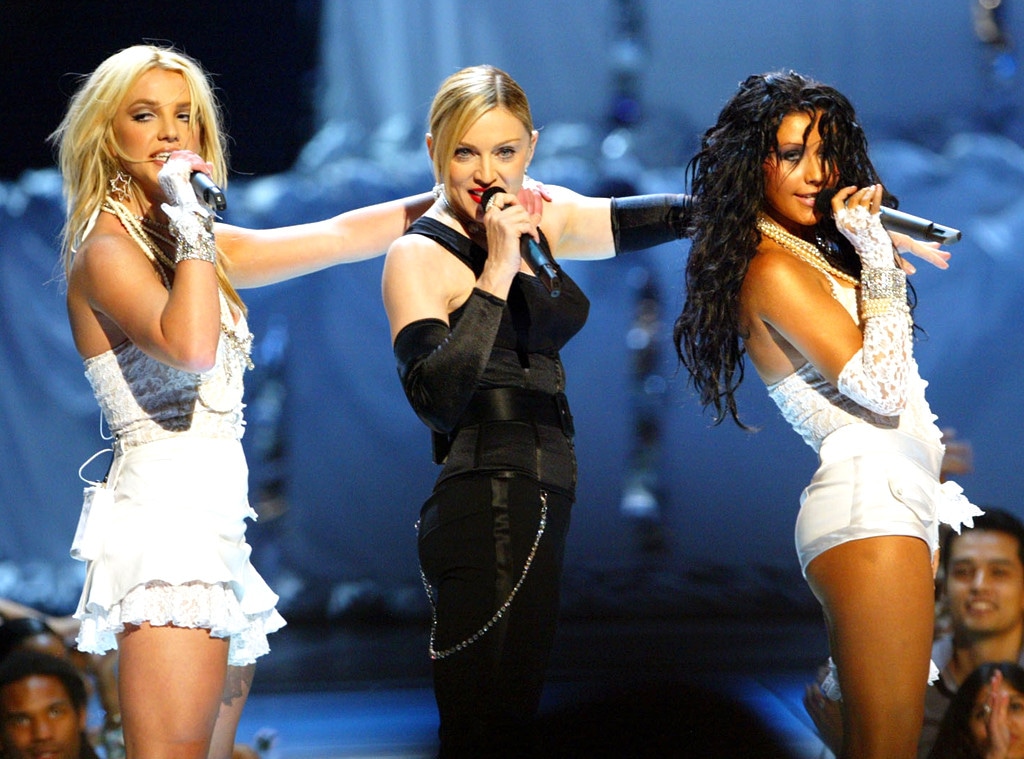 WireImage
As far as celebrity feuds go, the week could have belonged to Taylor Swift and Katy Perry.
After all, on the opening night of Swift's Reputation Tour, her first round-the-world jaunt in three years, the "Swish Swish" singer sent over a literal olive branch to call an end to their five-year feud—a symbolic mea culpa Swift accepted readily, and publicly, on her Instagram feed.
But then one crafty Internet user spliced together video of Britney Spears and Christina Aguilera's respective appearances on "Carpool Karaoke", James Corden's wildly successful segment on his series The Late Late Show. As fans watched Aguilera riff and Spears grimace, they were instantly transported back to the early aughts.
Before there was Taylor and Katy, or Nicki Minaj and Cardi B—or, really, any two female musicians of the same genre and relatively similar sound—there was Britney and Christina. Like Madonna at the edge of the 2003 MTV Video Music Awards stage faced with two brides, for years, fans have been asked to choose which Mickey Mouse Club-bred pop star they preferred.
As a result, the Kentwood, Louisiana-bred Baptist, 36, and the 37-year-old New York City-born powerhouse with the impressive vocal range were sent to their respective corners, assigned an image (a 1999 Guardian article declared Aguilera "has a 'naughtier' image than Britney's corn-fed, Midwest, wholesome look") and forced to compete for attention and album sales. So, really, it's hard to fault them for trading a few pot shots along the way.
Aguilera has hinted the tweens first faced off over fellow Mouseketeer Justin Timberlake, who Spears would go on to date for three years. "Even back then, he had swag," she admitted to Corden during her Apr. 23 appearance. "There was me and Britney—well now, you know—there was a thing back then."
But the true genesis of the feud came from that famed Madonna kiss. By the time pop's reigning grand dame strutted down the stage to meet her brides, "Like a Virgin"-inspired garb, Spears had been praised for her undeniably sultry 2001 single "I'm A Slave 4 U" with NME declaring, "the song is funk the way God intended —hypnotic, insistent, mysterious, suggestive— and if Prince was a nineteen-year-old former Disney Club host and virgin, he'd be proud to create such a record." But when Aguilera released "Dirrty" in 2002, the sexed up lyrics a natural continuation of her "Genie In a Bottle" debut, the video, featuring the singer dancing in chaps and a bikini top, she was met with immediate backlash. Time went as far to declare she looked as if she had arrived "direct from an intergalactic hooker convention."
Disney/Kobal/Shutterstock
And when Madonna's lips met Aguilera's a mere beat after she smooched Spears, Xtina—fresh off a joint tour with Timberlake—was instantly reduced to sloppy seconds status. Never mind that she had already nabbed two Grammys by that point, even beating out Spears for Best New Artist in 2000.  
So one could understand how she'd be primed to make a small dig at Spears months later in Blender's December 2003 issue. Calling out the multiplatinum artist as "distant" during their many rehearsals she said, "Every time I tried to start a conversation with her—well, let's just say she seemed nervous the whole time. She seems to me like a lost little girl, someone who desperate needs guidance."
Spears was having none of it. Appearing on the mag's cover just one month later, she replied, "A lost girl? I think it's probably the other way around. I can't believe she said that about me."
Then, as if to prove her point, she relayed an encounter they'd had in previous years, as they were each trying desperately to shed their mouse ears. "She comes up to me in a club in front of all these people and tries to put her tongue down my throat!" she claimed. "I say, 'It's good to see you,' and she goes, 'Well, you're not being real with me.' I was like, 'Well, Christina, what's your definition of real? Going up to girls and kissing them after you haven't seen them for two years?'"
The way Spears saw it, though, being called inauthentic in a club setting was one thing. Aguilera's insinuation she was struggling to find her way in the music business was the final gauntlet: "When someone has been rude to you so many times, it's like, 'You know what, Christina, I'm really not about the fake anymore.'"
Suddenly the rivalry wasn't just about perception; there were actual, tangible insults to examine. And the back-and-forth gave reporters even more reason to inquire about the pop starlets' relationship and they didn't failed to deliver.  
Speaking to Us Weekly in 2004, Aguilera slammed Spears for proposing to backup dancer Kevin Federline and buying her own engagement right, saying of the five-carat rock, "It looks like she got it at QVC." Asked her thoughts on the upcoming nuptials, she sniffed, "I know Britney. She's not trailer trash, but she sure acts that way."
Aguilera later explained away her harsh words, saying they came from a weird place of being pitted up against her former friend. "When we both started releasing records, it was a funny time for me," she told The Daily Mail in 2008. "It must have seemed as if we were competing with each other, but, in reality, Britney is someone that I used to hold hands with. We were silly little girls together on the Mickey Mouse Club. What a journey it has been for both of us!"
At that point, though, their paths had split. Aguilera revealed she had sent Spears a basket full of presents when she gave birth to first son Sean in September 2005, right around the time the "Toxic" singer posted on her blog saying she would "love to be close with Christina again."
Despite the platitudes, though, the duo weren't exactly braiding each other's extensions. While Aguilera remarked she wished Spears the best, noting of her recent troubles, including a messy divorce and custody battle with Federline and a subsequent 2007 stay at Promises Malibu Treatment Center, "I don't pass any judgment on what she does," the two weren't what you'd call friendly.
"There have been so many stories about the two of us not getting on," she said. "We don't keep closely in touch with one another, and it's obvious how our lives have taken on two different directions."
Jason Merritt/Getty Images
Within just a few years, though, they would converge once more. Spears' much-anticipated 2012 debut on the reality competition X Factor was slated to air just two days after Aguilera would return for her third season on The Voice. Naturally, comparisons emerged. They grew even more frenzied when Voice execs announced they'd be running a special edition of their hit on Sept. 12, the night of Spears' coming out party. In a likely effort to drum up ratings, show architect Simon Cowell told TMZ his star wasn't "going to appreciate the fact that Christina—who has been a bit of a rival—isn't allowing Britney to have a night of her own."
But this time, neither singer took the bait. A shrewd Aguilera instead insisted she was delighted to welcome Spears to the world of judging pop hopefuls: "I don't know what [advice] she's going to offer specifically, but I know she's a pro," she said during a press conference. "I think she's going to give great advice."
Nor did Spears react three years later when Aguilera delivered a spot-on impression of her singing "Three Little Pigs" to the tune of her single "Oops!...I Did It Again" on The Tonight Show. (A source even told Hollywood Life Spears "thought it was pretty great.")
By this year's International Women's Day Mar. 8, Aguilera was ready to extend her public version of an olive branch. Having recently put her long-running feud with Pink to bed, the mom of two posted an Instagram video, featuring photos of her with other powerful women set to her anthem "Can't Hold Us Down." Amongst the slides of Hillary Clinton, Lady Gaga, Michelle Obama, Beyonce and Cher: a circa 2002 snap of her and Spears.
Perhaps a decade of collecting accolades (the pop icons have more than 300 trophies between them) and celebrating professional victories—Spears recently wrapped a successful five-year residency at Las Vegas' Planet Hollywood, while Aguilera will embark on her first tour in more than a decade this fall—has reinforced the idea that there's room for more than one talented female on the popular music landscape.
Or maybe it's the acceptance that their music, dance moves and overall likeness are set to be compared in perpetuity. So it's best they go out of their way to show they remain firmly in each other's corners. As Aguilera said in 2012, "We were very close, and our paths have always crossed and, interestingly, they will continue to cross."