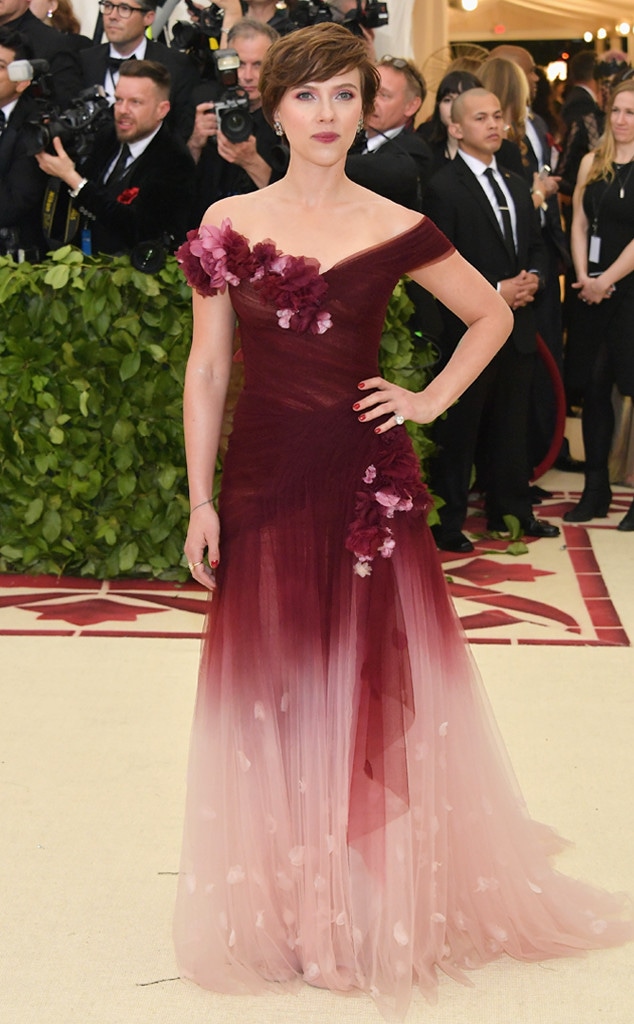 Neilson Barnard/Getty Images
She's taking a red carpet stand!
Scarlett Johansson made headlines after she selected a Marchesa dress to wear to the 2018 Met Gala on Monday night. For the glittering gala, the 33-year-old opted for a romantic off-the-shoulder burgundy dress with a tulle skirt and floral appliqués—but it wasn't the design that got people talking it was the designer.
The label is designed by Keren Craig and Georgina Chapman, the estranged wife of disgraced movie mogul Harvey Weinstein.
Marchesa has been noticeably absent on all major red carpets in the wake of the Weinstein sexual assault scandal—so Johansson' choice to go with the label at such a high-visibility event was definitely a statement. This is actually the first time an A-lister has worn the label the brand since the scandal.
In a statement given to E! News, the star explained that she went with Marchesa given that it's run by two women who celebrate the female form.
Johansson said, "I wore Marchesa because their clothes make women feel confident and beautiful and it is my pleasure to support a brand created by two incredibly talented and important female designers."
Marchesa also released a similar statement about Scarlett's dress: "We are truly honored that Scarlett chose to wear Marchesa for the Met Gala. She is an amazingly talented actor who has incredible style and presence. It was wonderful to work so closely with her in creating this custom look."
Neither statement addressed Weinstein or the scandal. 
In January, the fashion house pulled the plug on their previously scheduled runway show at New York Fashion Show. Marchesa had been slated to do present at NYFW on Feb. 14, but pulled out just two weeks before. Likely a result of the scandal.
New York Post reported at the time that the high-end label would be putting out a digital presentation instead of the traditional runway show.
The outlet added that the Chapman, who has two children with Weinstein, "couldn't go through" with the planned show because "she was too scared."
Back in October, Chapman released a statement where she announced she was leaving her husband and focusing on raising her children.
After the news of the split broke, Harvey released a statement at the time, saying he understood Chapman's reasons for leaving him.
The couple was married for 10 years.