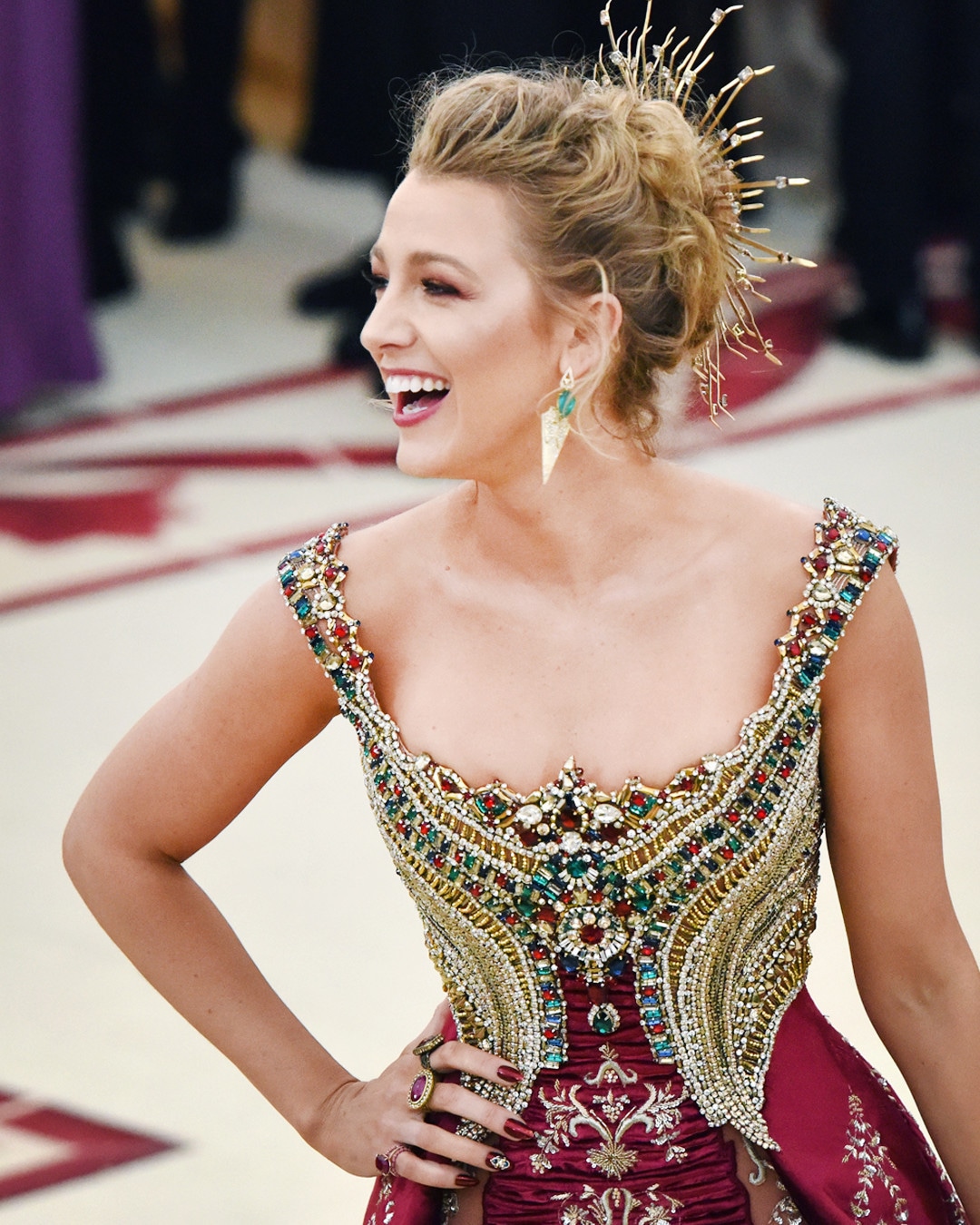 Sean Zanni/Patrick McMullan via Getty Images
Blake Lively's 2018 Met Gala look nailed it!
Besides being one of the last A-listers to set foot on the carpet, and telling photographers to "calm down" along the way, the All I See Is You actress was a living embodiment of the ball's Catholic theme. Everything, from her Renaissance-inspired Atelier Versace gown down to her fingernails, was accounted for—including the time it took to create them.
Ahead of the first Monday in May, Blake revealed her dress took over 600 hours to create. On top of that, her manicure look—custom-made, red-chrome-colored nails with Swarovski crystals—took more than a month.
"It took three weeks for KISS to custom create the chrome nails I used, and everything wasn't finalized until the night before the Met!" manicurist Elle revealed to E! News. "Each stone was hand placed, and Blake was involved in the entire creative process. "
On the ring fingers of both hands, Elle attached an assortment of gems that not only complemented Blake's Lorraine Schwartz jewelry but her beaded clutch as well.
"I wanted to create a regal statement-making nail for Blake, incorporating gothic architecture like you'd see in a church's traditional stained glass windows," Elle said in a statement. "KISS products had the design capabilities and the technology to bring my idea to life!"
The one-of-a-kind chrome faux nails were made with KISS' mirror lens technology, which allowed Blake's nails to shine through in five light-capturing colors. You may not be able to get your hands on this exact hue or Blake's crystals that came from Swarovski's vintage archives in Rhode Island, but when it comes to re-creating this look at home, there's a similar shiny color and tool you can buy that'll help.
"The Crystal Katana tool (from Michael's) helped me place every stone," recommended the pro. "At home, you can use a resin glue for a stronger hold, not crazy glue. For pros, we encase them in a stronger viscosity gel that lasts for weeks."
If our nails looked like Blake's, we'd want them to last, too.