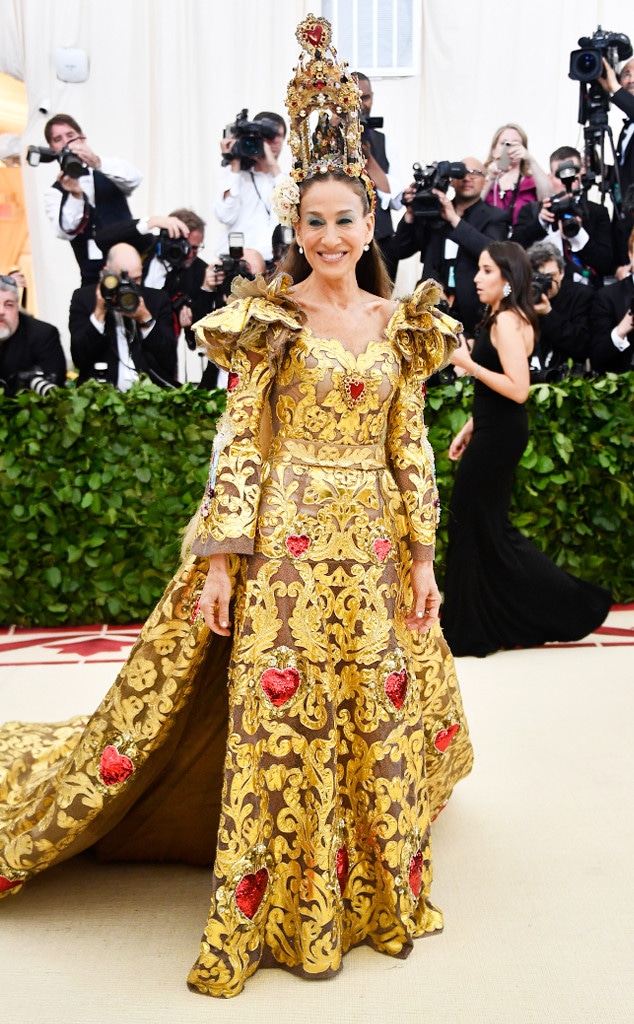 Frazer Harrison/FilmMagic
And the award for most thematic Met Gala ensemble goes to...Sarah Jessica Parker. 
But we already knew that, as SJP may be the most devoted celebrity to a Met Ball theme ever. Remember when punk was the name of the game? The Sex and the City actress wore a full-on Mohawk headpiece to the Metropolitan Museum of Art. For the "Manus x Machina: Fashion in an Age of Technology" year, Sarah shut down Internet trolls who called her Diane von Furstenberg ensemble "pirate-chic." 
"Got the memo. Always welcome thoughts but I'm a stickler for the theme and pay close attention to what it means. Every year with great consideration, research and conviction," she wrote, explaining that the theme wasn't about wearing metallics to fit the tech theme (as so many stars did), but it was about the technological advances that go into fabrication and fabricating garments. 
Bringing us back to 2018 and its "Heavenly Bodies: Fashion and the Catholic Imagination" theme, SJP donned head-to-toe Dolce & Gabbana, a fashion house publicly influenced by religion. Of course, she could've stopped there, channeling an ornate, intricate piece of gilded art often seen in cathedrals and old churches. But Sarah, the self-proclaimed stickler of Met Gala themes, wouldn't be her if she didn't add a Nativity-inspired headpiece on top.
Thank you, SJP, for always going the extra mile!
Love or hate it, you have to appreciate the effort.