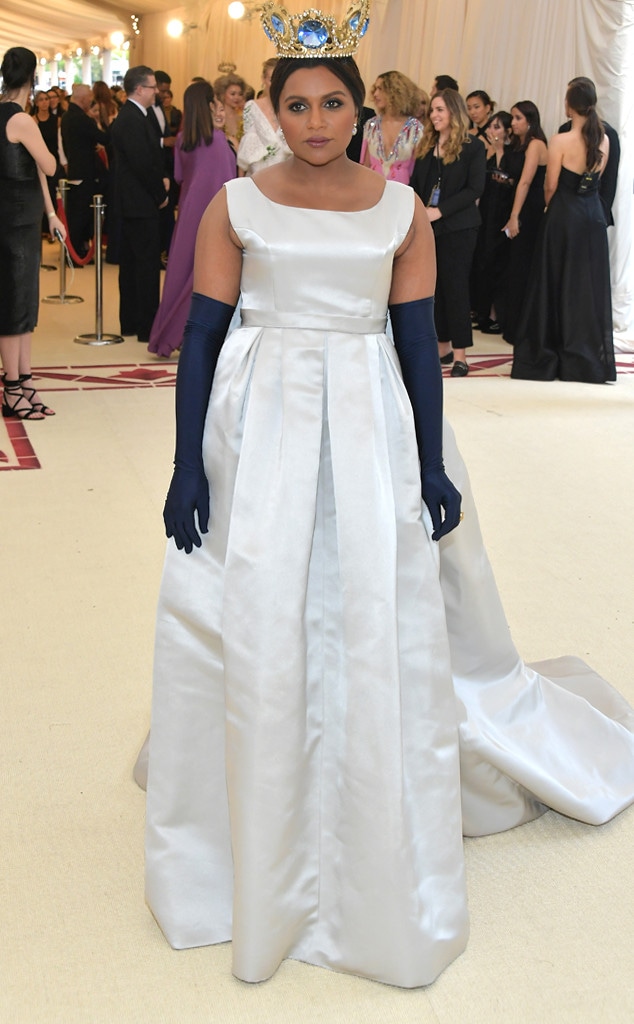 Neilson Barnard/Getty Images
Yaaaaaas queen!
Mindy Kaling's reign was supreme when she hit the red carpet in a regal look at the 2018 Met Gala, which is themed Heavenly Bodies: Fashion and the Catholic Imagination, in New York City. The Met Gala is always held on the first Monday in May.
For the fashion event of the season, the A Wrinkle in Time star opted for a grey dress, black gloves and ornate crown—she's definitely channeling some Audrey Hepburn in My Fair Lady vibes with this one. Her crown and dress are couture Vassilis Zoulias and the aim was to give a nod to Grace Kelly with the styling. Marc Mena for Dove Hair added the glamour of the actress' hair and makeup.
This is the fourth time The Mindy Project star has attended the Costume Institute's annual gala. Last year, Mindy donned a blue glittering frock by Prabal Gurung.
In 2016, the comedy queen attended the opening of the Manus X Machina exhibit in a white dress by Tory Burch. In 2013, Kaling opted for a plum dress.
In December, Kaling welcomed her first a child, a daughter, Katharine Kaling.
Recently, Kaling spoke to the New York Times about how she had to hide her pregnancy even from her Ocean's 8 co-stars.
She explains she went to dinner with the gals when she was just two weeks pregnant and got asked questions when she wasn't drinking. She says she told them at first she was on "strict antibiotics" and when she got questioned about which ones she had a different answer.
"Then I said they were anti-psychotics. I had to spin a web of lies," confessed the actress.