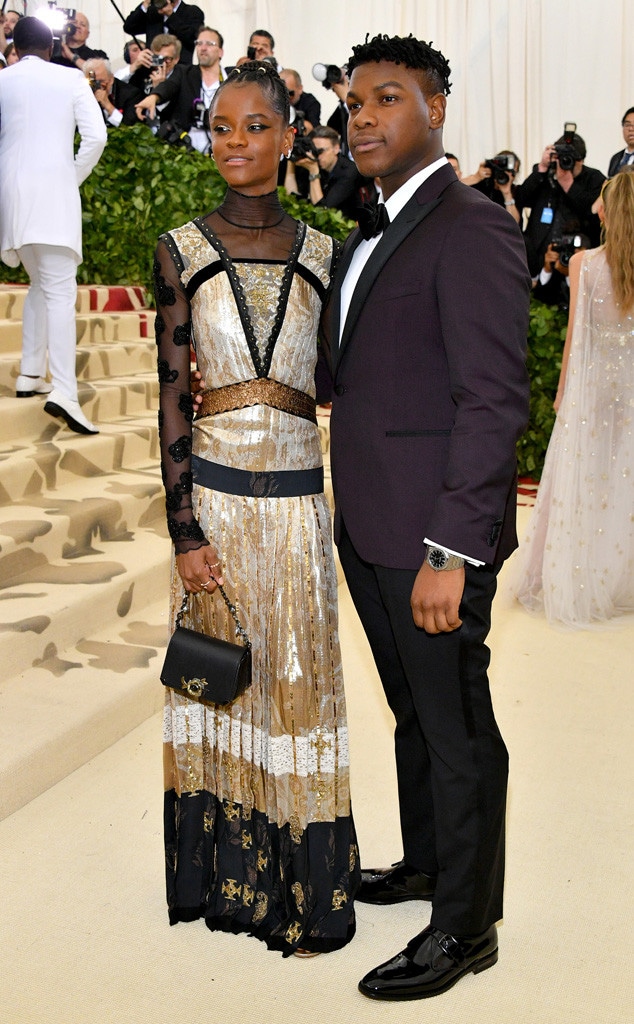 Dia Dipasupil/WireImage
Attention pop culture lovers: May we direct your attention to one dynamic duo.
As the red carpet opened up Monday night for the 2018 Met Gala, many eyes were on the famous couples who posed for the camera or made their debut as a romantic pair—we see you Shawn Mendes and Hailey Baldwin.
But tonight's star-studded event held at the Metropolitan Museum of Art also reminded us of one solid friendship that deserves a round of applause.
May we present to you John Boyega and Letitia Wright.
It all began on Instagram Stories when John revealed his Met Gala prep. "This is the second stage of the process right?" he asked while getting moisturizer put on by his makeup artist Danielle Mitchell.
Soon after, the Star Wars star documented his ride to the event where he just so happened to pick up Letitia.
"Look at her! Look at her! Yes!" he shared. "Look at this. You look amazing."
The pair would continue their drive by singing and dancing to John's playlist that included music by Drake, Davido and other artists. And before you knew it, cameras were flashing as the pair made their red carpet debut.
Some on the Internet quickly speculated that these two could be more than friends. In fact, some were quick to call out the pair for couples goals.
At the same time, these two have a long history and even attended London's Identity School of Acting at the same time.
"Letitia and I were in the same class. It was so special for me to see her in the film because I have seen Letitia from when we both had nothing, had no credibility, and wanted our chance. We would sit and after classes, everybody would congregate at a nearby McDonald's and I remember seeing Letitia and we would speak about our dreams and our visions," he previously explained to The Grio."We would speak about our spirituality, our relationship with God, prayer, and various other things. We knew something was cooking. We knew there was a group of people that were gonna come out of there and really do it. It felt like this group of people might just be the example and prove the success is real. We all did that and it's just mad. It's crazy for us all."