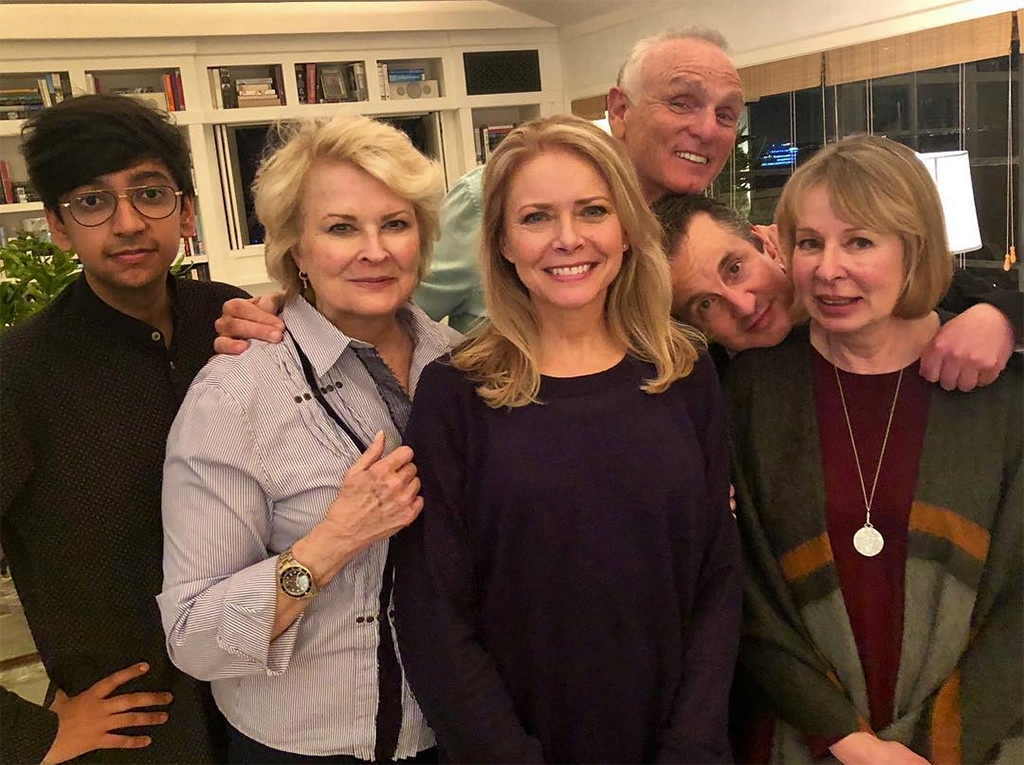 Instagram
Ain't no rest for the TV fan.
Doesn't it feel like just yesterday all the new shows were premiering? Well, get ready, because  the networks have started ordering pilots to series for the 2018-19 TV season ahead of their Upfront presentations in New York City next week. Doesn't it feel like being a TV viewer is a full-time job these days? It's exhausting and exhilarating and we wouldn't have it any other way.
To help you keep track of all the new shows that will be hitting your small screen come this fall, we've put together a quick guide of what the series are about, who's in them and who's making them. 
Here are all the pilots (comedy and drama) that have been picked up to series by ABC, CBS, Fox, NBC and The CW: 
ABC
COMEDIES:
The Goldbergs Spinoff: The untitled comedy set in the '90s will focus on  the teachers of William Penn Academ, including Tim Meadows' Principal Glascott and Bryan Callen's Coach Mellor, with Aly Michalka also starring as Lainey Lewis. It was created by the '80s-set mothershow's showrunner Adam F. Goldberg and Marc Fire.
Single Parents: This ensemble comedy follows a group of single parents as they lean on each other to help raise their 7-year-old kids and maintain some kind of personal lives outside of parenthood. Taran Killam stars as Will, a 30-something guy who's been so focused on raising his daughter that he's lost sight of who he is as a man. Leighton Meester, Kimrie Lewis, Jake Choi, Marlow Barkley, Tyler Wladis, Decin Trey Campbell, Grace Hazelett and Brad Garrett also star.
The Kids Are Alright: An ensemble comedy set in the 1970s that follows a traditional Irish-Catholic family, the Clearys, who are raising eight sons in a three bedroom house with one bathroom. Inspired by the childhood of EP Tim Doyle. Michael Cudlitz and Mary McCormack star. 
DRAMAS:
A Million Little Things: This Boston-set drama follows a group of Beantown buds who bonded under unexpected circumstances. While some have achieved success and others are still struggling in their careers and love lives, all of them feel stuck in life. When one of them dies unexpectedly, it's the wake-up call the others need to finally start living and, along the way, they discover that friends may be the one thing to save them from themselves. The ensemble cast includes David Giuntoli, Ron Livingston, Romany Malco, Allison Miller, Christina Moses, Christina Ochoa, James Roday, Stephanie Szostak and Lizzy Greene.
The Rookie: Nathan Fillion's back, baby! The Castle vet returns to the network with this procedural where he stars as small town guy John Nolan who, after a life-altering incident, begins pursuing his dream of being an LAPD officer. As the force's oldest rookie, he's met with skepticism from those who see him as a walking midlife crisis. If he can't keep up with his younger colleagues and the criminals, he'll be risking lives. But if he taps into his life experience, determination and sense of humor, he just may become a success. Alyssa Diaz, Richard T. Jones, Titus Makin, Mercedes Mason, Melissa O'Neil, Afton Williamson and Eric Winter also star in the series, created by fellow Castle vet Alexi Hawley.
Grand Hotel: From executive producer Eva Longoria, this bold, provocative drama is set in the last family-owned hotel in multicultural Miami Beach. Demian Bichir stars as Santiago Mendoza, the owner, while Roselyn Sanchez plays Gigi, his glamorous second wife who, along with her adult children, enjoy the spoils of success. The show is based on a Spanish series. It also stars Denyse Tontz, Bryan Craig, Wendy Raquel Robinson, Lincoln Younes, Shalim Ortiz, Anne Winters, Chris Warren, Feliz Ramirez and Justina Adorno.
Whiskey Cavalier: Scott Foley and Lauren Cohan star in this high-octane, hour-long action dramedy that follows the adventures of tough but tender FBI super-agent Will Chase (Foley) after he's teamed to work with CIA operative Francesca "Frankie" Trowbridge (Cohan). The series also stars Ana Ortiz, Tyler James Williams and Vir Das.
CBS
COMEDIES:
Murphy Brown: Candice Bergen is set to reprise her iconic role in CBS' 13-episode revival of the landmark show, which will return just shy of its 30th anniversary.
Welcome to the Neighborhood: House of Lies vet Josh Lawson stars in this multi-cam sitcom as "the nicest guy in the Midwest" who moves his family to a tough neighborhood in L.A., where not everyone enjoys his extreme neighborliness. Dreama Walker, Cedric the Entertainer, Tichina Arnold, Sheaun McKinney, Marcel Spears and Hank Greenspan also star.
Untitled Damon Wayans Jr. sitcom: One of this pilot season's hottest commodities, Happy Endings alum Damon Wayans Jr. stars alongside Greek's Amber Stevens West in this multi-cam comedy as a 30-something couple tired of their mundane life who start to reconnect with their younger, cooler selves when an emerging pop star (Felix Mallard), drawn to their suburban life, moves in. Chris Parnell also stars. Fun fact: The series is inspired by a time when executive producer Ben Winston lived with Harry Styles!
DRAMAS:
FBI: No, we didn't forget a Chicago in front of that show title! Dick Wolf's new drama is heading to CBS, which picked up 13 episodes of the procedural about the inner workings of the New York office of the Federal Bureau of Investigation. 
Magnum P.I.: Yep, it's a reboot of the classic 1980s show set in Hawaii, and it follows Thomas Magnum, a decorated ex-Navy SEAL who, upon returning home from Afghanistan, repurposes his military skills to become a private investigator. Jay Hernandez, Perdita Weeks, Zachary Knighton, and Stephen Hill star. 
God Friended Me: Questions of faith, existence, and science are explored in this humorous, uplifting series about an outspoken athiest whose life is turned upside down when he is "friended" by God on social media and he unwittingly becomes an agent of change in the lives and destinies of others around him. It stars Brandon Michael Hall, Violett Beane, Suraj Sharma, Javicia Leslie, and Joe Morton.  
The Red Line: From Ava DuVernay and Greg Berlanti: After a white cop in Chicago mistakenly shoots and kills a black doctor, we follow three vastly different families that all have connections with the case as the story is told from each perspective. Noah Wyle, Emayatzy Corinealdi, Aliyah Royale, and Noel Fisher star. 
Fox
DRAMAS:
The Passage: Based on the best-selling trilogy of the same name, this thriller is about a secret government medical facility experimenting with a dangerous virus that could either cure all disease or cause the downfall of the human race. Mark-Paul Gosselaar plays a federal agent who becomes a surrogate father to the 10-year-old girl (Saniyya Sidney) who is the test subject for the experiment. Vincent Piazza and Emmanuelle Chriqui also star.
Proven Innocent: Rachelle Lefevre stars as a fierce and fearless female lawyer with a tabloid sensation past and a hunger for justice who leads a team that reopens investigations to exonerate the innocent that were proven guilty. Russell Hornsby, Nikki M. James, Vincent Kartheiser, Riley Smith, and Clare O'Connor also star. 
COMEDIES: 
The Cool Kids: It's a multi-cam comedy about three guy friends in a retirement community who are shaken from their spots as top dogs by a female rebel ready to challenge them. "It's high school with 70 somethings." Vicki Lawrence, Martin Mull, David Alan Grier, and Leslie Jordan star. 
Rel: Lil Rel Howery plays a fictional version of himself in a show inspired by his real life as a "self-made success" who finds his positive attitude put to the test when he learns his wife is having an affair with his barber, and then has to rebuild his life post-divorce as a long-distance single father on the south side of Chicago who's on the quest for love, respect, and a new barber. Sinbad also stars. 
NBC
DRAMAS:
New Amsterdam: Starring The Blacklist's Ryan Eggold, Janet Montgomery and Freema Agyeman, this medical drama is inspired by Bellevue, the oldest public hospital in America.
The Enemy Within: Dexter's Jennifer Carpenter stars as a brilliant former CIA operative who is now known as the most notorious traitor in American history serving life in a Supermax prison in this spy-hunting thriller. Morris Chesnut plays an FBI Agent who enlists her help to track down an elusive criminal she knows all too well.
The Village: Think This Is Us in an apartment complex! Centering on an apartment building in Brooklyn that appears like any other from the outside, it's actually super unique on the inside. The occupants, who are bonded like a family, include a single mom raising a creative teen, a veteran who has just returned from warm young law student who got a much older and unexpected roommate and more. Starring Moran Atias, Dominic Chianese, Warren Christie, Frankie Faison, Jerod Haynes, Daren Kagasoff, Michaela McManus, Lorraine Toussaint and Grace Van Dien, you can expect hopeful, heartwarming and challenging stories of life from this one.
Manifest: Just when you thought people were done trying to find the next Lost, along comes this drama from Robert Zemeckis and Jack Rapke about Montego Air Flight 828. The passengers all think they landed after a routine flight, but they soon learn that the world below had aged five years and their friends, families and colleagues had mourned their losses and moved on. Of course, a deeper mystery begins to unfold and some of the passengers realize they may be meant for something greater. The series marks Once Upon a Time vet Josh Dallas' return to TV, as he stars alongside Melissa Roxburgh, Athena Karkanis, J.R. Ramirez, Luna Blaise, Jack Messina and Parveen Kaur.
The Inbetween: Have you missed The Ghost Whisperer? Or maybe Medium? Well, then this series from Castle vet Moira Kirland is for you. The procedural follows Cassie Bishop (Harriet Dyer) who can see and communicate with the dead, helping them with their unresolved problems—whether she likes it or not. When her longtime friend Det. Tom Hackett (Arrow's Paul Blackthorne) and his new partner need help solving a puzzling murder, she agrees to use her abilities to help solve some of the city's most challenging cases. Anne-Marie Johnson, Cindy Luna and Chad James Buchanan also star.
COMEDIES: 
Abby's: This aspirational comedy about the best bar in San Diego comes from the producers of The Good Place. With an oddball cast of regulars, the unlicensed Abby's is the exact opposite of everything annoying about today's party scene. Natalie Morales, Nelson Franklin, Kimia Behpoornia, Jessica Chaffin, Leonard Ouzts and Neil Flynn all star in the multi-cam that will tape in front of a live audience.
I Feel Bad: From EP Amy Poehler, this comedy is about Emet, a mom, boss, wife, friend and daughter who is just trying to figure it all out like the rest of us. Starring Sarayu Blue, Paul Adelstein, Aisling Bea, Zach Cherry, Johnny Pemberton and James Buckley, this modern comedy about being perfectly OK with being imperfect.
THE CW
DRAMAS: 
Charmed: After the tragic death of their mother, three sisters in a college town are stunned to discover they are witches, and they must stand together to fight the everyday and the supernatural battles that all modern witches must face, from vanquishing powerful demons to toppling the patriarchy. The show is from Jane the Virgin's Jennie Urman. 
In the Dark: Michael Showalter is the EP behind this show about a flawed and irreverent blind woman who is the only "witness" to the murder of her drug-dealing friend. After the police dismiss her story, she sets out with her dog, Pretzel, to find the killer while also managing her colorful dating life and the job she hates at the guide dog school owned by her overprotective parents. 
Roswell, New Mexico: After reluctantly returning to her tourist-trap hometown of Roswell, New Mexico, the daughter of undocumented immigrants discovers that her teenage crush is now both a police officer and an alien, who has kept his unearthly abilities hidden his entire life. She protects his secret as the two reconnect and begin to investigate his origins, but when a violent attack and long-standing government cover-up point to a greater alien presence on earth, the politics of fear and hatred threaten to expose him and destroy their deepening romance. The show is from The Originals' Carina Adly Mackenzie, and  Jeanine Mason and Nathan Parsons will star. 
All American: When a rising high school football player from South L.A. is recruited to play for Beverly Hills High, the wins, losses, and struggles of two families from the vastly different worlds of Crenshaw and Beverly Hills begin to collide. Inspired by the life of pro football player Spencer Paysinger, the show is from EPs Greg Berlanti and Sarah Schechter and has been described as The OC meets Friday Night Lights. 
Legacies: The world of The Vampire Diaries and The Originals lives on in a show from Julie Plec about the next generation of supernatural beings at The Salvatore School for the Young and Gifted, originally opened by Caroline and Alaric in the Vampire Diaries series finale. Klaus' daughter Hope Mikaelson comes of age alongside Alaric's twins, Lizzie and Josie, in the most unconventional way possible, nurtured to be their best selves in spite of their worst impulses. 
Keep checking back with us as the networks pick up more new shows for the 2018-19 TV season.
Which new shows are you most interested in?