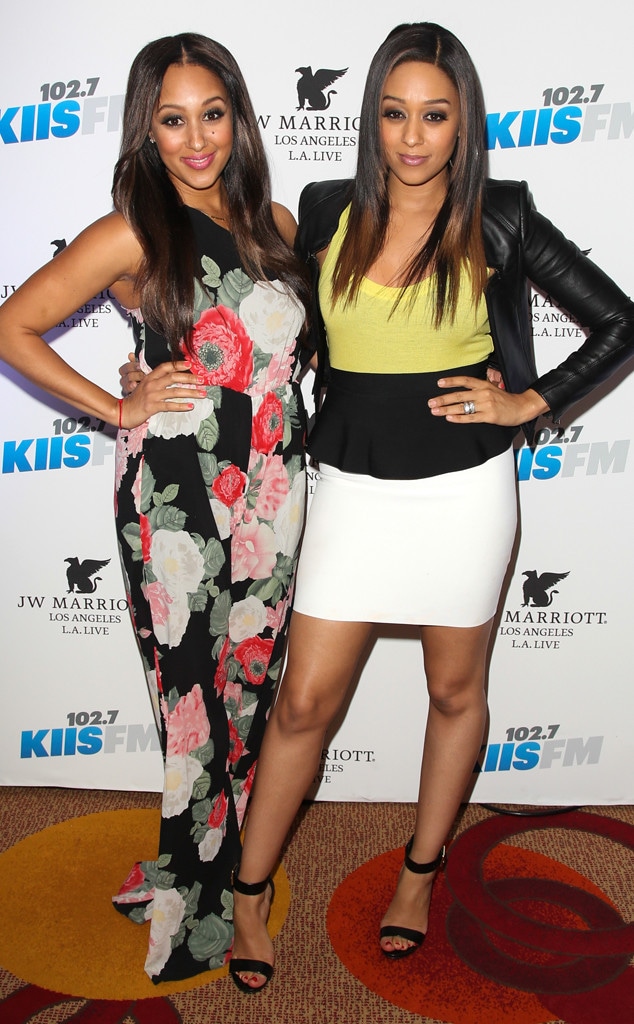 Paul Archuleta/FilmMagic/Getty Images
Twins share a unique bond. They are each other's other half. They have their own language, their own way of communicating that leaves the rest of the world wondering just what they're talking about.
Tia Mowry and Tamera Mowry can tell you all about it.
"The only thing we can't do is feel each other's pain. If I pinch myself..." Tamera said, giving her wrist a slight pinch, on Larry King Now in 2014. "But I know what she's thinking right now," interjected Tia, who's 2 minutes younger. "She can't hide anything from me and vice versa."
They proceeded to spend half the interview answering in unison and finishing each other's sentences. As usual.
The Mowry twins have been in the public consciousness as a charming unit for almost 25 years, ever since they vaulted into sitcom stardom with Sister, Sister, in which they played twins who were separated at birth and then adopted—"Tia Landry" by a single mom played by Jackée Harry and "Tamera Campbell" by a couple (though when the show starts she's being raised by her widowed dad, played by Tim Reid).
Tia and Tamera, who have cited Star Search (and their failure to make it on the show as a dance act) as their motivation to entertain, moved from Texas (where they were competing in pageants and doing catalog modeling) to L.A. with their parents and younger brother Tahj Mowry, who at barely 5 years old landed a recurring role as Michelle Tanner's pal Teddy on Full House. About two years after their first commercial, a Chrysler ad that featured the twins jumping rope double-dutch, they were discovered by producer Irene Dreayer.
They were 15 when Sister, Sister premiered on ABC, to be picked up by the WB a year later. It was on the air for six seasons, making the twins 21 when the series ended.
"We basically grew up on that show," Tia said. 
Faye Sadou/Media Punch/INSTARimages.com
Many a former child or teen star could say the same about whatever project won them fame at a young age. But not all of them can say that their transition from childhood—especially if they were stars of a hit prime-time show—to adulthood went as smoothly as the Mowry twins can.
They've of course had their personal trials and tribulations, but they somehow managed to avoid the sort of highly public scandals that have plagued actors who grew up in the spotlight and weren't quite sure what to do when it dims. Or, conversely, when that spotlight only cranked up to a higher level.
For starters, Tia and Tamera had each other, which basically means that they were never, psychologically speaking, alone. (That bond seems to have come in handy for Dylan and Cole Sprouse, too.) They had a tight family unit with mom Darlene and dad Timothy, high school sweethearts who joined the Army together and raised their four children in a religious household—wherever the house was at any given time. The twins were born in Germany and, due to their parents' military careers, the family lived in Hawaii and Texas twice before relocating to L.A. so the kids could pursue their dream. And to this day the girls remain close with their younger brothers Tahj and Tavior, who were just at Tia's baby shower last month.
Not that being a twin was, or is, always easy. On The Real in 2014, Tamera remembered being labeled at 16 as "the goofy, cute one," which sucked because "all I wanted to be was sexy."
The twins did at least have the unwitting luxury of growing up before the social media age, meaning no Twitter trolls, no online shaming at a tender age, no regretful tweets, ebbs and flows of followers and other versions of the 24/7 scrutiny that they didn't have to worry about navigating until they were adults.
Not that being a teen in the public eye wasn't hard anyway. It's not as if anyone, no matter how non-millennial, remembers adolescence as being easy. And as it turns out, trolls used to have to write letters on paper and mail them, making them super-committed trolls.
"My sister and I used to read every fan mail because we just love our fans that much," Tamera divulged on The Real in 2016. "And we used to sign the autographs. We used to do it. It wasn't pre-made...So I can remember reading this stupid letter when this person called me ugly and said I was the 'ugly and goofy twin.' And for years, I made an agreement with that stupid statement. And I carried it around with me, you guys, for years. I thought I was ugly and I thought I was goofy."
Luckily the girls also had a strong support system that extended beyond the family as well.
"My amazing best friend said, 'You know what, Tamera? You are not 16 years old anymore. You do not have to listen to that insecurity in your head anymore. You do not let other people define who you are,'" Tamera continued.
"So, now, to this day, when I read negative comments are anything like that, you know what I say? I don't have to make an agreement with that. Your words and you—who I don't even know — I'm not going to give you power over who I am. I know who I am and you don't define me. I define me."
Tia's had her run-ins with bullies on social media more recently, opening up on HuffPost Live in 2015 right after noticing that Instagram commenters were speculating that she was pregnant—which she wasn't. 
"I'm just enjoying life and when I want to drop the pounds I will, but right now I'm happy with who I am," said Tia, whose son Cree was 4 at the time. "Someone even wrote on my Instagram page today, 'Looks like you picked up a little weight, I hope you lose it.' And it's like, really? Why would you say that? Why do you feel the need to say that?"
Just last year, Tia opened up about how close to home that sort of online body-shaming hits. While in her late teens and doing Sister, Sister, she started taking diet pills as a way to combat the temptation of all the candy and other junk food that greeted the young actors on set everyday.
"I didn't feel fat, but the pressure of being on television and wanting to look sexy and beautiful took over," she wrote in her 2017 cookbook Whole New You: How Real Food Transforms Your Life, for a Healthier, More Gorgeous You. "I'm not proud of it. I got skinny, true, but the pills caused my heart to race, and I knew in my gut that I was hurting myself."
Tia continued with the pills until college, she wrote, until a professor suggested she literally set fire to a bad habit. 
She wrote "Give up diet pills" on a piece of paper and threw it in a fireplace, she recalled, writing, "As I watched the paper crackle and burn, something in me released. Haven't touched diet pills since that day, and thankfully, I haven't wanted to."
Tia further revealed that she was diagnosed with endometriosis in her 20s, which also motivated her to overhaul her diet and commit to eating healthier.
Also contributing to their lack of public drama: Both sisters have remained deeply rooted in their faith and happened to find stable relationships at an early age, with men who shared their values.
Tia met future husband Cory Hardrict in 2001 on the set of the indie movie Hollywood Horror and they got engaged on Christmas Day in 2006. They just celebrated their 10th wedding anniversary on April 20.
"He's such man of God," Tia gushed about her husband to Madame Noir in 2015. He has faith beyond this world and I learned that from him. His faith is unstoppable. He has faith in his career. He has faith in his marriage. He has faith in his son. And it goes a long way. He's extremely optimistic and he believes in himself. I love that about him."
Tamera, meanwhile, met Fox News correspondent Adam Housley in 2005 and, minus a break that lasted for about a year, they've been together ever since. They married on May 15, 2011—and Tamera later revealed that they waited until after they were married to have sex.
"But if you want to be celibate, definitely don't live together because that makes it harder for you," she told Ebony with a laugh in 2012. "Have people around you to keep you accountable! Surround yourself with people who support your decision, because they're only going to root you on."
Stewart Cook/REX/Shutterstock
Social media continued to rear its ugly head, though, particularly when it came to Tamera's husband being white. "Now I laugh at it, 'cause honestly it's their issue, not mine," she told Larry King in 2014. (The Mowrys are also the daughters of a white father and African-American mother.)
Sadly enough, as Twitter has gotten nastier, so has the commentary.
"When we first came out publicly as a couple 12 years ago, I remember a few negative comments, such as 'never expected her to be with him!' But I never expected it to reach this degree of criticism as I got older," Tamera said on The Real last May. 
"I think the criticism is even worse now, with the racial tension that we're seeing and the political climate," she observed. "But my husband, who is so great, said, 'You know what, Tamera? This is just teaching you to focus on the thousands of people that are for you, as opposed to the very few people who are against you.' He's right.'"
And it does seem that, for the past 20 years, way more people have been for Tia and Tamera rather than against them.
A key indicator of that: Even though Sister, Sister remains their biggest claim to fame, they have worked pretty consistently ever since.
Both girls took a break from acting to get bachelor degrees in psychology from Pepperdine University in Malibu, Calif. They continued to co-star in cable movie fare such as Twitches, Twitches Too and Seventeen Again. Tamera played a doctor on the Lifetime drama Strong Medicine. Tia starred on The Game, playing a med student who temporarily gives up her dream to move cross-country with her football player boyfriend, and then on her own TV Land sitcom Instant Mom. For several years they joined forces once again for the reality show Tia and Tamera. Meanwhile, Tamera's been a co-host on The Real since 2013. Both sisters are into food and lifestyle blogging, and Tia had her own cooking show and has been sharing her parenting journey on the podcast Mostly Mom With Tia Mowry.
But even when they're working on separate projects, the Mowry twins remain about as close as can be, supporting each other through career ups and downs, health scares, weddings and childbirth. Even with their married names the sisters still have the same initials, Tia Mowry-Hardrict. and Tamera Mowry-Housley, and as of Saturday they're both mothers of two.
"They have a beautiful boy and now a beautiful girl, and I'm just so excited," Tamera gushed on The Real Monday about her new niece (Tia and Cory have yet to announce their daughter's name). "I'm actually going to see her again today because I miss her. She is precious, you guys."