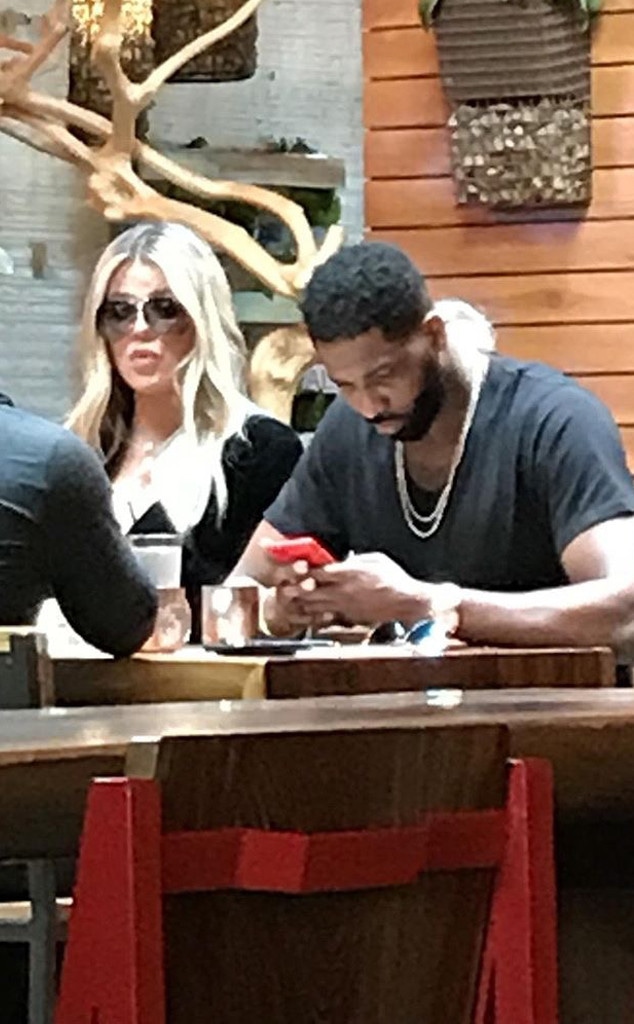 @timbe33/Instagram
Khloe Kardashian and Tristan Thompson have resurfaced—together!
E! News has obtained a photo that shows the new parents enjoying a meal at TownHall restaurant in Cleveland.
Khloe was spotted wearing a black top with matching sunglasses as she sat across from three friends. As for Tristan, he sported a black T-shirt and gold chains around his neck.
An eyewitness says the pair was cordial with one another as they sat next to each other. 
The sighting marks the couple's first appearance together since welcoming a baby girl named True Thompson. It also comes after Tristan made headlines for allegedly cheating on his girlfriend while she was pregnant.
"She hasn't given up on him yet, but also hasn't really been focusing on their relationship. When they see each other, it is all about the baby and parenting together," a source recently shared with E! News. "Khloe has fallen in love with him all over again, watching him be a dad to True, but [she also] knows she needs to really take a step back and make the right decision."
Kris Jenner also provided a bit more insight into Khloe's first weeks of motherhood when she appeared on The Ellen DeGeneres Show this week.
"Khloe is amazing," she told Ellen DeGeneres. "I'm so proud of that kid. I get choked up because she's such a good mom."
The proud grandma added, "She's just concentrating on that—just being a mom, her baby. And I think that's what her sisters are doing, as well."
As fans eagerly wait for Khloe to share the first photo of her baby girl, the new mom herself appears focused on keeping a low profile and savoring mommy-daughter time in Cleveland. After all, the Keeping Up With the Kardashians has been waiting to be a parent for a long time.
"Khloe is mesmerized and completely in love with the baby," a source previously told E! News. "That's all she's thinking about is caring for the baby and being positive."
TMZ was first to report the sighting.