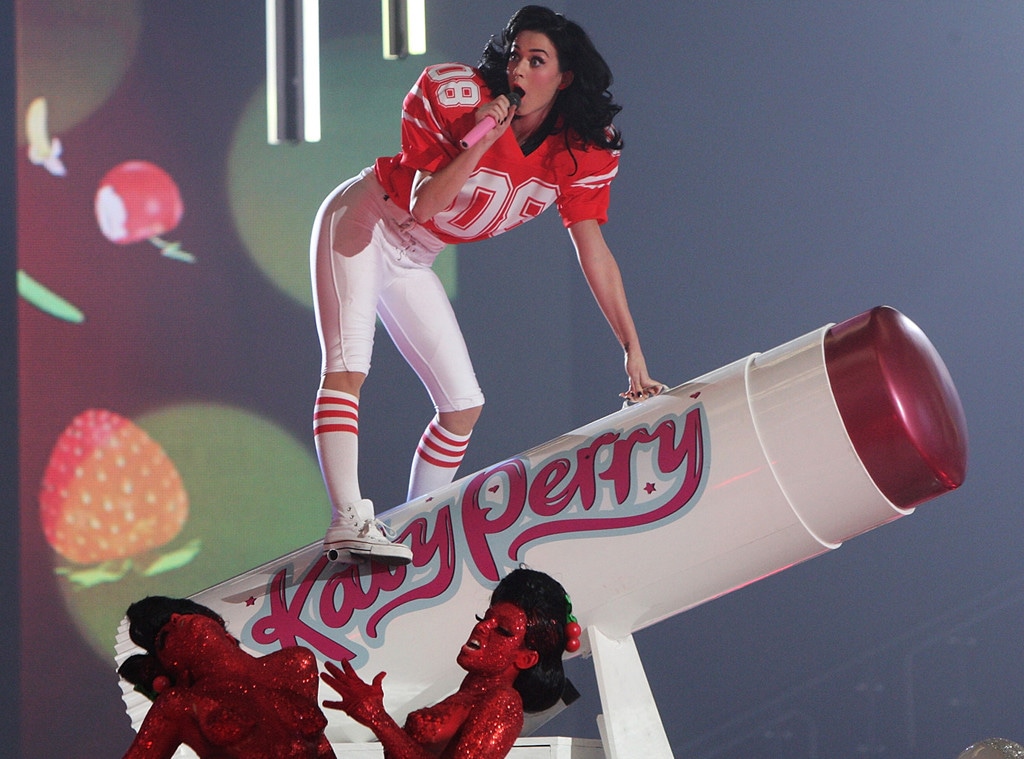 Getty Images
Katy Perry's "I Kissed a Girl" is officially 10 years old!
The 33-year-old singer celebrated the 10th anniversary of the song that put her on the map on Thursday by posting the ultimate throwback. In honor of her hit single—off of her second album One of the Boys and her first single to top the Billboard Hot 100—Perry shared a video showing off the moment she first heard her song on the radio.
"#TBT This weekend marked the 10th anniversary of the release of I Kissed A Girl! Thank you for believing in me then, and growing with me since #doublethrowback," she captioned her celebratory video.
The video also shared glimpses of the "Hey Hey Hey" singer in concert over the past 10 years, beginning back in 2008 when "I Kissed a Girl" was released. We still can't believe it's already been a decade since Perry caught the attention of the music world with this catchy track. It seems like just yesterday!
Luckily, fans have been treated to hit after hit since this song debuted on Apr. 28, 2008. There have been songs about kissing girls, being a dark horse and one about being chained to the rhythm. All of these songs and so many more have had even more amazing music videos to go with them.
In celebration of Perry's career—and an ode to her first major hit song—we're reliving all of her best music videos. From "I Kissed a Girl" to "Chained to the Rhythm," Perry has continued to impress us with her videos.
Join us on the music video rollercoaster that is Perry's career below. Don't forget to cast your vote for her best video of all time below. Oh, and we highly recommend listening to "I Kissed a Girl" on repeat in Perry's honor while you vote!
1. "I Kissed a Girl"
It might not be one of Perry's best videos in terms of costumes and bright colors, but it's the video that started it off. As the song that put the California native on the map the video deserves a little love. Plus, it is old-school Katy in black lingerie looking so fierce, which is wonderful.
2. "Chained to the Rhythm"
This really could be the best of Perry's videos in our minds. The fact that she takes you on a journey to a "utopian" theme park that is also a nod to our current cultural and political climate is so interesting. In addition to being modern, creative and totally inventive, the use of hamsters throughout the park is too great to forget.
3. "California Gurls"
It's candy land, what more could you want? The iconic purple wig on Perry, Snoop Dogg in a candy-filled suit and lots of ice cream make us want to live in this video. PS: Perry goes nude in a cloud of cotton candy, because she is so fabulous.
4. "Dark Horse"
Perry as Cleopatra just fits, don't you think? The "Dark Horse" video is an Egyptian playground complete with the perfect eye makeup we'd expect from the singer. The entire video is a fascinating tale and takes you to Egypt through music.
5. "Teenage Dream"
It's been eight years since Perry released "Teenage Dream" and it still gives us all the feels. The music video is so simple, which is why it's great. It shows Perry driving with her love up and down the coast of California while perfectly encapsulating the beginnings of falling for someone. Oh, and there's the added bonus of everyone in the video being extremely good looking.
7. "Roar"
Hello, Perry in a jungle—complete with leopard scarf and a jungle chic wardrobe—is what we always wanted from her. After finding herself lost in a jungle Perry finds herself by embracing her power as a female. It's empowering and wonderful. Plus, she looks good in that leaf skirt and cheetah top!
8. "Firework"
If you've ever wanted to feel empowered, then you should listen to this song and watch the corresponding video. "Firework" is emotional, beautiful and perfectly sums up Perry's own career. It shows people who are down on their luck, are sick, facing bullies, etc. and how they overcome it all to shine. It's perfect.
9. "Hot N Cold"
As one of Perry's first big hits we have a soft spot in our hearts for "Hot N Cold." What makes this music video so great is that it has a lot of dance sequences and shows the singer in a killer romper wedding dress. Oh, and she rides a bike in her wedding "dress" to attack her ex. What more could you want?
10. "Swish Swish"
This catchy song is one of Perry's most recent and the video is entertaining from start to finish. It features Molly Shannon, Terry Crews, Rob Gronkowski and more stars and takes place on a basketball court. There are killer dance moves, funny cartoon-style moments that you can't help but laugh at. It's trippy, random, and just works. The best part might be when Nicki Minaj does her section of the song at center court surrounded by flames and inspires everyone. Trust us, it's worth the watch.
Katy Perry's Best Music Videos