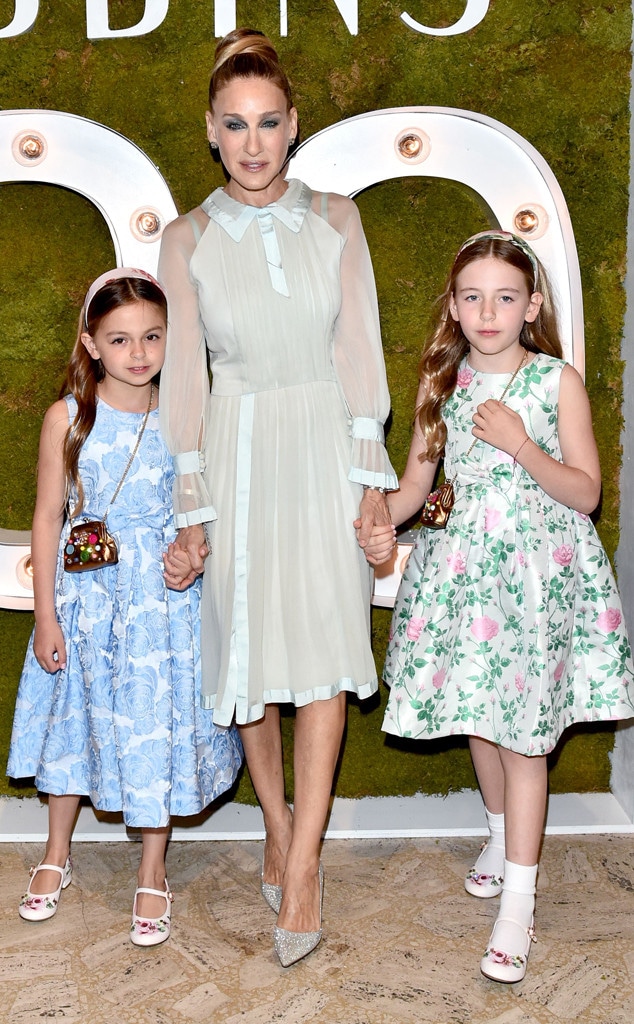 Andrew H. Walker/WWD/REX/Shutterstock
Sarah Jessica Parker is ready for one special girls' night out.
On Thursday evening, the Sex and the City star and her twin daughters showed their support for New York City Ballet's 2018 Spring Gala.
In a rare red carpet appearance, Sarah's twin daughters Tabitha Hodge and Marion Loretta Elwell posed for photos in their floral dresses and matching ballet shoes.
As for mom, she held her daughters' hands while showing off sparkling silver heels and a white knee-length dress with sheer long sleeves.
"Special night @nycballet and my wee dates are getting ready," Sarah wrote on Instagram before arriving at the special event. "The 'baby.' Time to get dressed!"
She added, "Shoes moving toward @nycballet Spring gala. With my gals. Oh beautiful, talented @nycballet ballet dancers, we can't wait to see you. X, SJ and daughters."
The evening gala will pay homage to Jerome Robbins as part of Robbins 100. The event's honorary committee includes Barbra Streisand, Jake Gyllenhaal, Shirley MacLaine and Sarah herself.
In a recent interview with People, Sarah talked about raising twin daughters. As it turns out, the pair has developed their own separate traits worth celebrating.   
"They have different interests," the proud mom shared with the publication. "They're really devoted to each other, but they'll also say, 'I need time away from her.' Tabitha can play by herself for hours. Loretta always needs to be checking in. They go to different schools. That's Tabitha's idea."
Sarah and husband Matthew Broderick also have a son named James Wilkie who is equally impressive. "I'm so happy with the young man he's becoming," she previously shared.