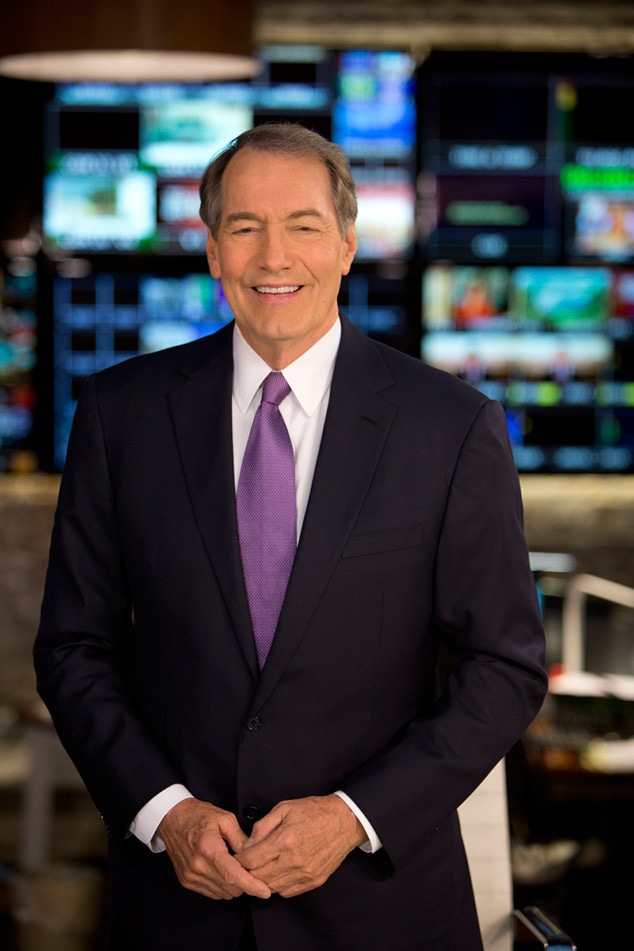 Craig Blankenhorn/CBS
Just a few months after Charlie Rose was fired from CBS and PBS over sexual harassment allegations, The Washington Post published a new report accusing the journalist of sexually harassing an additional 27 women.  
The report, published Thursday, was based on The Post's interviews with 107 past and present CBS News employees, as well as two dozen other people who worked with Rose on other television programs.
The Post's investigation took place over a five-month time frame, and many accusers spoke on the condition of anonymity due to fear of retaliation.
In an emailed statement sent to The Post, Rose claimed that the "story is unfair and inaccurate."
The new allegations date back to 1976. Former research assistant Joana Matthias told the newspaper Rose exposed his penis to her and touched her breasts while they were both working at the NBC News Washington bureau during that time. 
"This other personality would come through, and the groping would happen," she told the newspaper. 
An NBC News spokeswoman declined to comment.
Among the 27 accusers, 14 said Rose harassed them during his tenure at CBS News, where he worked on CBS This Morning since its inception in 2012, as well as 60 Minutes. 
One of these accusers was Sophie Gayter. Now 27, Gayter claimed she worked with Rose on 60 Minutes back in 2013 and that he groped her buttocks as they walked down a hallway to a recording studio.
"People said what they wanted to you, people did what they wanted to you," she told the newspaper.
CBS News released a statement in response to the article. It also claimed it had no human resources complaints about Rose.
"Since we terminated Charlie Rose, we've worked to strengthen existing systems to ensure a safe environment where everyone can do their best work," the news organization stated. "Some of the actions we have taken have been reported publicly, some have not. We offer employees discretion and fairness, and we take swift action when we learn of unacceptable behavior."
"That said, we cannot corroborate or confirm many of the situations described," CBS News added. "We continue to look for ways to improve our workplace and this period of reflection and action has been important to all of us. We are not done with this process."
Jeff Fager, a former chairman at the network who hired Rose for multiple positions, also claimed he had no knowledge of any allegations against Rose until November, when The Post first published eight accusations about Rose, which included making lewd phone calls, walking around naked and groping women's breasts, buttocks or genital areas.
Rose issued an apology at the time.
"It is essential that these women know I hear them and that I deeply apologize for my inappropriate behavior," he said at the time. "I am greatly embarrassed. I have behaved insensitively at times, and I accept responsibility for that, though I do not believe that all of these allegations are accurate. I always felt that I was pursuing shared feelings, even though I now realize I was mistaken."
In addition, CBS News president David Rhodes said he "was not aware of harassment by Charlie Rose at CBS."
The Post also reported there were at least three instances when managers knew about Rose's alleged misconduct. The first allegedly took place in 1986, when he was serving as a substitute anchor on CBS Morning News.
Annmarie Parr, a 22-year-old news clerk, told The Post Rose asked her if she liked sex and questioned how often she liked to have it. Parr claimed she laughed nervously and left. She also said he had made "lewd little comments" about her appearance before.
According to the newspaper, Parr told her boss, an unnamed senior producer, about the alleged incident and claimed she didn't want to be alone with Rose. However, she said the producer laughed and said, "'Fine, you don't have to be alone with him anymore.'"
As The Post noted, seven women sued CBS that same year, claiming the workplace for Nightwatch was "offensive and hostile" to female employees. While Rose was not cited in the lawsuit, he was a co-anchor on the show at the time.
Beth Homan-Ross, one of the plaintiffs in the case, told The Post she worked with Rose as an assistant producer. She also alleged he made sexual comments about her breasts and buttocks. In addition, she claimed she would sometimes find Rose naked, holding a tower when she stopped by his house to deliver work materials. In fact, she alleged he invited her to come into his bathroom while he was showering on more than one occasion. She claimed she declined. 
"It was a sexual land mine everywhere you stepped," Homan-Ross, now 61, said about the Washington office.
According to The Post, the lawsuit was settled under confidential terms in 1987.
In addition, Susan MacArthur claimed a CBS News executive told her to "steer clear" of Rose due to his "questionable behavior" upon applying to be his assistant in 1990.
"She looked me dead in the eyes and said, 'You are going to be working alone with this man and being alone with this man in his hotel, and you need to think really hard about whether you want to do this,' " she told The Post, refusing to name the executive."
However, the alleged misconduct reportedly didn't end there.
Corrina Collins claimed Rose invited her on a work trip to California for a 60 Minutes II assignment when she was a 20-year-old intern. She claimed Rose insisted she drink wine during the flight and that he started to "paw" her. Collins claimed she became drunk and threw up.
As they left the airport, Rose allegedly squeezed her breasts. She also claimed he insisted they work in his hotel room and that he told her, "I want you to ride me." She said she left the room. 
"It felt predatory," she told The Post. "I had already said no, but he was going to persist."
Like Parr, Collins allegedly spoke out about the claimed incident. She said she told a lawyer and family friend by the name of Danna Jackson years ago. According to the newspaper, Jackson corroborated the account. Collins also claimed she told Yvette Vega, an executive producer of Rose's PBS show; however, Collins said Vega told her he was harmless.
As for incidents specifically flagged to CBS News employees, The Post claimed the second incident occurred in 2011. The newspaper reported Rose hosted a holiday gathering at the Manhattan restaurant The Spotted Pig and that he forcibly kissed a CBS This Morning employee, citing two people who claimed to have firsthand knowledge of the event. 
According to the newspaper, the woman who was kissed told CBS This Morning executive producer Chris Licht about the alleged incident but asked him not to share the account with HR. Licht confirmed the alleged incident to The Post in an email. While he claimed he abided by the employee's request, he also stated he spoke to Rose about the incident.
In a statement, a CBS News spokeswoman told The Post Licht's actions were "within the scope of CBS policy at the time" and that the "employee in question was satisfied with the result." The spokeswoman also told the newspaper CBS revised its policy in 2016, requiring supervisors to "promptly report" any complaints of harassment to HR or to a compliance officer.
Aside from the two incidents reported to CBS News management, a paid contributor told The Post Rose drew her close, groped her buttock and said "Damn, you look good on TV" while they were on set during an off-air moment in 2012. Again, the accuser claimed she told a friend about the incident, who corroborated the story.
The final cited example of someone reporting Rose to a CBS News manager allegedly took place in 2017. Brooks Harris, then 24, said Rose claimed he had heard about her from CBS This Morning executive producer Ryan Kadro and said the journalist would take her to lunch at expensive restaurants. There, she claimed, he would talk about job opportunities at his PBS program and 60 Minutes. He even reportedly sent her to 60 Minutes to meet with then-senior broadcasting manager Alison Pepper, who reportedly told her she was unsure if there was budget for a new hire.
It was around this time that Chelsea Wei, Kadro's then-executive assistant, felt concerned about Rose's and Harris' lunch outings. So, she allegedly confided in her boyfriend, who allegedly told her to go to management.
Wei claimed she told Kadro about her concern about the lunches that April, warning him "I'm telling you in case you have a lawsuit on your hands."
However, she said he didn't seem alarmed. 
In an email to The Post, Kadro admitted Wei spoke to him about Rose; however, he stated she didn't talk to him about any misconduct. 
"Ms. Wei did not tell me about inappropriate behavior by Charlie Rose towards Ms. Harris at any time. . . . Regarding your question about a 'lawsuit' — I don't believe she used that word," he told the newspaper.
Rose reportedly offered Harris a job at his PBS show days later.
"It is the best job in the world," he wrote her in an April 11, 2017 email reviewed by The Post. "I want you to be at the center of my professional world as I navigate between CHARLIE ROSE, CTM, AND SIXTY MINUTES." 
Harris claimed Kadro encouraged her to take the position; although, he denied doing so in an email.
Once Harris started working with Rose, his behavior allegedly made her more uncomfortable. She even claimed Rose suggested she have sex with another female assistant named Sydney McNeal, who confirmed the account to The Post.
McNeal said working for Rose was "toxic" and that it  "made me question my intelligence, dignity and worth as a human being almost every day."
According to the newspaper, the two assistants once ran an errand to Rose's home in Bellport, NY. Harris said Rose allegedly joked he didn't want to hear reports of "two young women swimming naked together" in his pool.
Then in July of that year, Rose allegedly asked Harris to leave alone with him after a staff gathering. She claimed he took her out for drinks and then demanded she join him in his apartment. She told The Post they were both drunk and that he insisted they watch 60 Minutes interviews at his desk together. She claimed she left.
In February, Ken Goldberg, an attorney representing Harris, Wei and McNeal, sent Rose and CBS a letter detailing the accusers' allegations. 
"Management, numerous broadcasters and studio staff witnessed Mr. Rose's unlawful conduct, and complaints were made," Goldberg wrote, adding that CBS and Rose's separate company "failed and refused to take any remedial action and that conduct continued unabated."
Goldberg also said his clients intend to file a lawsuit in the coming days.