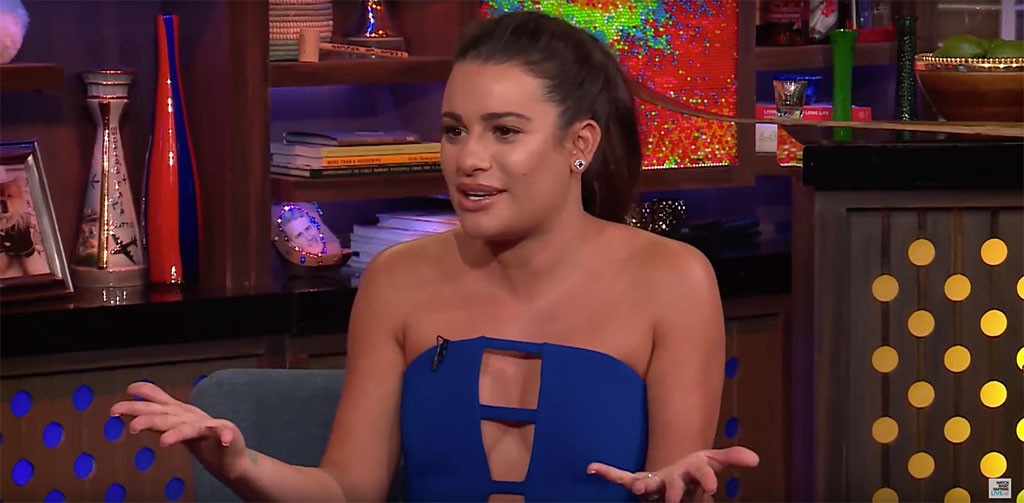 YouTube
Lea Michele is setting the record straight—she can absolutely read. 
The Glee alum was glowing Wednesday night when she stopped by the Watch What Happens Live With Andy Cohen set to talk Real Housewives, rumors and proudly sport her stunning new rock from fiancé Zandy Reich. The stats on that gorgeous sparkler? According to a source, the AYR president proposed with a 4-carat elongated, radiant-cut ring, which he personally designed with Leor Yerushalmi and The Jewelers of Las Vegas.
Cameras got plenty of glimpses of the diamond on Michele's left hand as she admitted it doesn't quite feel real yet. 
"I was so surprised, I kept saying, 'Stop joking around, stop joking around!'" she recalled of the proposal. "I keep thinking [the ring] is borrowed and I have to give it back at some point."
While the rock indeed belongs to her, there's a theory making the rounds on the internet that is a complete hoax. 
"I woke up one day and all of a sudden all online, someone had made like a conspiracy video—45-minute long video—trying to prove that I can't read or write," she explained. "Not only do I have to memorize pages and pages, they said that Ryan Murphy would have to read the lines to me."
"Ryan called me. He's like, 'Do people think that I have the time in my life to come and do this?'" Michele added. 
The star, who noted she got accepted to New York University, laughed off the so-called "proof" of her illiteracy, including the claim that she couldn't sign her name during book appearances.  
As she said, "It's the most bizarre thing that ever happened in my life."