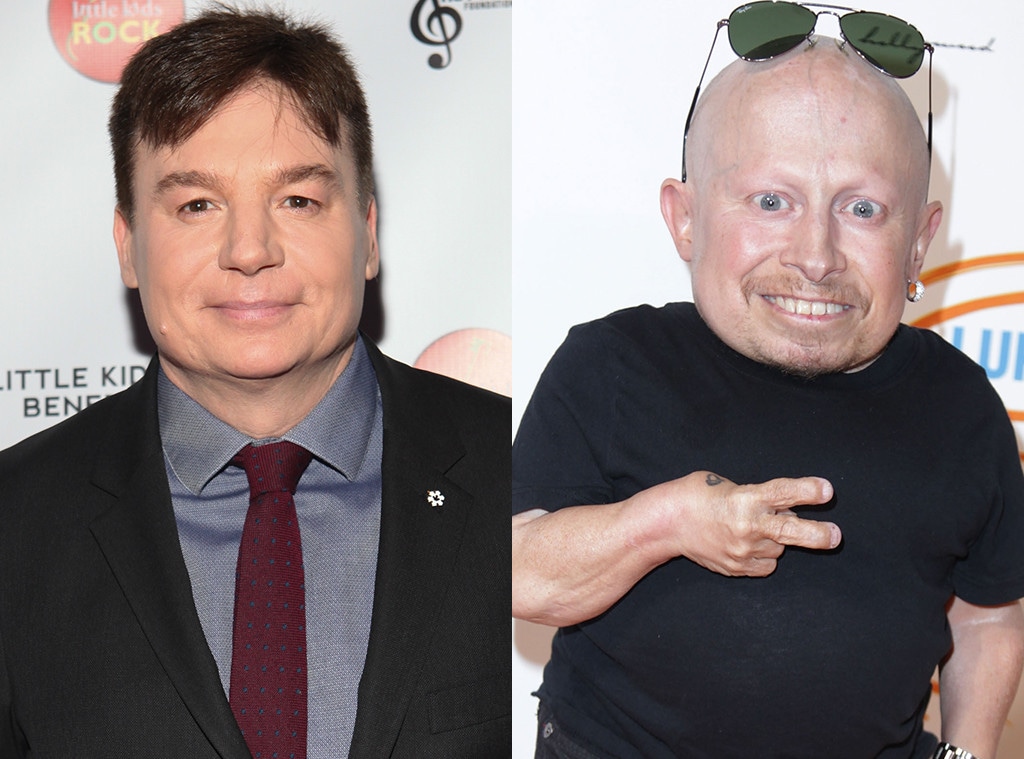 Steve Zak Photography/WireImage, Leon Bennett/WireImage
Less than two weeks after Verne Troyer's death, Mike Myers appeared on Jimmy Kimmel Live! and remembered his late co-star. 
"Verne was a fantastic human being and—yeah," Myers said on Wednesday, pausing as if he were about to be overcome with emotion.
The 54-year-old actor described the Mini-Me star as a "great physical comedian, a great dancer" and "just a fantastic guy." He also explained how Troyer took his role in the Austin Powers films to the next level. 
"As written, Mini-Me is like almost a prop," Myers explained, "but he brought it up off the page, made it better than written and we ended up giving him more and more stuff to do."
Myers said he attended a service for Troyer, where he saw a photomontage of the late star's life. Even though Troyer died at 49—and "wasn't supposed to live past his teens"—Myers said the photos of the star's international travels made it seem like he lived "150-years-worth of life."
The Saturday Night Live alum wasn't Troyer's only fan. Myers told a story of how he visited the White House under Barack Obama's presidency to attend a state dinner for Canada's Prime Minister Justin Trudeau. Myers said both men asked him about Mini-Me at the time.
"Verne brought so much love to people, you know what I mean?" he said. 
He also said he missed his former castmate. 
"Every day you see him, you go 'Wow! That is a small human.' But by the end of the day, you just saw Verne. It just sort of went away….He was part of the cast and fantastic," Myers said. "I miss him."
Watch the video to see Myers remember Troyer.
This isn't the first time Myers has paid tribute to his late co-star. Shortly after Troyer's death, The Hollywood Reporter staff writer Ryan Parker tweeted a statement from the Wayne's World star.
"Verne was the consummate professional and a beacon of positivity for those of us who had the honor of working with him," Myers stated. "It is a sad day, but I hope he's in a better place. He will be greatly missed."
Troyer's death was announced on April 21 via Instagram.
"It is with great sadness and incredibly heavy hearts to write that Verne passed away today," part of the statement read. "Verne was an extremely caring individual. He wanted to make everyone smile, be happy, and laugh. Anybody in need, he would help to any extent possible. Verne hoped he made a positive change with the platform he had and worked towards spreading that message everyday." 
The statement also described Troyer as a "fighter when it came to his own battles." Troyer had openly battled alcohol addiction and depression and even wrote about his alcoholism in an Instagram post on April 17.
While the statement did not list Troyer's cause of death, it did mention his personal struggles.
"Over the years he's struggled and won, struggled and won, struggled and fought some more," the statement read, "but unfortunately this time was too much."
According to USA Today, Troyer was hospitalized in early April after emergency medical services responded to a call at his home. After the incident, a statement was written on his Instagram account and fans were asked to "keep Verne in your thoughts and prayers."
On April 22, a rep for the Los Angeles County Coroner's Office confirmed to E! News that Troyer's death is under investigation and that an autopsy is pending.