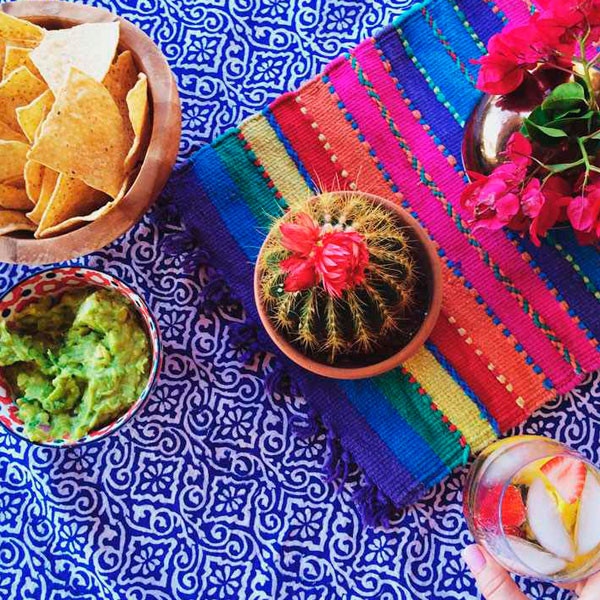 twenty20.com/lindsayl3
Tacos, margaritas, salsa and more! Tomorrow is Cinco de Mayo and what better way to celebrate than by devouring delicious food?!
Over the years, Cinco de Mayo—AKA May 5—has become a major celebration of Mexican heritage and culture here in America. Even Beyoncé has been known to get into the holiday spirit! 
Cinco de Mayo originated in remembrance of the Battle of Puebla in 1862, which took place on May 5 and resulted in the Mexican army gaining victory over the French in the Franco-Mexican War. Nowadays, it's a day of partying and celebrating Mexican culture, which for many of us means tacos and tequila.
What's even more exciting, is that there are a lot of companies who have decided to honor the holiday with deals for their customers. Instead of having a fiesta at home or taking a siesta alone, you can now go out and enjoy the day with deals to match!
Companies like Chipotle, Applebee's and more are joining in on the discount fun this holiday and we have your complete guide below.
Applebee's
The food franchise has extended their $1 margarita deal AKA the Dollarita through Saturday, May 5. Yes, this means you can drink margaritas for $1 all Cinco de Mayo long. Plus, they have their $2 Dos Equis special AKA the 2 Dollar Dos available all month long.
Bubba Gump Shrimp Co.
Talk about a good deal, Bubba Gump is going all out this year with their specials. They have $1 tacos and $4 Corona Extra bottles depending on location. Sounds like a good party to us.
Chipotle
If you're feeling like fast Mexican food this weekend, then you're in luck. Thanks to a partnership with DoorDash, Chipotle is taking the delivery fee off your order from now until May 6. Just use "GETCHIPOTLE" as your promo code at checkout.
Chuy's
Chuy's has something for its customers every day this weekend. On Friday, they begin their $1 off Coronas and $1 Floaters deal at happy hour. That will continue on Saturday with many more drink specials offered throughout day. Sunday is hangover day which means $5 Tito's Bloody Marys!
Hard Rock Café
The Hard Rock Café is all about the party. They are celebrating Cinco de Mayo by serving you a $5 margarita. Just use the word "Rockin'" when ordering a Rockin' Fresh Rita to get the deal. It goes through Sunday, May 6!
On the Border
This restaurant chain is all about the drink discounts this holiday. You can get $5 Cinco 'Ritas and $10 Perfect Patron Margaritas to start. Plus, they will have shot specials and beer specials at different locations.
Tio Juan's Margaritas Mexican Restaurant
This East Coast chain is having their annual Cinco de Mayan celebration which lasts five days. The deals range dependent on the location, but customers will have the opportunity to enter in the restaurant's contest to win a trip to the Mayan Riviera. Plus, there are drink deals, buy one, get one way cheaper deals and food deals all weekend long.
Make sure to call ahead to your local restaurants to see if they are participating in the Cinco de Mayo festivities! Otherwise you can always make your own margaritas and chow down on some homemade guac and salsa like a pro!