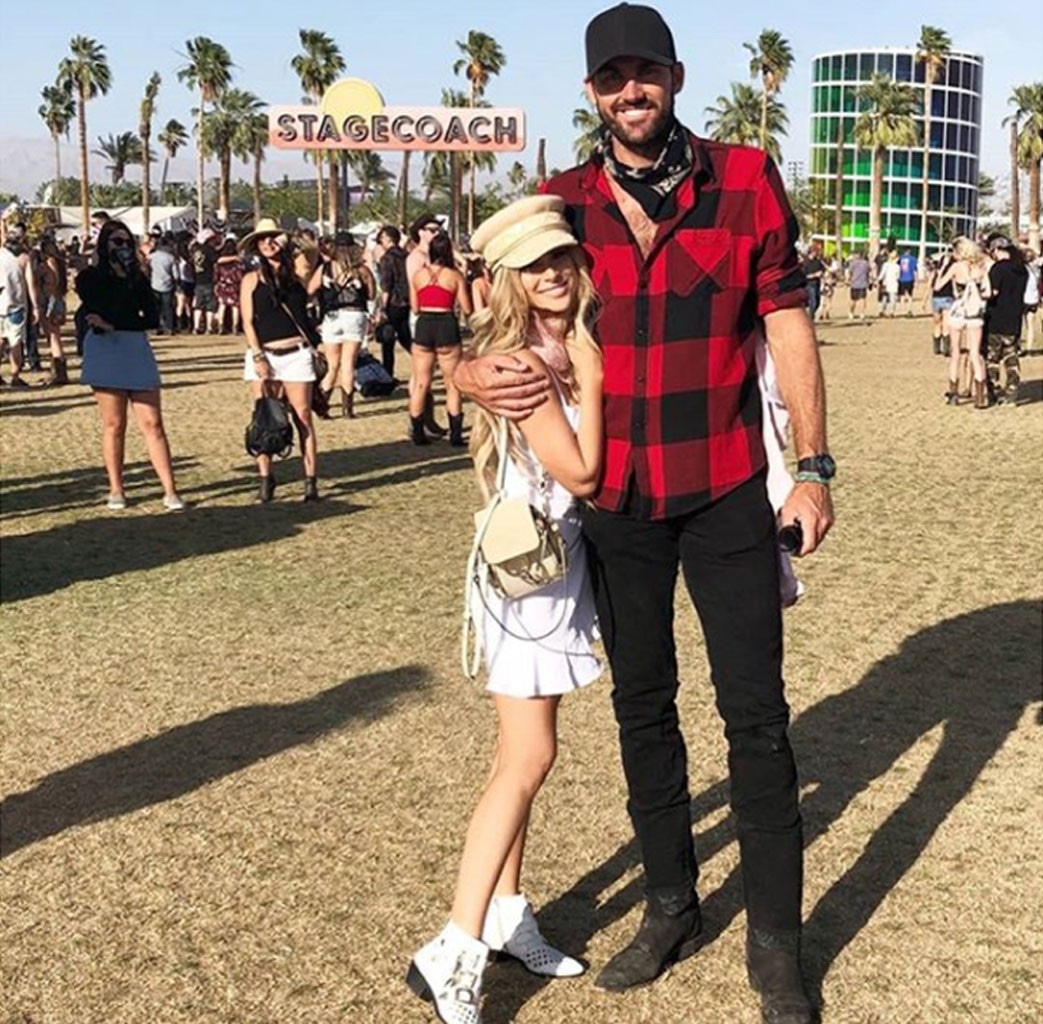 Instagram
Amanda Stanton is moving upward and onward! 
As The Bachelor in Paradise star leaves her drama with ex-boyfriend Robby Hayes in the rearview, a source tells E! News exclusively she has a new love interest by the name of Bobby Jacobs. And while we're told Amanda is taking things slow this time around, a photo of the social media maven and her beau at last weekend's Stagecoach Festival is most definitely worth a thousand words. 
Our source reveals, "They have been dating for two months now. Amanda doesn't know where it's going to go yet because they're still getting to know each other, but so far so good!"
The pair lives "close to each other" in Southern California, the insider says, and adds that they met through Instagram after Bobby "slid into her DM's." As of now, he has yet to meet Amanda's two daughters, Kinsley and Charlie. 
Want to get to know the man who might receive Amanda's final rose? We've rounded up five things to know about Bobby: 
1. He's a Dad... Dog Dad, That Is: 
Bobby's relationship with his precious pooch, Uzzi Bear, brings a whole new meaning to man's best friend. The cuddly samoyed even has his own Instagram page, where Amanda's new boo documents their adventures together. We predict many playdates between Uzzi and Amanda's pup, Princess Poppy, in the future! 
2. Bobby Is a Professional Volleyball Player, Yes Really!: 
The hunky 32-year-old is apart of the AVP Pro Beach Volleyball Tour League. It's obvious from Bobby's Instagram page that he's a thrill seeker, and loves spending time in the great outdoors. From skiiing to boating, hiking and shooting, he seems like the ultimate guy's guy. 
3. He's the Co-Founder of This Pretty Ingenious Company: 
Bobby turned a passion for the beach into his very own company! He co-founded Tillow, a fresh spin on the traditional towel that also doubles as a pillow, bag, includes a storage pocket and features a touchscreen pocket and headphone hole. 
4. Bobby Is a Huge Country Music Fan:
Like, huge. We're guessing Amanda got the VIP Stagecoach treatment with Bobby by her side, who is a veteran of the annual music fest. He attended last October's Route 91 Harvest Music Festival, and shared the following message on social media after the mass shooting: "Country Concerts are the only time I ever see so many people who don't know each other come together like everyone is your best friend. I'm disgusted beyond belief that some piece of s--t brainless nobody has tried to ruin our love for these concerts."
5. Of Course There's a Bachelor Nation Connection: 
Two years ago, Bobby appears to have attended the Stagecoach Festival with Lacy Faddoul, who married Marcus Grodd during season 2 of Bachelor in Paradise in 2015. (Lacy and Marcus ultimately split less than a year later.)
Do you think Bobby is an upgrade from Amanda's past dating history? Sound off in the comments!