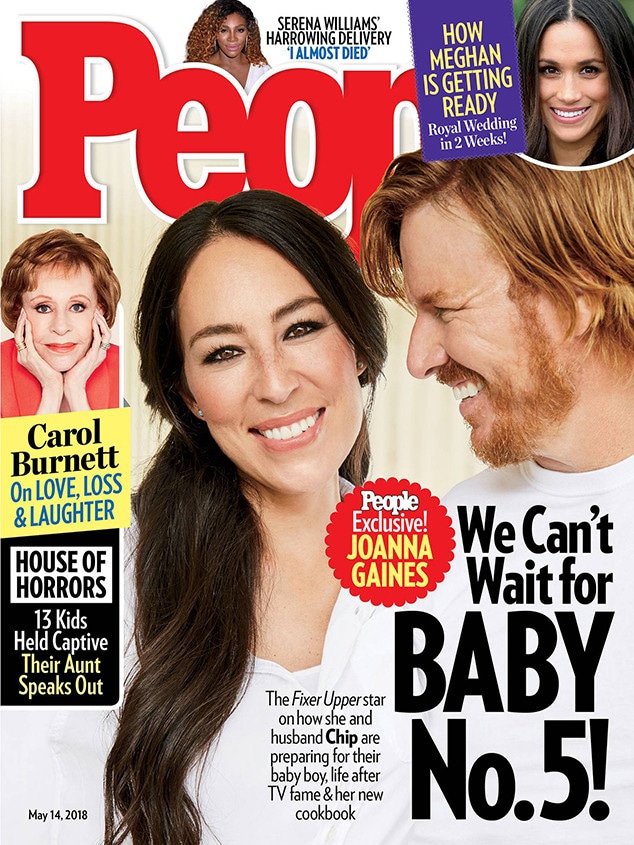 Perry Hagopian for <i>People</i>
Chip Gaines and Joanna Gaines are welcoming a baby boy this summer. However, the Fixer Upper stars didn't always plan on having a fifth child.
Joanna opened up about the special surprise in a new cover story for People published Wednesday.
"I had been feeling a little emotional and crazy and thought, 'Wow, this isn't me,' " the HGTV star told the magazine in its latest issue. "Then all of a sudden I realized, 'Hey, I remember this.' When I saw the results of the test, my jaw dropped. Chip was in the driveway about to leave when I called him back and said, 'We're pregnant!' He was so excited. We're both just so excited."
Back in September, Chip and Joanna broke fans' hearts by announcing the fifth season of Fixer Upper would be their last. Joanna cited their "growing family" as a reason for leaving the show. However, she didn't expect to make a pregnancy announcement that January.
"When we were done, we had no plan like, 'Let's have baby no. 5,'" she told the magazine. "It was a total surprise. But when we found out, it solidified that it was the right decision to leave when we did."
Ever since announcing the news, the shiplap sweethearts have shared the pregnancy journey with their fans. In March, the couple revealed they're expecting a boy and they've even dropped hints about a possible name.
"I want a C name and he [Chip] wants a D name," Joanna told Savannah Guthrie and Craig Melvin during a recent guest appearance on Today. "I say he got the boy, so I get to pick the name."
Joanna has also posted pictures of her baby bump and revealed her biggest food cravings.
Chip and Joanna are already the proud parents to four children: Drake, 13, Ella, 11, Duke, 9, and Emmie, 8. It looks like Joanna expects her kids to help raise their baby brother, too.
"There's going to be quite the [age] gap," Joanna said during the Today interview. "I'm going to have a lot of little helpers. I'm so excited."
Chip is also excited for the boys to outnumber the girls.
"This is really upsetting the balance of power," Chip teased on Today. "So the boys might be able to outvote from here until kingdom come."
Jokes aside, it looks like everyone is ready to be a family of seven. During her interview with People, Joanna told the magazine her kids are already rubbing her belly and "rallying around" the baby.
To read more of the interview, check out the new issue of People—on newsstands Friday.