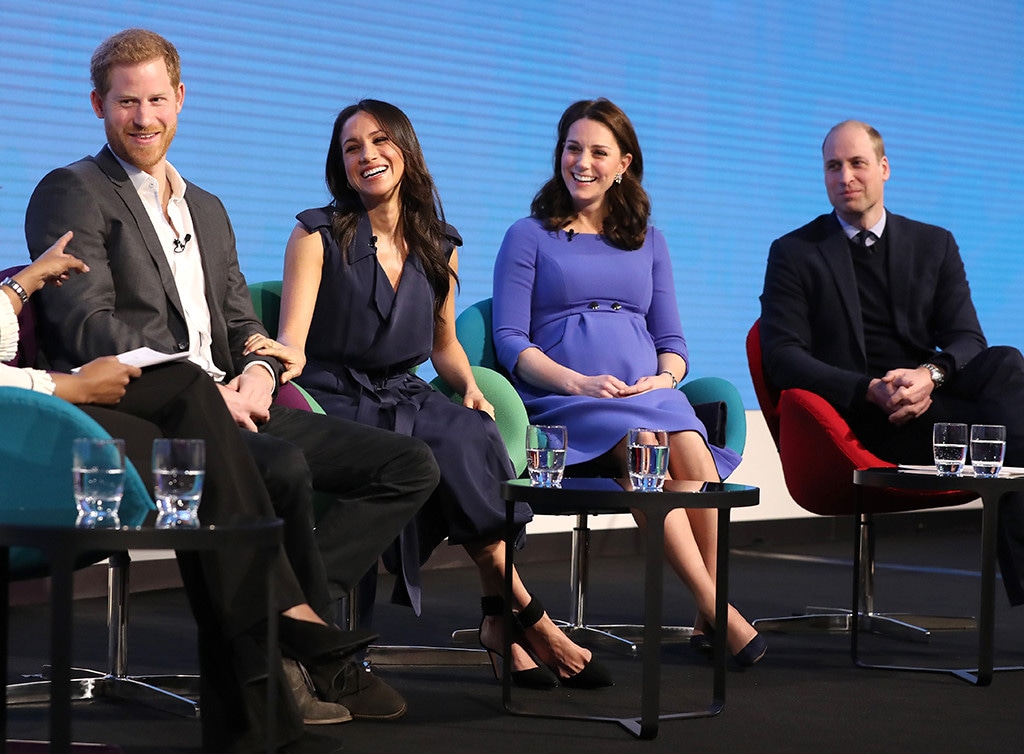 Chris Jackson - WPA Pool/Getty Images
When little brother Prince Harry announced his engagement last November, Prince William offered up the requisite platitudes.
"Very excited and delighted for them both," he said from a Helsinki charity event. "Wishing them all the happiness in this very exciting time."
And while all that was true—he was thrilled that Harry had found his perfect princess in Meghan Markle, the royal couldn't resist a slight dig. Joked William, "For me personally, I hope it means he stays out of my fridge, and stop him scrounging over my food like he's done over the last few years."
That quip from the second in line to the British throne was one of the first indications that bunking Kensington Palace just might be more akin to life in the Friends' apartment building than, say, Downton Abbey. To hear William tell it, 33-year-old Harry was no different than Joey Tribbiani making the short walk from his cozy, two-bedroom Nottingham Cottage to raid one of the two kitchens in the 20-room spread William shares with wife Kate Middleton.
And now the sprawling royal residence, already home to 11 members in the line of succession including a few of Queen Elizabeth II's cousins and William and Kate's kids, Prince George, 4, Princess Charlotte, 3, and week-old Prince Louis, has just picked up two new tenants. Princess Eugenie, 28, and fiancé Jack Brooksbank, 31, set to wed this fall, recently moved into the former Jacobean mansion's three-bedroom Ivy Cottage, just around the corner from cousin Harry and his bride-to-be Markle, 36.
Jonathan Brady/PA Images via Getty Images
The addition of Eugenie—one of Harry's dearest cousins—means Markle gains another confidante who can deliver crucial tips about life in The Firm, the cheeky name the young royals have bestowed upon their family. According to Andrew Morton's biography, Meghan: A Hollywood Princess, the duo has already bonded "over a shared love of art, dogs and late-night macaroni suppers."
Now it will be that much easier to meet up for evening carbs and cuddles with Eugenie's Norfolk Terrier Jack and Markle's Beagle guy. Harry credits the close quarters and 24-hour armed police security with helping him arrange covert meet-ups between Markle and his family in their early days of dating. "I'd been seeing her for a period of time when I literally didn't tell anybody at all," he explained in their November engagement interview. "And then William was longing to meet her and so was Catherine, so you know being our neighbors, we managed to get that in a couple of—well, quite a few times now." 
Eddie Mulholland/Daily Telegraph/PA Wire
During that first get together—in January 2017—Markle impressed Kate by gifting her a Smythson notebook for her birthday. The encounter "went very well," a source told E! News. "Kate was delighted to finally get to meet the woman that had Harry smiling so much."
Since then, the two have maintained a more or less open door policy between multi-floor Apartment 1A and Markle's 1,300-square-foot cottage. "Since very early on she made it clear that should Meghan ever need something, or just want to chat, she shouldn't hesitate to get in touch," said the source. "Kate knows how difficult it is navigating one's way through this very different world."
KGC-22/STAR MAX/IPx 2017/AP Images
From her own experience being thrust into the royal glare, added a palace insider, "Catherine is very aware that Meghan will need a friend alongside her while she gets used to the way things are done around here."
Lesson number one: Sometimes it's easier to just stay in. While Kate, 36, and William, 35, have enjoyed dates at members-only club Loulou's and eaten European fare at nearby Bluebird Café, many evenings find them settling down to watch TV "once the kiddies are in bed," Kate said during an April 2017 interview on BBC Radio One.
With George and Charlotte they've had to endure their fair share of Peppa Pig and Fireman Sam—"You have to pretend you're really interested in it because George gets really upset if you're not showing due diligence to the characters," William noted—they prefer to binge dramas such as Homeland and Game of Thrones. Explained William, "We're both quite keen on box sets."
And though Kate is a skilled chef, often dipping out to the nearby Waitrose supermarket to pick up ingredients for William's favorite roast chicken, they're not above ordering takeaway. (Rather than have it delivered to the palace, they opt for carryout and dispatch a protection officer or aide to pick it up.) The hardest part, joked William, is agreeing on cuisine, "It's a real conundrum when it comes to that: pizza, curry or Chinese." (Kate's pick, for the record: "Curry, definitely.")
Should they wish to entertain, they'll have friends over to their four-floor spread. Along with plenty of space—including two living rooms, a gym and even a luggage room—the flat is well stocked with spirits. Among the liquors on offer atop a side table in their sitting room: a bottle of Smirnoff vodka.
Tim Rooke/REX/Shutterstock
Soon they could be playing host to Kensington's newest residents. Because while Eugenie told Harper's Bazaar she likes "to go out for dinner when I can," (one of her favorite haunts, Italian eatery Bocca di Lupo, is also frequented by Markle), she's also cool with whipping up her own eats or grabbing pizza from Basilico "when I'm being really bad" and settling in for a TV marathon.
"At the moment I'm watching How to Get Away With Murder—Viola Davis, she's insanely good—and Outlander, my favorite," she told the magazine in 2016, adding that she and Brooksbank are also "obsessed" with The Walking Dead. Next on their list, she said, "Maybe Game of Thrones." (Seems they'll have to catch up if they want to hang with William and Kate.)
Beatrice has already indulged in another cultural phenomenon. The art gallery director copped to watching "a couple" of episodes of The Crown, the Netflix drama that follows the early days of her grandmother's reign. "It's filmed beautifully," she said in an August interview with Hello. "The music is wonderful, the story is beautiful. You feel very proud to watch it. I can't speak for everyone, but that's how I felt when I watched it."
Maybe she and Harry could exchange notes. In Harry: Life, Loss and Love, author Katie Nicholl says Harry and Markle also enjoy the hit series. "An accomplished cook, Meghan loved to make extravagant dinners for Harry," Nicholl wrote of their courtship, "and they enjoyed staying in and eating her delicious homemade meals and watching films and TV shows like The Crown."
Because while the pair have been snapped outside one of their go-to date spots, Soho House, and catching a performance of Hamilton at London's Victoria Palace Theater in February, Harry initially charmed her with evenings on the couch. "We've had to reverse the whole process," he explained in their engagement interview, "cozy nights in in front of the television, cooking dinner, by ourselves in our little cottage, rather than going out to dinner and being seen in public." And he credits that alone time with contributing to their successful relationship. "It's made us a hell of a lot closer in a shorter space of time. That's without question," he said, before adding his two cents worth of relationship advice: "If anybody else at home is listening, maybe slow down the dates and spent more time at home."
Those evenings became such a hallmark of their relationship that Harry decided to drop to one knee with the three-diamond ring he commissioned for Markle while she was roasting a chicken in their kitchen. Recalled the former actress, "It was so sweet and natural and very romantic." And while the days of keeping their union concealed have long since passed, the future spouses still "like to stay at Kensington Palace for the majority of the time," a source told E! News, adding they still enjoy a good dinner-and-a-movie night. One recent viewing: Disney flick Moana!
That's not to say they never venture outside their palace's walls. But with the exception of scheduled appearances, "If they go anywhere, it's door-to-door in the car," says the source, "and planned in advance so they don't end up attracting any unwanted attention."
FameFlynetUK/FAMEFLYNET PICTURES
Two years in, Markle has become quite adept at evading notice. Whether she wants to slip across the street to Whole Foods to pick up her favorite acai bowls, take a hot yoga class or simply browse the racks at department store Peter Jones, where Kate has been known to chat with the cosmetic counter employees, she does her best to remain anonymous.
At Kensington Palace, "there are six exits and entrances," one insider tells E! News. "She's been able to get in and out when she needs to, and she's doing very well with managing to go incognito."
Some of her tips have been passed down from Harry's late mother Princess Diana, who reportedly used a wig to conceal her identity. "Meghan and Harry have taken their privacy to a whole new level," says another source, noting that Markle has been known to hide under hats or other disguises and that the pair is constantly swapping which car they use. "They're being extremely clever so they can go in and out without being seen. They are taking a completely different approach than William and Kate."
Of course, William and Kate might be open to borrowing a move or two. When asked during their BBC Radio One interview if they'd ever consider concealing themselves in a costume, the prince snappily responded, "Who's to say we haven't done that already?"
Toby Melville - WPA Pool/Getty Images
And if the reports prove true, it may soon be even easier for the foursome to conspire. It's long been speculated the newlyweds will move into Apartment 1 after their May 19 vows and recently, a source tells E! News, workers have been "feverishly" renovating the 21-room spread right next door to William and Kate's spread. "Scaffolding has been up for weeks and everyone is speculating that it's for Prince Harry and Meghan after they get married," a grounds staffer tells E! News. "They've been working full shifts every day."
A Markle source agrees the duo will "definitely" move out of their two-bedroom flat post-nuptials. Though the former lifestyle blogger dressed it up with scented candles and flowers such as her preferred peonies when she moved in, says the source, "Nottingham Cottage is too small!"
The sprawling Kensington Palace grounds, however, are certainly big enough to play host to plenty of intrigue and fun. With three young royal couples roaming the ornately decorated halls, "It's an exciting time," a source tells E! News, adding that palace aides are curious to see what William, Kate, Harry and Markle, in particular, will accomplish in the future. Says the source, "There's a lot of buzz across the Kensington Palace household."
And, apparently, a plethora of viewing parties.