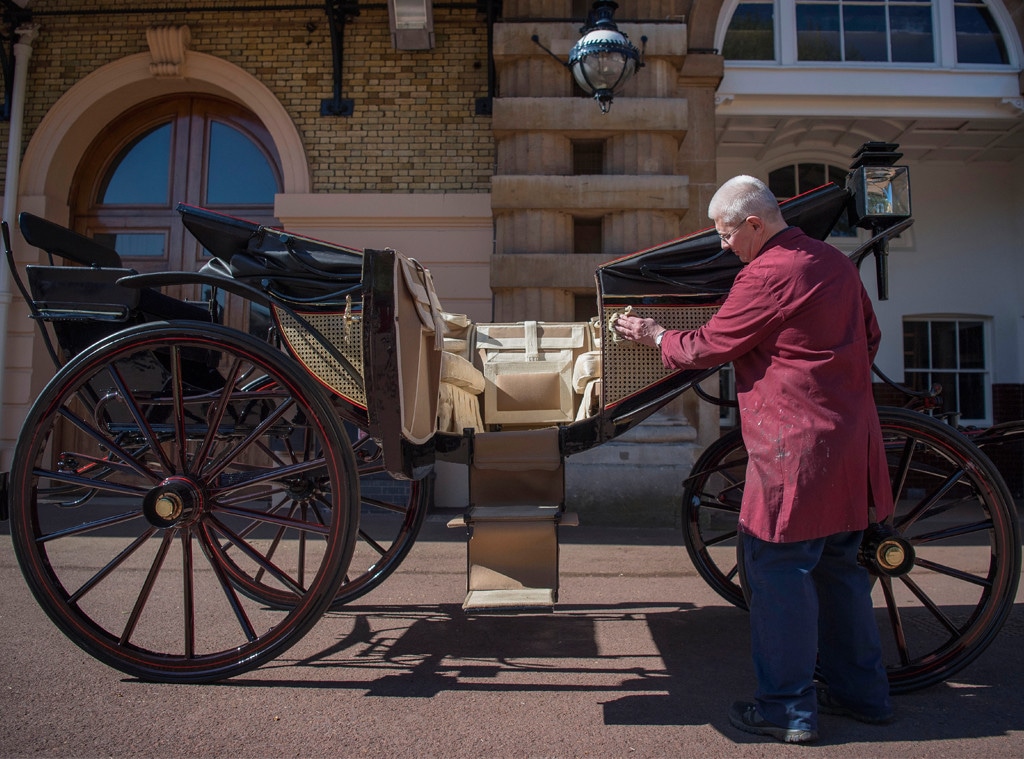 VICTORIA JONES/AFP/Getty Images
Prince Harry and Meghan Markle will be riding in style after they say "I do."
Kensington Palace announced on Wednesday that the future bride and groom have chosen the Ascot Landau carriage for their post-wedding procession. According to a press release issued by the Palace, horses will draw the couple along High Street and through Windsor Town, returning them to Windsor Castle along the Long Walk.
The Crown Equerry, Col. Toby Browne described the Ascot Landau as a "wonderfully bright, small, lovely carriage" that is "very easy for people to see."
"The passengers can sit up quite high," he added. "So there's lots of visibility for everybody."
The newlyweds will make their journey with a traveling Escort of the Household Mounted Regiment starting at 1:00 p.m. 
"Prince Harry and Ms. Markle are very much looking forward to this short journey which they hope will allow them to express their gratitude for everyone who has gathered together in Windsor to enjoy the atmosphere of this special day," Kensington Palace stated in the press release.
This won't be Harry's first time riding in one of the five Ascot Landaus carriages, which is kept by the Royal Mews. He also rode in one in 2011 when he served as best man in Prince William and Kate Middleton's wedding. So, maybe William will ride in a similar carriage now that he's Harry's best man. We can only hope he rides with his children Prince George and Princess Charlotte, who served in their aunt Pippa Middleton's wedding. Although, newborn Prince Louis is likely too little to join.
VICTORIA JONES/AFP/Getty Images
The carriages aren't just used for royal weddings. They've also been used to transport new Commonwealth High Commissioners when Queen Elizabeth received them for an audience at Buckingham Palace. She also uses them every year for her procession during the the Royal Meeting at Ascot.
Windsor Grey horses will pull the carriage. These noble steeds have drawn carriages for members of the royal family ever since the reign of Queen Victoria. The horses include the outriders, Plymouth and Londonderry, as well as the four horses pulling the carriage, Milford Haven, Sir Basil, Tyrone and Storm.
Of course, rain is a concern for any bride-to-be. So, Kensington Palace has a backup option should the topless carriage not suffice. In the event of rain, the bride and groom will travel in the Scottish State Coach—a time-honored mode of transportation that was built in 1830 for the Duchess of Teck, mother of Queen Mary. 
VICTORIA JONES/AFP/Getty Images
The coach features large glass windows, two transparent panels on the roof and the royal arms of Scotland. It also features the Order of the Thistle.
The wedding will take place at St. George's Chapel at Windsor Castle May 19.