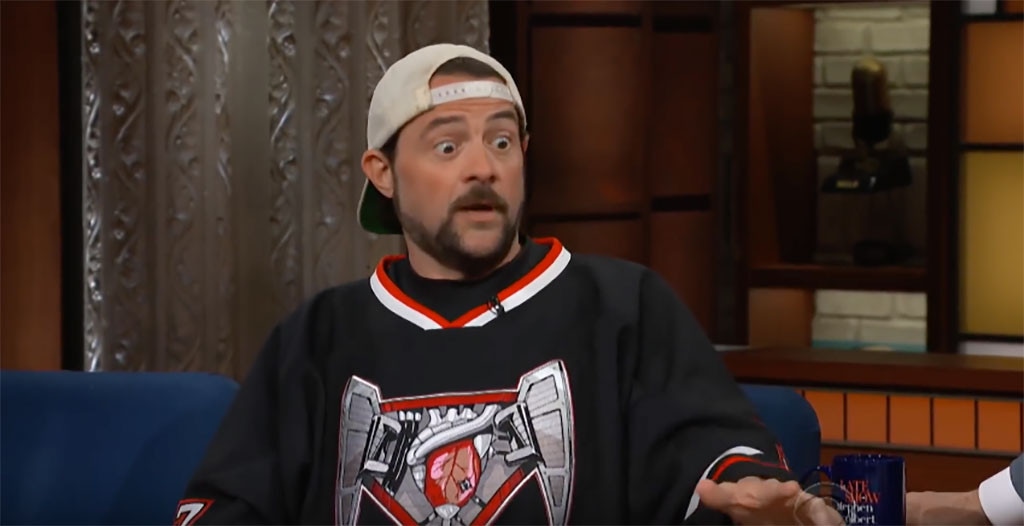 YouTube
Kevin Smith has found a new T-shirt slogan. 
Two months after unexpectedly suffering a "massive" widowmaker heart attack at age 47, the comedian has divulged new details about that fateful night—including how he managed to come out of it alive. 
As he's previously explained, Smith was shooting a standup show for an upcoming Showtime special, Silent But Deadly, when he suddenly didn't feel well and didn't quite know why. While he insisted he was fine, paramedics brought him to a nearby hospital where he learned he was in the midst of a serious attack. While Smith thought maybe the weed he smoked before the show had spurred the attack, that turned out to be not the case at all. 
"I honestly thought I was too high," he recalled to Stephen Colbert on The Late Show Tuesday night. "I had smoked a bunch of weed that day because I was doing the shows, then I smoked a joint right before the show and I got off stage and all of the sudden, I had a heart attack."
"I asked my doctor like after this was all done, I was like, 'I hate to ask this question, man, but did I have a heart attack because of the weed? Because I smoked a joint right before the show.'"
"No. In fact, quite the opposite," Smith recalled his doctor telling him. "That weed saved your life."
As his doctor explained, the weed had helped him stay calm despite all that was happening to him and how serious it was. 
"He said, you kept calm...they told you [you] were going through stuff and you kept calm the whole time, so that joint saved your life," he recalled his doctor saying. 
As Smith quipped on the late-night show, "I'm putting that on a T-shirt."
To hear the star's entire story in candid detail, check out the Late Show clip above!