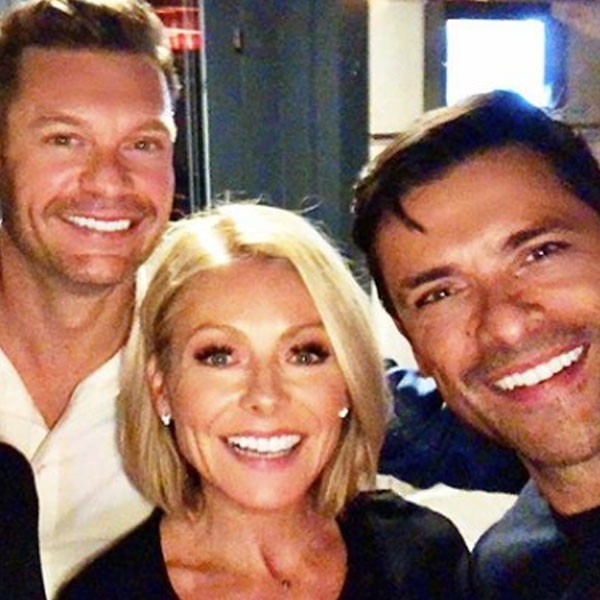 Instagram
Kelly Ripa is one lucky lady because she has two special partners in her life—her husband, Mark Consuelos, and her work sidekick, Ryan Seacrest. 
As such, the Live! co-host coincidentally celebrated her anniversaries with both men on Tuesday, one for her wedding and another to mark one year of working with Seacrest on their daytime TV show. 
Today, Ripa and her Riverdale star beau rang in their 22nd wedding anniversary complete with adorable—and hilarious—social media tributes to each other. The talk show host made a playful montage of photos to commemorate their love over the past two decades. "Feliz Aniversario lover! 22 years. You're a human roller coaster that I'm tall enough to ride," she comically captioned the clip. 
Consuelos returned the favor with his own selection of selfies of the pair, along with the message, "5-1-96...happy 22nd anniversary Boo.. seems like yesterday to me.. I'm sure it's feels a lot longer to you..(honeymoon photo Capri, Italy ..we're still banned from that hotel... it was worth it)."
In a year marked by devastating celebrity breakups, their longtime bond gives us hope in these tough Hollywood times. 
Disney/ABC Home Entertainment and TV Distribution/Pawel Kaminski
Over on Live!, Ripa and Seacrest are commemorating their first year together with a full themed week. Specifically on Tuesday, the TV pair celebrated their milestone with heartfelt words to each other. 
"Thanks for this great last amazing year," Seacrest told her at the top of the show. "You've been such a wonderful regular addition to my life on air and off."
"Thank you for taking a chance and moving across the country and leaving your spectacular digs in California and coming to play with us because you have made every day of this job so much more fun," Ripa responded. 
As Seacrest continued, "I adore, respect and love you to death, so thank you."
Ripa quipped back, "I'm just so glad that we are finally getting to hang out the way we always knew we would."
The two also poked fun at how the two anniversaries have synced up. "You can tell this show is trying not to overwhelm my tiny, little brain. They're like, 'Well, just let Ryan's anniversary be on the same day as her actual anniversary,'" Ripa joked. 
According to Seacrest, there is one major perk of being the other man in Ripa's life. "I'm thrilled to be part of your life because on Christmas, I got the same gift her husband got."
Happy Anniversary everyone!