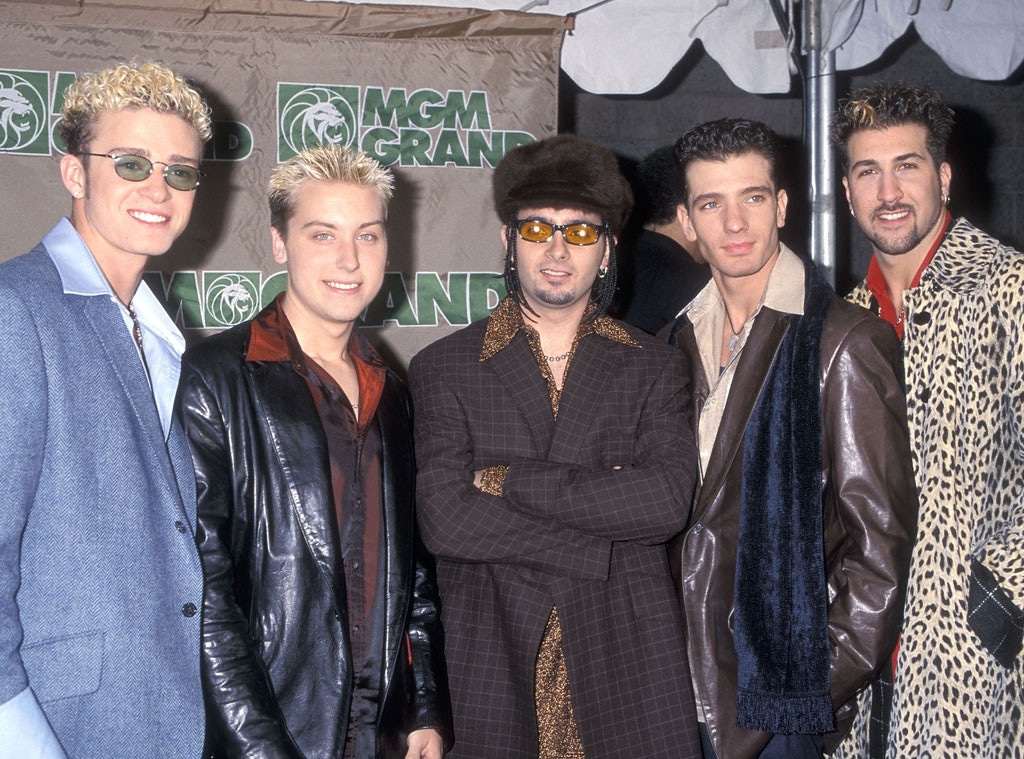 Ron Galella/WireImage
'N Sync has officially reunited—well, for one day—in honor of the fact that they finally have a star on the Hollywood Walk of Fame. 
Seeing the boy band together on Monday instantly transported us back to the '90s and 2000s when 'N Sync ruled the airwaves and their music videos were on fire…even if they're styles were a little questionable.
Now that Justin Timberlake, JC Chasez, Joey Fatone, Lance Bass and Chris Kirkpatrick have been given their well-deserved star, we are in need of new music stat. Since the group sill isn't back together musically—yes, it still breaks our hearts too—we had to settle for a trip down music video lane to celebrate this big achievement.
Matt Baron/REX/Shutterstock
We've rounded up our top 10 videos from the boy band below and now we want you to weigh in on your favorite. Prepare to rock out to your favorite childhood anthems from 'N Sync and vote for the greatest video from the group once you're done.
1. "Bye Bye Bye"
The "Bye Bye Bye" music video not only gave us a cool dance routine to go with this catchy track, but it had the puppets! Let's be honest, you wanted to be the girl who got to control the 'N Sync puppets in this music video and we don't blame you. She had control over all five guys at one time, which was awesome.
2. "Pop"
"Pop" is off of 'N Sync's 2001 album Celebrity and it is definitely one of their more "trendy" music videos. It features a lot of bold colors, killer dances moves, a club and pop music beats obviously. Oh, and did we mention the fact that JC had his longer locks—that were dip-dyed? Pop till you drop was clearly the goal and the group succeeded.
3. "Merry Christmas, Happy Holidays"
You know you're a '90s kid if you have 'N Sync's Christmas album Home for Christmas and listen to it every holiday. What's better than singing along to "Merry Christmas, Happy Holidays?" Watching the hilarious video for the song. It has Gary Coleman—yes, really—and the band wearing Christmas hats. They drive a sleigh, help at a soup kitchen and dance, duh.
4. "Gone"
If you love costumes, then "Gone" should be your favorite music video for sure. Not only does this song pull at our heartstrings, but it begins with Timberlake dressed as Charlie Chaplain and the rest of the guys donning time-period pieces. Plus, when it does switch to the modern-day timeframe it's still in black and white which is a nice touch.
5. "It's Gonna Be Me"
This video is basically the second part of the "Bye Bye Bye" video—it has the same girl trying to find them—but this one has no strings attached…get it? The best part is that each singer is a doll, which you could actually buy if you remember correctly, and they made good dolls. The whole video is shot between toy store scenes and a colorful room where the guys dance and it just works.
6. "Girlfriend'
Who could forget this music video? It features your favorite boy banders asking different women if they'd be their girlfriends and it still makes us jealous of these video actresses. Oh, and it has the guys dancing on cars, because it's a drag racing-themed video. Sexy, steamy and full of a few of the singers wearing beanies, because that was cool? Who knows, but we love their bold style choices even if it's embarrassing now.
7. "(God Must Have Spent) A Little More Time On You"
This music video is probably the group's most serious and dramatic video of all time and yet it works. It shows the story of a mother and son as her child grows up in front of her eyes and its very deep. Where does 'N Sync come in? They are dressed in all white, like angels, and appear randomly in every scene. It's so early '00s.
8. "This I Promise You"
Bubbles, tattoos and JT's cozy sweater: what more could you need? In case you forgot about this video, it features the five singers standing in the forest—think Redwood giant trees in the background—as different scenes play out and then pop into bubbles. It's totally bizarre, but the guys' costumes include a lot of turtlenecks, so we can't stop watching it.
9. "I Want You Back"
As the group's first music video, we can't help but love this video. Sure, the technology isn't so great and the costumes are a little boring but the dance moves are top notch.
10. "Tearin' Up My Heart"
Obviously "Tearin' Up My Heart" is one of 'N Sync's greatest songs ever, and the video is definitely in the top 10. It begins as sort of an ode to Michael Jackson—AKA his "Black or White" video—and then shows off the dance moves the group was known for. It is sort of a giant photo shoot on film and we love that it shows off the goofy side of the group in between serious moments.
Which of 'N Sync's best music videos still stands out to you? Vote for your favorite below!
'N Sync's Best Music Videos