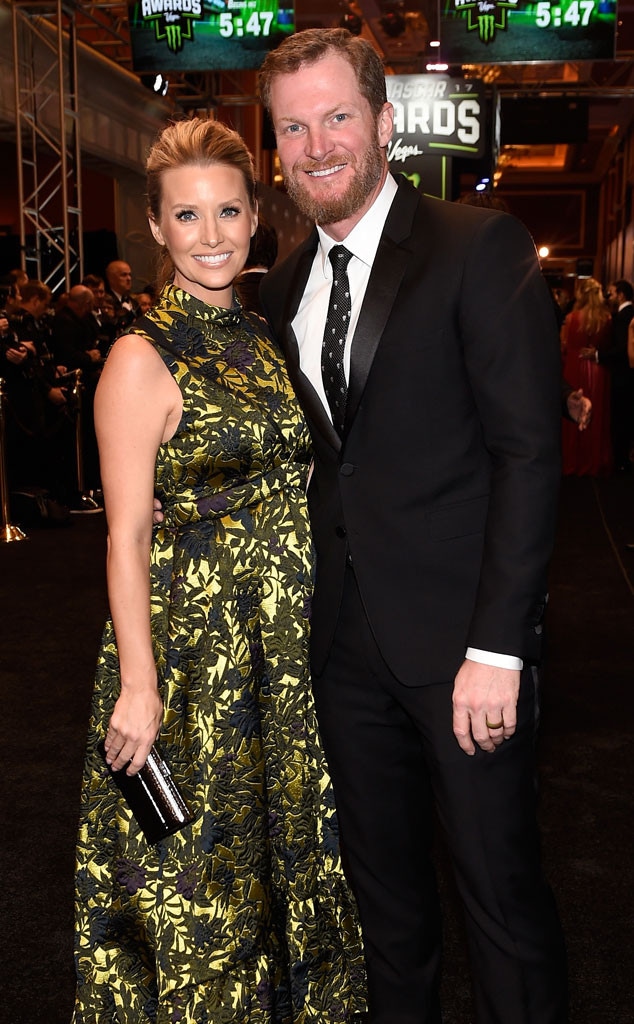 David Becker/Getty Images
As of Apr. 29, Amy Earnhardt tweeted she was "still pregnant." Not anymore!
On Tuesday morning, she announced the birth of her first child with NASCAR driver Dale Earnhardt, Jr. "She's finally here! @DaleJr and I are officially parents to a beautiful baby girl, Isla Rose Earnhardt," she tweeted. "It feels like a dream. The best dream ever." The new dad retweeted Amy, telling his 2.48 million followers, "Everyone was right. It's a new beginning."
"Now everything I do will be for her and Amy," Dale added. "So blessed."
There was a chance the couple's baby could be born Apr. 29, the birthday of Dale Earnhardt Sr.
Just last month, an excited Dale told radio host Dan Patrick, "I just can't wait 'til she gets here!"
"I can't wait to meet her. During the [hospital] tour the other day, they took us into one of the rooms. They showed us where the delivery room is and they've got a little table there. Damn, I about choked up just doing that. The baby ain't even here, and I'm looking at this little table and I'm getting choked up like she's here," Dale said. "It's going to be an incredible experience."
Naturally, Dale knew he would be the one chauffeuring Amy to and from the hospital. "I think the drive there and the drive back are going to be two completely different drives," he laughed.
Dale retired from NASCAR racing last year, and he is now a commentator for NBC Sports.
Last week, Dale spoke about preparing for parenthood on his podcast, The Dale Jr. Download. "Me and Amy have been getting the house ready. We have no clue what we're doing. This is our first baby," he said. Nearly "everybody" told him and Amy they will "have no idea" how to raise a baby, Dale explained, adding that he was told to "get all the sleep we can get right now."