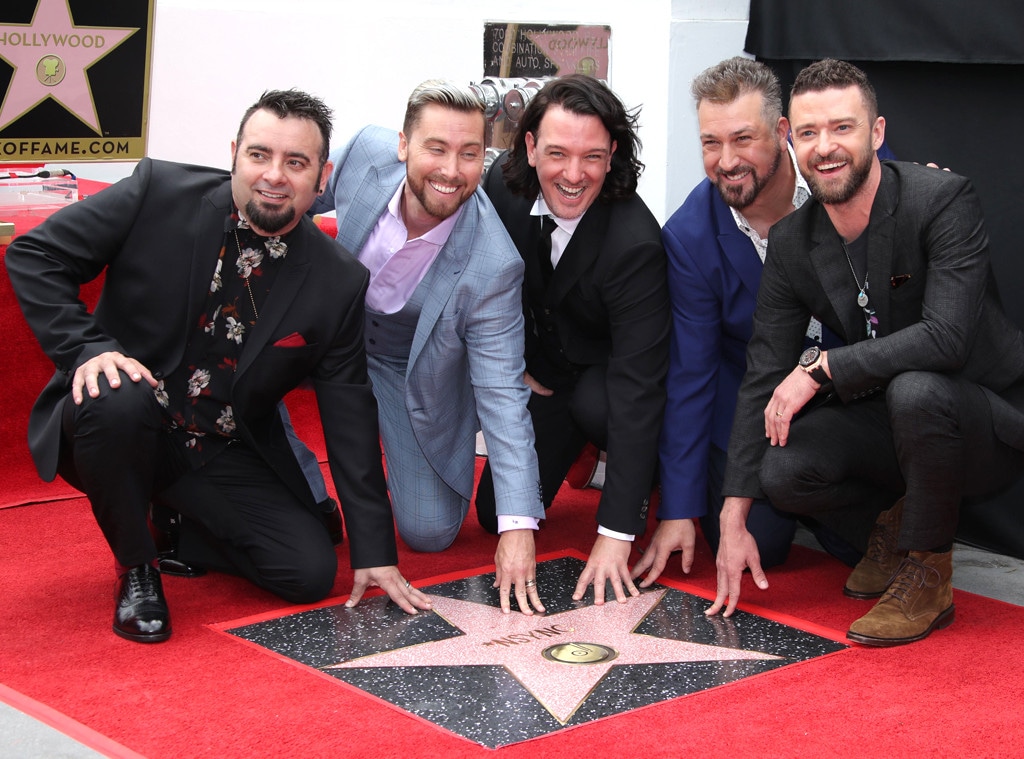 Matt Baron/REX/Shutterstock
Is it hot in here, or are we coming down with 'N Sync fever all over again?
In case you missed it, the greatest boy band of all time (no shade to The Backstreet Boys) reunited today in honor of finally receiving their star on the Hollywood Walk of Fame. Justin Timberlake, JC Chasez, Lance Bass, Joey Fatone and Chris Kirkpatrick shared some serious brotherly love in front of hundreds of screaming fans, and it felt as if we never bid bye, bye, bye to the guys all those years ago. 
The group went on a temporary hiatus in 2002, but never recorded new music together ever again. We've all followed J.T.'s evolution from a Mouseketeer to global superstar and 10-time Grammy winner, but what have the other members of 'N Sync been up to?
Spoiler alert: Hot dogs, babies and hair dye are all involved! 
In the Dog House: Presumably after realizing he's no "Space Cowboy," Joey channeled his entrepreneurial spirit and opened Fat One's Hot Dogs & Italian Ice. Foodies can get their grub on at his Orlando, Fla. location, or follow the Fat One's traveling truck. "It's always something I wanted to do," the 41-year-old father said of getting into the restaurant world. "I always wanted something to call my own."
NBD—Just Making History: When Lance and actor-artist Michael Turchin tied the knot in 2015, they became the first same-sex couple to marry on an American TV network. The E! special documented the lavish and hugely star-studded ceremony, which included appearances from Lisa Vanderpump, Kris Jenner, Carmen Electra, Christina Applegate, Pauley Perrette, Cheryl Burke, Darren Criss and Gabourey Sidibe. And unlike Timberlake's 2016 wedding to Jessica Biel, each member of 'N Sync was invited to Lance's special day. 
Holy Hairstyle!: JC has certainly seen his fair share of good, bad and straight-up WTF hair days over the years, but we'll let you be the judge of his latest 'do. The 41-year-old rocked a much longer style for today's ceremony, which appears to have been dyed a dark brown color. Regardless of the performer's unique personal style these days, he continues to work in the music industry and remains close with his bandmates. 
Family Man: Chris is the latest member of 'N Sync to take on fatherhood. In October 2017, the 46-year-old welcomed son Nash Dylan with wife Karly Kirkpatrick, who he wed in 2013. Meanwhile Timberlake is father to 3-year-old Silas, and Fatone is father to two daughters, 8-year-old Kloey and 17-year-old Briahna. Our boys are growing up, y'all! 
Little-Known Cameo: We know what you're thinking. Is there anything we don't know about J.T.? After all, he makes up one-half of Hollywood's most adored power couples and just headlined the 2018 Super Bowl halftime show. But did you know none other than Scarlett Johansson starred alongside Timberlake for the 2006 music video for "What Goes Around... Comes Around?" Justin and ScarJo were the subject of romance rumors for some time, but his fairytale romance with Jessica prevailed in the end. 
Do you have any favorite memories from 'N Sync's heyday? Share them in the comments below!