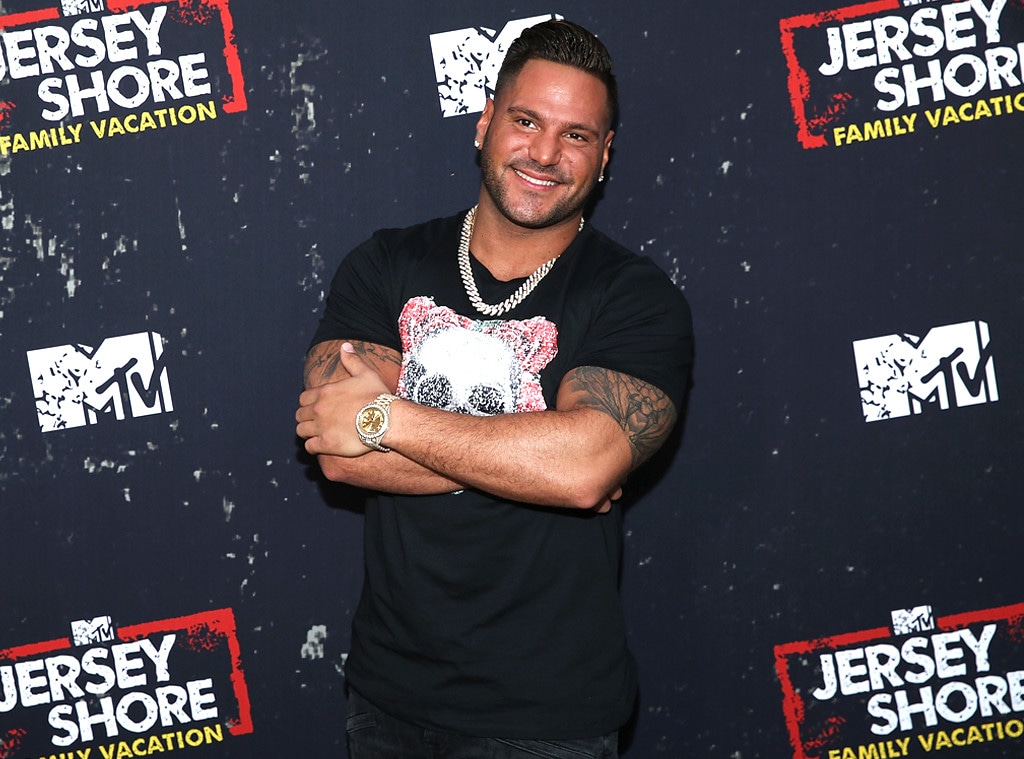 Phillip Faraone/FilmMagic
Drama's here!
It's no secret that the cast of Jersey Shore has had their highs and lows when filming their MTV reality show. Sure, there are the unforgettable nights at Karma, the love connections built—we love you Jenni "JWoww" Farley and Roger Mathews—and those epic fist pumps in the club.
But when you mix alcohol, strong personalities and relationships on shaky ground, viewers are also treated to a whole lot of drama.
Nobody knows this more than Ronnie Magro-Ortiz who has experienced some serious blowups on Jersey Shore. This time around, however, the new dad is making headlines for his behavior back home in Las Vegas.
Earlier today, E! News confirmed Ronnie and his girlfriend Jen Harley broke up after a few social media fights went public.
"It's a roller coaster with them. He messes up and then he's so apologetic and they get back together, then there's the baby so it's hard," a source shared with E! News. "They have broken up in the past and gotten back together but after this, there's just so much damage that unless he does a total 180, friends close to Jen don't think there's any way he could come back from this."
Our insider added, "When things are good between them, it was always very sweet. You can tell how much they loved each other, but then when it got bad, it got really bad."
Ultimately, today's social media drama isn't the first time Ronnie has lost his temper. Shall we take a trip down memory lane?
Fans will remember all too well that Ronnie's relationship with Sammi "Sweetheart" Giancola was always up and down. And while they shared some good times together, things ended on a not-so-good note.
After Ronnie spotted Sammi dancing with another guy at the club, he completely lost his chill back at home when he destroyed her bed and threw many of her belongings out on the patio. Sammi was so upset that she demanded to go home one day later to regroup.
When Sammi was on the outs with the ladies in the house, Ronnie also found himself in the middle of the girl drama when he confronted season three newbie Deena Nicole Cortese.
"Don't get me f--king involved. You got a problem with my f--king girlfriend, you deal with it with her," he screamed at his roommate. "I'd rather have Angelina back."
And sometimes, the drama doesn't involve the roommates but random strangers. After a late night out near the Jersey Shore, Ronnie found himself in a physical confrontation with a heckler. He knocked out the stranger in one punch and was arrested as cameras rolled.
"That's one shot, one shot kid," he told police on the show. "It was self-defense bro, like honestly."
And when his best bro Mike "The Situation" Sorrentino got into the middle of his relationship drama, Ronnie also lost his temper. A physical fight broke out in the bedroom before Mike smashed his own head into the wall and was sent to the hospital.
With Ronnie scheduled to appear on The View this Wednesday, perhaps fans will be able to hear his perspective on his recent relationship drama. For now, things remain dramatic.
"Jen is just at the point where she's fed up. She got into a relationship with Ron knowing there have been several incidents in the past," our source shared. "She really thought at first that she could change him."
Jersey Shore Family Vacation airs Thursday nights at 9 p.m. on MTV.