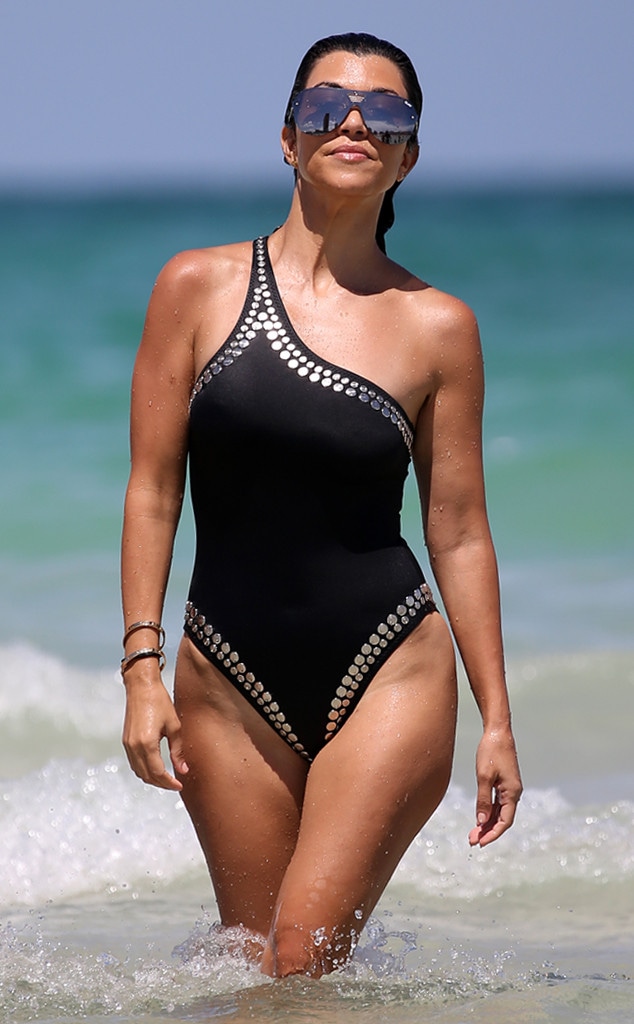 INFphoto.com
Kourtney Kardashian is all about feeling her best, and Day 1 of her 3-Day Meal Plan is seriously inspiring our next grocery run. 
As the temperatures rise and beach trips become more frequent, Kourtney swooped in with a few tips and tricks to kickstart some healthy eating habits. The E! reality star took to her app on Monday with a super simple (and totally delicious) breakfast, lunch and dinner recipe that reflects her "everything in moderation" mindset. She'll be posting even more dishes throughout the week, so stay tuned! 
Kourtney often starts her day with a smoothie bowl chocked full of vitamins and minerals that takes just 15 minutes to whip up. She blends together 2 cups of pineapple, two bananas, 1 cup of kale, 1 cup of spinach and half an avocado and separates the mixture into two bowls. She then tops the smoothie with thinly sliced fruit of her choosing, including strawberries, kiwis and bananas. For a finishing touch, Kourtney sprinkles shredded coconut, bee pollen and chia seeds on top. Voila! 
For lunch, the 39-year-old keeps it light with a citrus salad, which she craves "especially when it's hot outside." 
Kourtney makes her own salad dressing, which is a combination of the following ingredients: 3/4 cup extra virgin olive oil, 1/4 cup balsamic vinegar, 1 clove of finely chopped garlic, 1 teaspoon honey, 1 teaspoon dijon mustard, 1/2 teaspoon salt and 1/2 teaspoon pepper. She then slices two blood oranges, a navel orange and a grapefruit. From there, Kourtney assembles the healthy meal by adding the fruit, dressing, and a handful of pumpkin and pomegranate seeds to a big bowl of mixed greens. (And yes, we're hungry just writing this.)
The Keeping Up With the Kardashians star finishes at least one day a week with a salmon dinner, which she writes on her app is a "great source of protein, vitamins and omega-3 fatty acids, which are really good for skin and hair." 
Kourtney puts together a marinade using ¼ cup olive oil, 2 tablespoons soy sauce, 2 tablespoons rice vinegar, 2 tablespoons sesame oil, 2 tablespoons brown sugar, 2 cloves pressed garlic, 1 tablespoon grated fresh ginger, 1 tablespoon sesame seeds and four thinly sliced green onions. She then places four salmon filets in a Zip-loc bag with the marinade for about 30 minutes. 
For the honey ginger glaze, Kourtney combines 2 tablespoons honey, 1 teaspoon soy sauce, 1 teaspoon sesame oil, 1/2 teaspoon grated fresh ginger and 1/2 teaspoon sesame seeds in a bowl and sets it aside. 
She bakes the salmon in the oven at 400° F for about 20 minutes. Once it's finished, Kourt serves the salmon with the glaze on top! Easy enough, right? 
For even more healthy eating advice from Kourtney, click here!