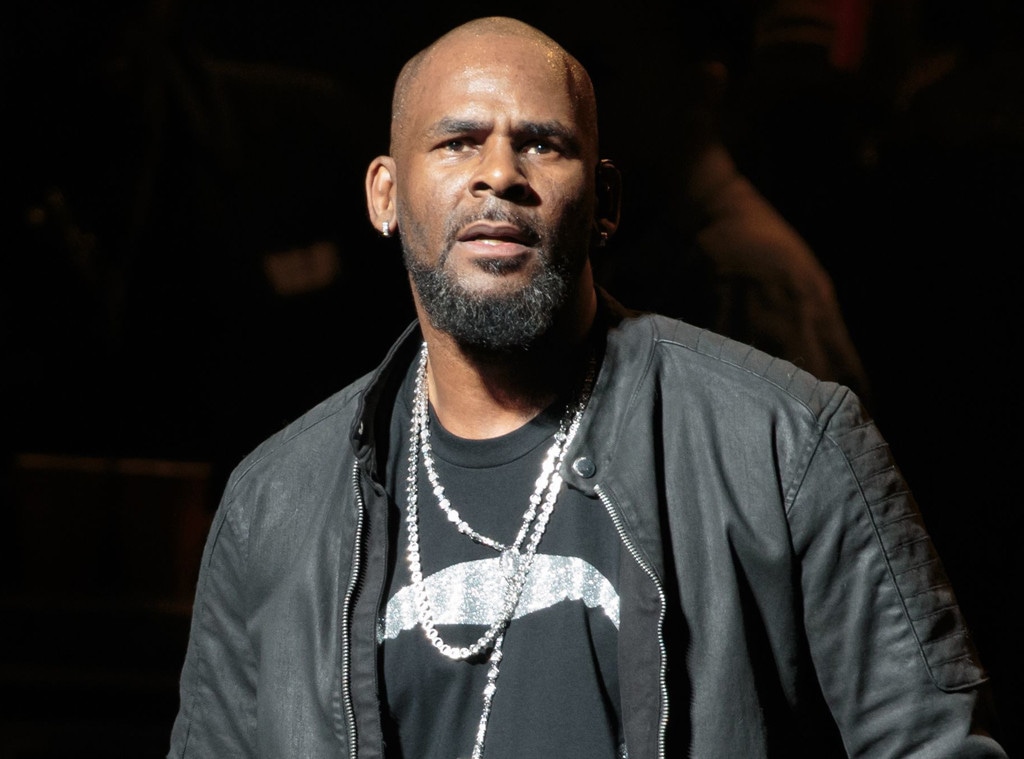 Rex Features via AP Images
The Time's Up movement has joined the #MuteRKelly online campaign. 
In an open letter published online, the Women of Color of Times's Up has declared its alliance with the campaign founded by Oronike Odeleye and Kenyette Barnes and aimed at protesting the Grammy winner, boycotting his music and stopping his performances.
The Women of Color of Time's Up are a group of activists, executives, filmmakers, actresses, authors, athletes and women in various industries who aim to organize around issues that are especially important to women and girls of color. "We call on people everywhere to join with us to insist on a world in which women of all kinds can pursue their dreams free from sexual assault, abuse and predatory behavior," the collective wrote in the public message. 
As such, they are publicly urging RCA Records, R. Kelly's music label, Ticketmaster, which is selling tickets for his May 11 show, Spotify, Apple Music and the Greensboro Coliseum Complex, the venue hosting his May 11 concert, to join the online campaign as well. 
Noting "the scars of history make certain that we are not interested in persecuting anyone without just cause," the movement is also urging investigations into allegations against R. Kelly by women of color. His ex-girlfriend Kitti Jones previously came forward publicly and accused the star of years of alleged abuse, punishment and sexual coercion in an interview with Rolling Stone. "Mr. Kelly is aware of the repeated and now evolving claims of Ms. Kanika 'Kitti' Jones," his rep told E! News at the time. "It is unfortunate that Ms. Jones, after public statements to the contrary, is now attempting to portray a relationship history with Mr. Kelly as anything other than consensual involvement between two adults. As stated previously, Mr. Kelly does not control the the decision-making or force the actions of any other human being, including Ms. Jones, by her own admission. Any claim of wrongdoing of any kind or of mistreatment of any woman by him is false, ill-motived and defamatory."
Concerned parents have also come forward in the media with allegations that the singer is holding their daughters against their will in an alleged "cult"-like atmosphere. Kelly's lawyer at the time, Linda Mensche, responded to Buzzfeed News' report on the parents, telling E! News, "Mr. Robert Kelly is both alarmed and disturbed at the recent revelations attributed to him. Mr. Kelly unequivocally denies such allegations and will work diligently and forcibly to pursue his accusers and clear his name."
Jason Merritt/Getty Images for BET
In response to Time's Up public declaration of solidarity, R. Kelly's management has called the movement's actions "unjust" and "off-target."
"R. Kelly supports the pro-women goals of the Time's Up movement.  We understand criticizing a famous artist is a good way to draw attention to those goals---and in this case, it is unjust and off-target," a statement from the star's management read. "We fully support the rights of women to be empowered to make their own choices. Time's Up has neglected to speak with any of the women who welcome R. Kelly's support, and it has rushed to judgment without the facts.  Soon it will become clear Mr. Kelly is the target of a greedy, conscious and malicious conspiracy to demean him, his family and the women with whom he spends his time."
As the statement concluded, "R. Kelly's music is a part of American and African-American culture that should never—and will never—be silenced. Since America was born, black men and women have been lynched for having sex or for being accused of it. We will vigorously resist this attempted public lynching of a black man who has made extraordinary contributions to our culture."
Shonda Rhimes, Ava DuVernay and Lena Waithe are some of the famous names in Hollywood to declare their public support for the campaign by posting the following statement on their social media accounts. "We join the call to #muterkelly and insist on the safey + dignity of all women. We demand investigations into R. Kelly's abuse allegations made by women of color + their families for two decades. We call on those who profit from his music to cut ties."
"I stand with the women of #timesup #muterkelly," John Legend added. 
Kelly was scheduled to perform in the 2018 Love Jam on Friday in Chicago, but has since been canceled. While the reason for the cancellation has not yet been clarified, the UIC Women's Leadership and Resource Center previously launched a petition urging University of Illinois at Chicago Chancellor Michael Amiridis to cancel the star's performance.
"I don't know why they canceled the show. I never heard of a show being canceled because of rumors, but I guess there's a first time for everything, so I apologize to you guys," R. Kelly said in a video message posted to Twitter Sunday evening. "In the meantime, I'm gonna try to get to the bottom line of it as far as my lawyers are concerned and see exactly what happened and why I was canceled."
Meanwhile, as the Time's Up initiative outlined in their newly published letter, "We intend to shine a bright light on our WOC sisters in need. It is our hope that we will never feel ignored or silenced ever again."