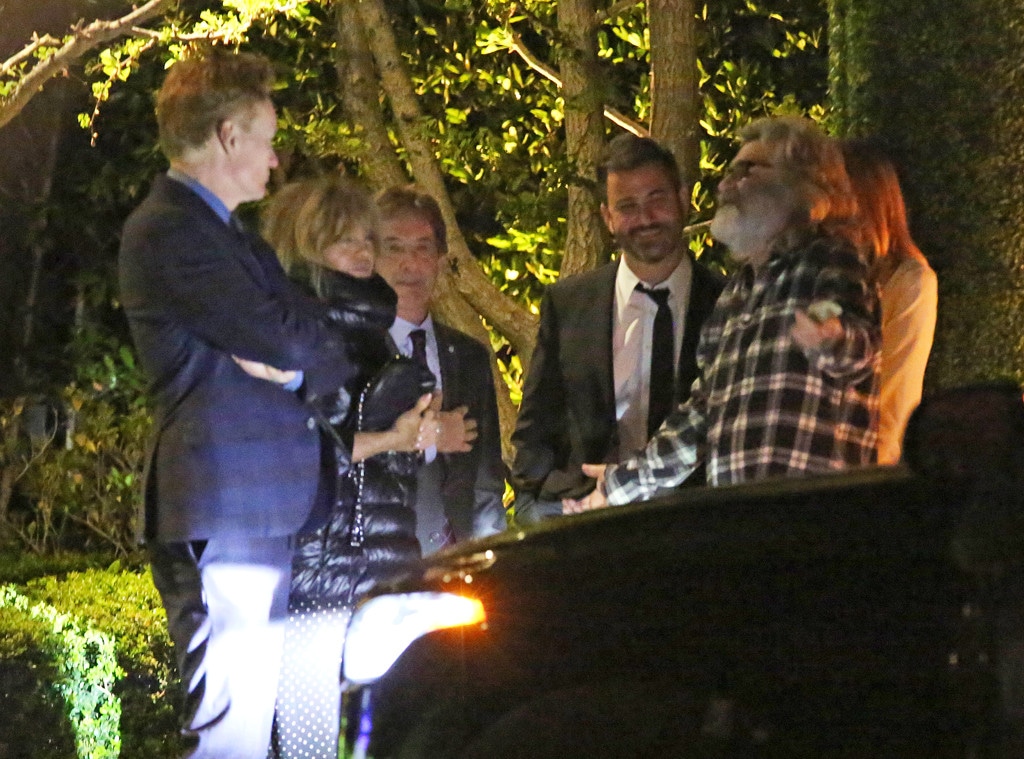 Photographer Group / Splash News
Happy anniversary to the couple that has defied the odds of Hollywood!
The stars flocked to Tom Hanks and Rita Wilson's Pacific Palisades house for the couple's 30th wedding anniversary party on Saturday night.
The biggest names on the A-list were there, including Kate Hudson, Martin Short, Isla Fisher, Oprah Winfrey, Barack Obama, Kurt Russell, Goldie Hawn, Jimmy Kimmel and Conan O'Brien.
An eyewitness says that the party began at 7 p.m. and went until close to midnight.
In an amazing moment, Jimmy, Conan, Goldie, Kurt and Martin were all spotted hanging out as they waited at the valet. Now that's one line we wouldn't mind waiting in!
Hanks and Wilson are one of Tinsel Town's most beloved couples and so it's no surprise that the top tier of celebrities would be at the bash.
Just in case you forgot, Tom has even gone on a tropical vacation with Oprah and the Obamas in April 2017.
In 2016, Wilson gushed to E! News at the Chanel x MOMA film benefit honoring her two-time Oscar-winning hubby.
"I always thought my husband is a work of art, but now there's proof that he's a work of art," Wilson gushed. "He's amazing. It's fantastic and it's celebratory and I have to say I think his films all over the years have meant a lot to a lot of people. I think there's something to be said about the choices of the films that he's done and as a collective thing it's pretty nice and pretty impressive."
In addition to having impressive film and TV careers, the longtime pair have two sons, Chester "Chet Haze" Hanks and Truman Hanks, together. Tom also has son Colin Hanks and daughter Elizabeth Hanks from a previous marriage to Samantha Lewes.
Tom met Rita in the early 1980s while filming the ABC sitcom Bosom Buddies. Rita appeared on the show in a small role. The two then co-starred in the 1985 film Volunteers. At the time, Tom was still married so the couple did not go public with their relationship until 1986. The actor's divorce was finalized in 1987.
The rest is history...