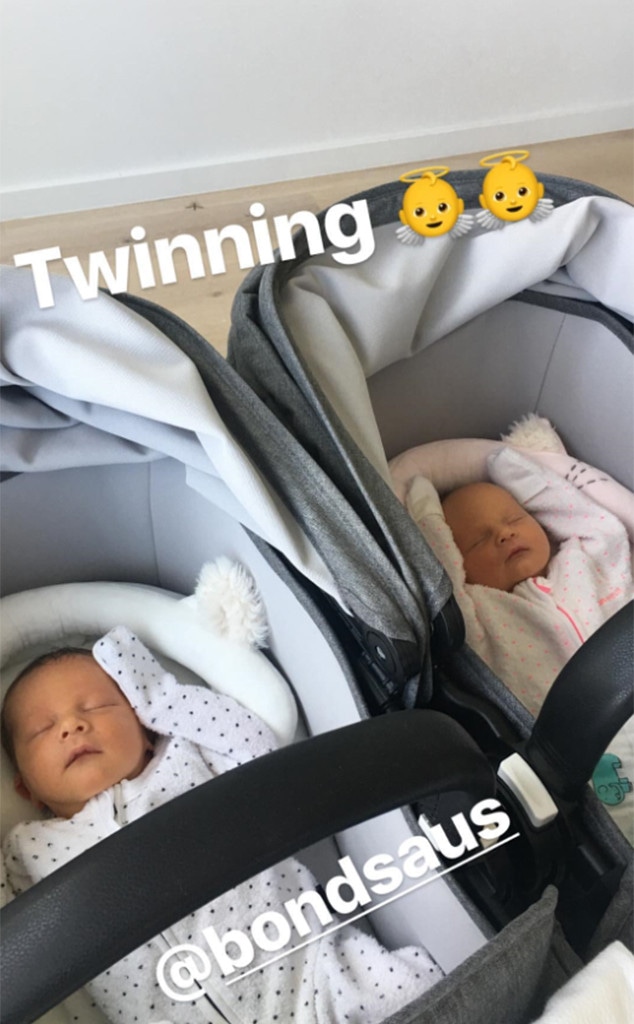 Instagram
Kym Johnson's babies are "twinning" in more than one way.
Earlier this week, the 41-year-old Dancing with the Stars pro gave birth to son Hudson Robert Herjavec and daughter Haven Mae Herjavec, her first children overall and her first with her 55-year-old husband, a Shark Tank star and one of her former dance partners.
Johnson posted on her Instagram Stories feed on Friday a sweet new photo of the fraternal twins lying in what appears to be a double stroller, in what marks the clearest public pic of the babies yet. At this point, the newborns look almost identical.
"Twinning," she wrote.
On Thursday, Johnson posted a photo of her holding and Herjavec cuddling the twins swaddled in blankets. The pic was taken just after they were born.
"#tbt Hudson and Haven just after their arrival into the world!" she wrote. "Hudson weighed 7.3 lbs and Haven was 6.3 lbs . I loved carrying them for the 38 weeks and now I'm loving every minute of kissing, cuddling and loving them! Can't believe how lucky I am to be their Mom."
Last month, Johnson and Herjavec celebrated with friends at a surprise baby shower thrown by Queer Eye for the Straight Guy alum and former Dancing With the Stars contestant Carson Kressley. There, the couple revealed the sexes of their twins with a balloon-popping ceremony.
The twins are Herjavec's fourth and fifth children. He has two daughters and a son from a previous marriage.