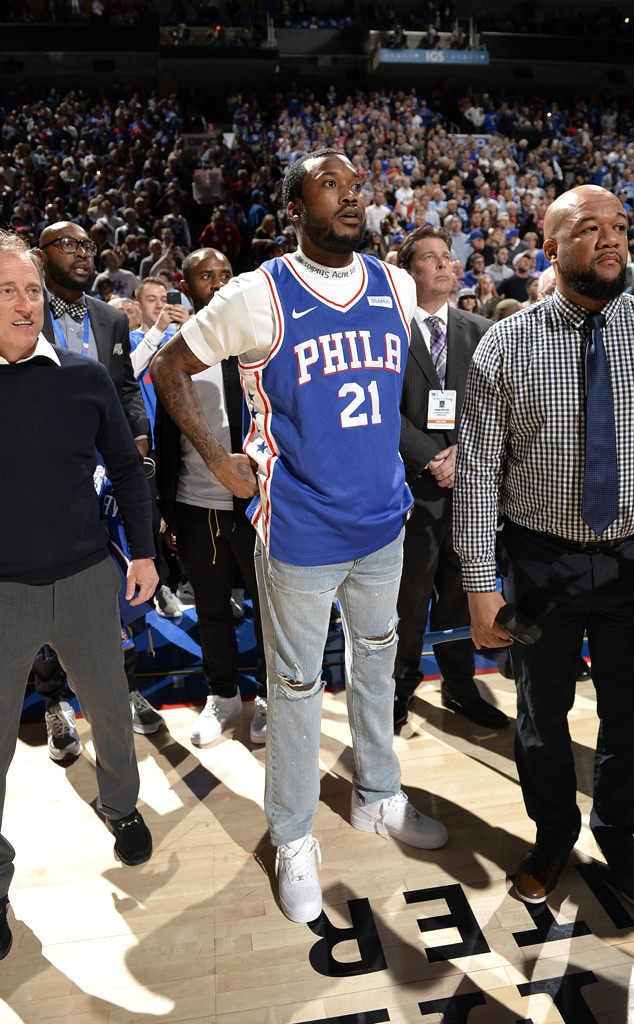 David Dow/NBAE via Getty Images
Philadelphia is welcoming Meek Mill home. 
Hours after his release from prison, the rapper hopped in a helicopter and arrived just in time to watch the Philadelphia 76ers take on the Miami Heat in Game 5 of the NBA playoffs. The Wells Fargo Arena erupted into applause when Mill took the court and rang the bell, a tradition that precedes every home 76ers game. 
Ahead of tip-off, the 30-year-old Philly native took a shower in the locker rooms and spent some time with close friend Kevin Hart. The comedian documented their reunion on social media, teasing, "Meek got fat as s--t!" 
On Tuesday, the "Ima Boss" performer was granted bail after spending nearly five months behind bars. He was previously sentenced to two to four years for violating probation in connection to a drug and weapons conviction in 2008.
"I am still dazed, I'm in a daze, this is great, and unbelievable," Mill told Page Six following his release. "I always had confidence it was going this way, but I didn't know when it would happen and I'd be free. It looked like it was going to take months more."
The hip-hop star also said he looks forward to finally seeing his 6-year-old son Papi. As he explained to the outlet, "I am going to watch the game with my son and my family tonight. I can't wait to see my son, its his birthday on May 13 and he had been asking how we were going to celebrate. When I was in jail I couldn't give him an answer, I didn't know what to say to him, but now I'm going to be spending all this time with him." 
Moving forward, Mill plans to resume making music and work with his legal team on overturning his original conviction. 
Throughout his time in prison, Mill received an outpouring of support from stars including Hart, Jay-Z and more.