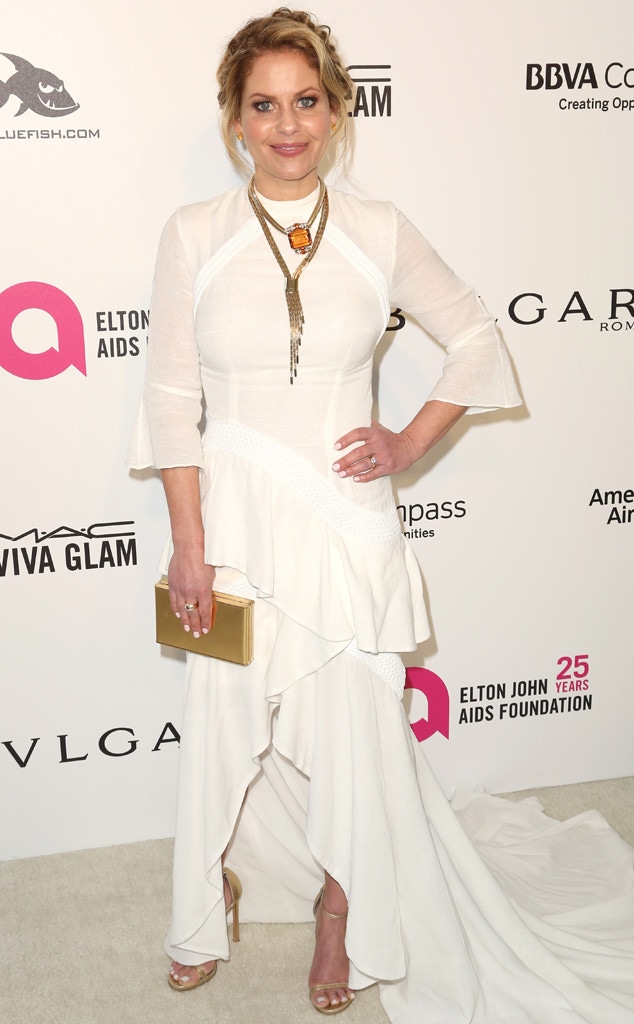 Willy Sanjuan/Invision/AP/REX/Shutterstock
While Justin Timberlake and Anna Kendrick may have made trolls like fun and frolicsome folk that can't stop the music, it turns out the trolls that live under the Internet aren't such a feel-good time.
Getting her acting start at age seven, Fuller House star Candace Cameron-Bure is no stranger to the downside of being in the spotlight, which is why she had the most perfect clapback to a body-shaming troll recently.
Last week, the 42-year-old posted an Instagram photo of herself and her 18-year-old son Lev Bure out to dinner at Nobu. It was simple, sweet and needed no negative comments, but a nasty comment is what it got.
According to a screenshot that Cosmo caught, a rather uninformed commenter, @grettavontrappandspanky, wrote, "All that exersizing [sic], and you still look like you weigh more than your husband, did you change your diet?"
As previously mentioned, Lev is her son not her husband—you could maybe tell that fact because they basically have the same face.
Candace jabbed back with a simple, "Nice, troll," and a smiley face emoji.
Many of fans hit back at the body-shaming comment, calling the scribe out for the mean-spirited words.
Eventually, Candace, who has been very vocal about dealing with her eating disorder in the past, silenced the hater with a simple sentence: "If a 25 inch waist looks big to you… then you're looking through an altered lens. Be well."
Candace's remark received thousands of Likes.
And that's how you silence a hater...
In her 2011 book Reshaping It All: Motivation for Physical and Spiritual Fitness, Candace revealed she began battling bulimia at age 19 when she was living in Montreal and engaged to her husband, Russian hockey player Valeri Bure. 
"I was nineteen, engaged and living with Val—as a good Christian girl ought not to do," she wrote in her book. Perhaps if I had been living and walking in faith, I wouldn't have started the cycle of binging and purging," she wrote."
The actress said that her bulimia "had nothing to do with body image or trying to lose weight but had everything to do with adjustment and fear." She said that as a soon-to-be "hockey wife" in a "foreign city," she felt lonely at home while her fiancé played away games and filled that void with by binging on and purging food.
Luckily, Candace has recovered from her battle and is now extremely active on social media, detailing her rigorous fitness routine with celebrity trainer Kira Stokes, the creator of The Stoked Method.
Last September, Candace told E! News that working out helps calm her busy life: "I try to work out five to six days a week but that doesn't always happen depending on my work schedule."
The former child star also said she eats cleanly during the week but sometimes she does go for a hamburger and fries on the weekend.
However, today she served an Internet troll a side of clapback.