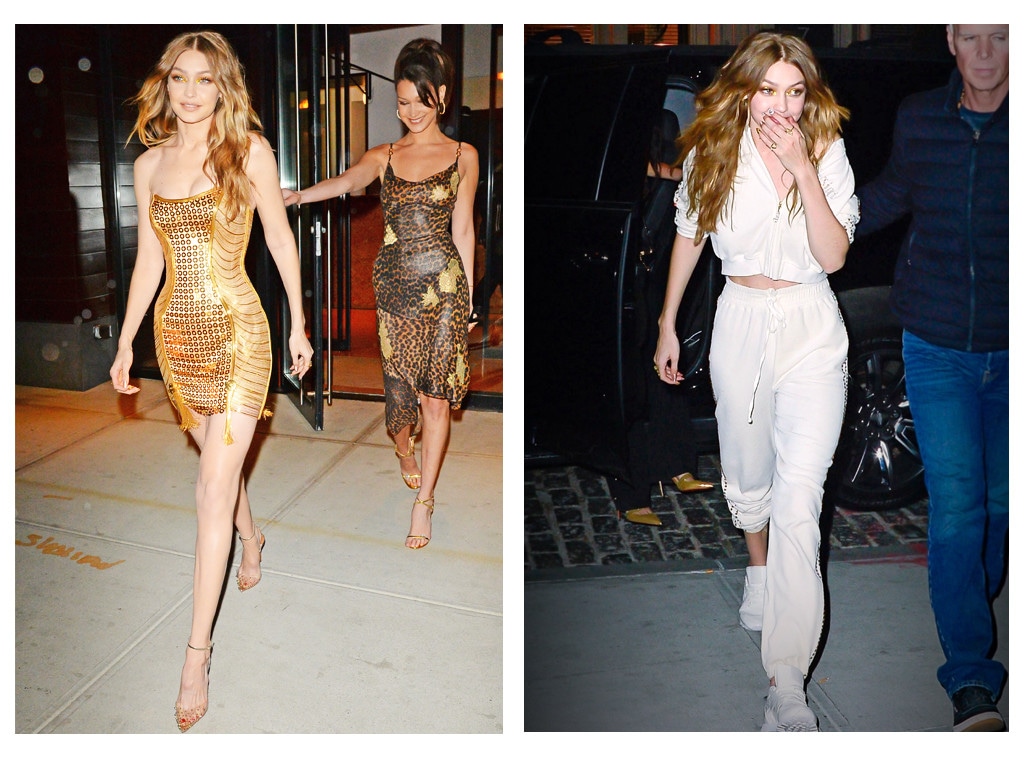 North Woods / BACKGRID
Gigi Hadid's birthday celebration was golden! 
The supermodel arrived at her 23rd birthday party in a glittering gold mini dress, made by Alterier Versace, and matching makeup. Hand-in-hand with sister Bella Hadid, who wore a leopard-print slip dress by the same designer, the sisters' fashion was a celebration in of itself.
Then, Gigi did something so relatable. She changed out of the constricting (yet gorgeous) mini dress and changed into a cream cropped hoodie with matching track pants. 
While the comfortable outfit better allows for dancing and photo booth fun, the tracksuit isn't casual. With a closer look at the details and little research, we found out it is just as special as the occasion she wore it to. And, you probably missed them by simply looking at the images.
The tracksuit was created by 2000s trend leader, Juicy Couture.
In case you missed it, the velour suit craze maker, Juicy Couture, is making a major comeback. And, Gigi's birthday fashion confirms their move, once again, toward pop culture dominance.
It's embellished with 2,300 Swarovski crystals.
The designer used the brand's "crystal metallic sunshine" jewels to create the side stripes on the sides of the garments and the "23" on the back of the hoodie.
The brands refers to the cream shade as their "angel" hue.
Good news: If you love Gigi's look, you can customize your own Juicy Couture tracksuit on Farfetch.com. The cropped hoodies, which custom Swarovski crystals, range from $275 to $1,025, which you can pair to velour shorts or pants, which retail from $320 to $1,750. Sure, you may need a Paris Hilton budget to pull it off. But, then again, if it's your golden birthday, you deserve it!