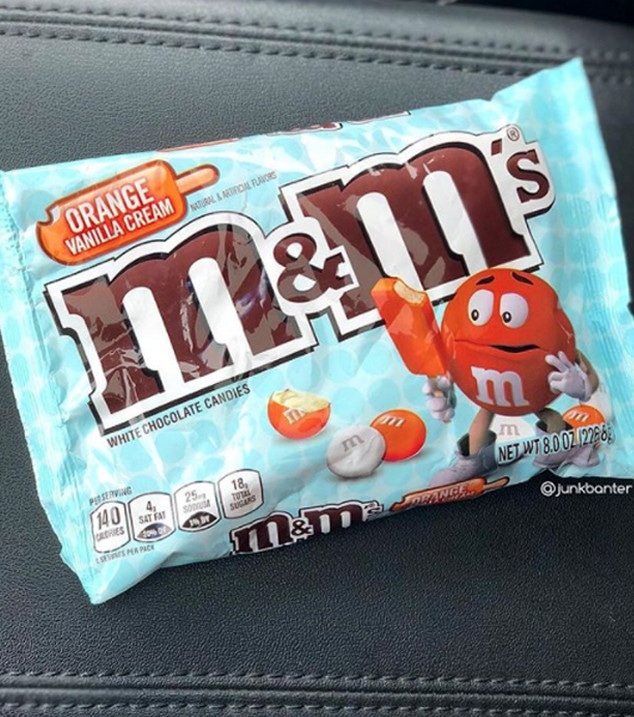 Instagram/junkbanter
Attention candy lovers: M&M's has released a new flavor just in time for summer and we're not sure how to feel about it.
What is the new summer flavor? Drum roll...Orange Vanilla Cream AKA an orange creamsicle, which definitely has us very intrigued. In fact, if we weren't working we'd be heading outside to search for these bad boys in order to try them ASAP.
According to The Impulsive Buy, the Orange Vanilla Cream M&M's are limited edition and are only available at Dollar General. Is it just us or does the fact that these candies are hard to find make them that much more enticing?
The key to the new flavor is that there is white chocolate, which will lend itself for a much sweeter candy treat. The white chocolate is paired with orange flavor to instantly take you back to your childhood at the beach licking a creamsicle, which could be just the right candy for all your summer adventures. 
If you are able to track down the newest flavor, which is quickly following in the footsteps of M&M's other ice cream flavored chocolates, like Neapolitan, which was released earlier this year, you should stock up on them now because they are already going fast. With other fun flavors like Pumpkin Spice in the fall, Easter Sundae back in 2016, Cookies & Screem for Halloween and so many more making a big splash with candy lovers everywhere, the introduction of this ice cream inspired flavor has us wondering: what can't M&M's create?
Now that you've been teased a little with M&M's fresh orange-flavored delight, we want to hear what you think about the fun flavor combo. Vote below to tell us whether or not you think M&M's Orange Vanilla Cream bag will actually taste good.
PS: If you can't find any at Dollar General, the new flavor is already available on eBay!