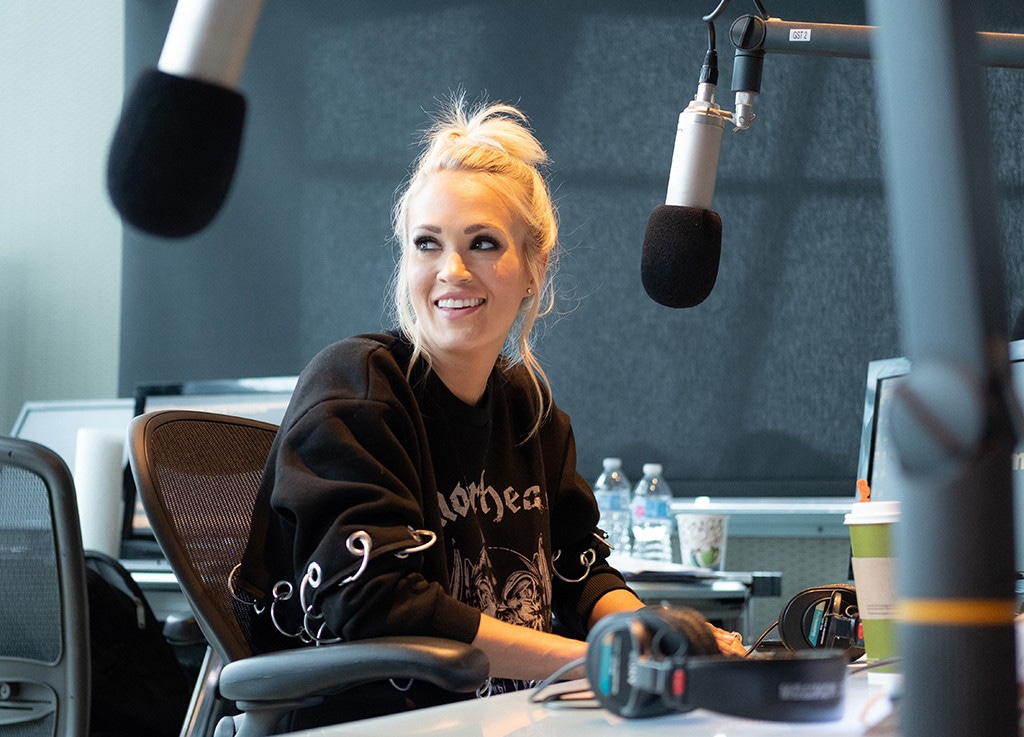 Jason Kempin/SiriusXM
Carrie Underwood has returned to the spotlight after suffering a "hard fall" back in November.
"On Friday night, Carrie Underwood took a hard fall on some steps outside her home," her rep said in a statement to E! News at the time. "While there were no life-threatening injuries, she was taken to the hospital to be treated. She sustained multiple injuries including a broken wrist and some cuts and abrasions from the fall."
The Grammy winner then sent out a tweet to her fans, letting everyone know she had surgery on her wrist and was recovering. She would later tell her fan club that she needed more than 40 stitches on her face after the fall.
For months after the accident, Underwood stopped posting clear photos of her face on social media. Instead, the singer found ways to keep her face hidden.
At the beginning of this month, Underwood started to steadily post pictures of her face, sharing the first full-face photo of herself since the accident on April 6. Days later, she returned to the stage at the 2018 ACM Awards to perform "Cry Pretty," her first performance since her fall.
Now that Underwood is back in the spotlight, let's take a look at all of the pics of Underwood since her November accident.
On Dec. 12, the singer was photographed for the first time since her fall in a picture with reality star Adrienne Gang.
"Just worked out next to @carrieunderwood NBD... she is adorable and so gracious... LOVE HER!" Adrienne tweeted along with the photo.
While Underwood gladly posed for the pic, she chose to cover up her face on social media in the months after her fall.
At the end of December, Underwood covered her face in a scarf in an Instagram post, showing only her eyes.
"When in 5 degree weather, wrap your @caliabycarrie scarf around your neck and face...you keep warm AND look like an awesome winter snow ninja! #WinWin #StayThePath #LetItSnow #BabyItsColdOutside," she captioned the pic.
On Feb. 10, Underwood shared a photo of herself working out with the help of her son, Isaiah. In the pic, her head is turned to the side so you can't see her face.
Later that same month, the star shared a picture of herself with husband Mike Fisher in support of the End It Movement. The photo shows the End It Movement red X on Fisher's hand and an X covering Underwood's mouth and most of her face, making it hard to tell if she has any scars.
Two days later, Underwood shared a full-face photo for the first time since the accident. The post showed the singer at rehearsals with her band.
The next week, just before taking the stage at the ACM Awards, Underwood shared a selfie with her social media followers.
Ethan Miller/Getty Images
When Underwood hit the stage at the ACM Awards, she received a standing ovation from the audience.
Since her performance at the award show, Underwood has been posting more photos of herself on social media.
She also recently gave her first interview since her fall in which she explained what happened to her.
"I was clumsy and I tripped," she told host Storme Warren during a podcast interview on SiriusXM's The Highway. "I held onto the dog leashes in my left hand and went to catch myself with my right and just missed the step. There's one lone step. I said if I had fallen anywhere else, I would have been absolutely fine, but it's just because there was, I went to catch myself and I missed."