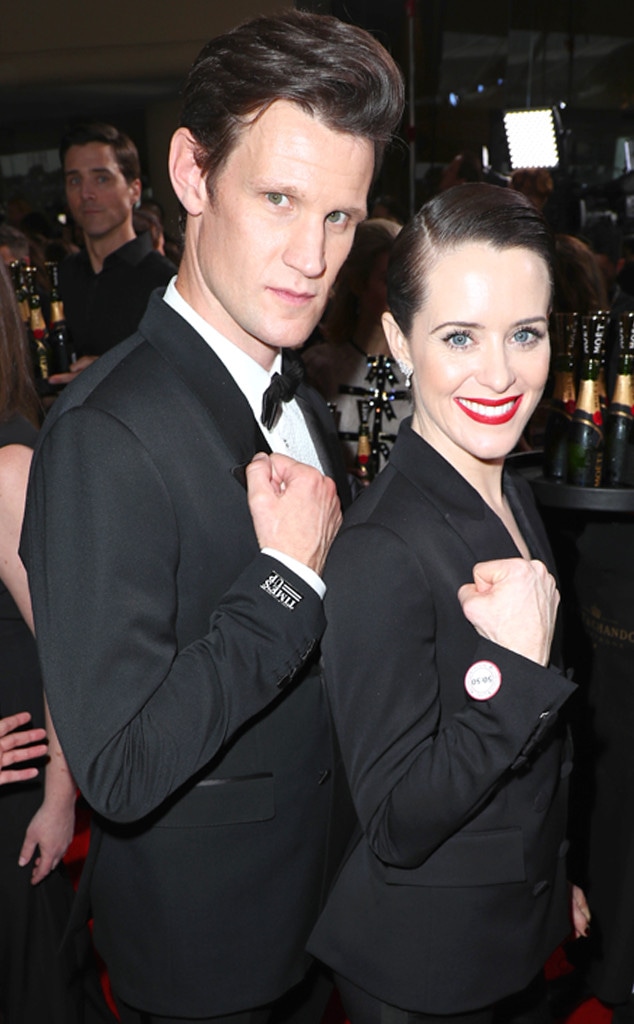 Joe Scarnici/Getty Images for Moet & Chandon
He's got her back!
Matt Smith, who plays Prince Philip in season one and two of Netflix's The Crown, is breaking his silence and speaking out in support of his co-star Claire Foy, who stars as Queen Elizabeth II, after it emerged that the lead actress was getting paid less than him.
At the world premiere of his upcoming film Mapplethorpe, Smith talked to about the The Hollywood Reporter about the headline-making pay disparity and made sure to publicly back the British actress.
"Claire is one of my best friends, and I believe that we should be paid equally and fairly and there should be equality for all," he said to the outlet. "I support her completely, and I'm pleased that it was resolved and they made amends for it because that what's needed to happen.Going forward, I think we should all bear in mind that we need to strive to make this better and a more even playing field for everyone involved — but not just in our industry, in all industries."
It is unclear what Smith's remark of "made amends" means, as Netflix has not put out a statement on the matter.
E! News has reached out to Netflix for comment.
Frazer Harrison/Getty Images
The pay scandal erupted in March after producers at Left Bank Pictures, which is backed by Sony Pictures Television, revealed in an INTV conference in Jerusalem that Smith was paid more than Foy. Left Bank creative director Suzanne Mackie said Smith made more than Foy because of his previous Doctor Who fame. "Going forward, no one gets paid more than the Queen," Mackie said at the time, according to Variety.
Following the international outcry, Left Bank Pictures issued a statement explaining that the stars were unaware of each other's salaries and that the fault lay with the company, not the actors.
"We want to apologize to both Claire Foy and to Matt Smith, brilliant actors and friends, who have found themselves at the center of a media storm this week through no fault of their own. Claire and Matt are incredibly gifted actors who, along with the wider cast on The Crown have worked tirelessly to bring our characters to life with compassion and integrity," read the statement.
"As the producers of The Crown, we at Left Bank Pictures are responsible for budgets and salaries; the actors are not aware of who gets what, and cannot be held personally responsible for the pay of their colleagues."
Foy and Smith will only be appearing in the first and second season of the show. Other actor's have been hired to portray the royals in a later stage of life.
In seasons three and four of the show, Olivia Colman, star of Broadchurch and The Night Manager, will take on the role of QE2.
Meanwhile, Outlander and Game of Thrones star Tobias Menzies will play Prince Philip.
Helena Bonham Carter will reportedly play Princess Margaret, but it has yet to be confirmed. In January, the Evening Standard reported the Alice in Wonderland star was "all but confirmed" to take over the role of Princess Margaret.