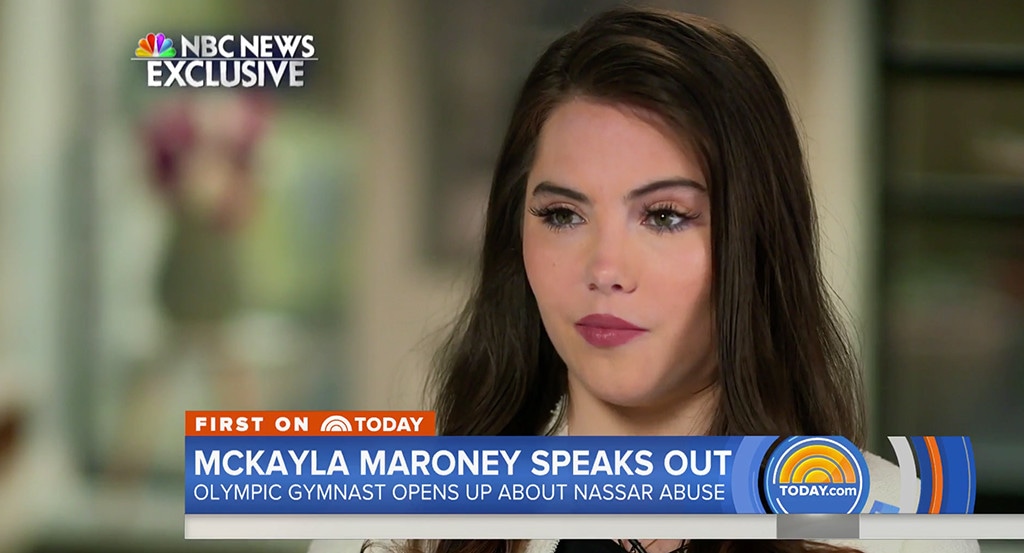 NBC News
Olympian McKayla Maroney says former doctor Larry Nassar says she first spoke out about his sexual abuse of her in 2011.
In January, the former USA Gymnastic physician was sentenced to 40 to 175 years in prison for sexually abusing female gymnasts, including Maroney and fellow Olympians and "Fierce Five" members Aly Raisman and Jordyn Wieber, under the guise of medical treatment. More than 250 women have come forward.
Maroney told NBC News' Dateline in an interview airing on Sunday that in 2011, when she was 15 and two years after she said the abuse first began, Nassar "went overboard" while molesting her in his Tokyo hotel room. He had accompanied her and other gymnasts to the world championships in Japan.
"[It] was very, very hard for me not to acknowledge the fact that...this was not treatment. I was being abused," she said. "I was bawling, naked on a bed, him on top of me, like fingering me...I thought I was going to die. It was escalating."
Cory Morse/The Grand Rapids Press via AP
THOMAS COEX/AFP/Getty Images
She said the next day, she revealed what Nassar had done to her while being driven back to the hotel with other gymnasts and USA Gymnastics coach John Geddert.
Maroney said Geddert didn't react and that a fellow gymnast she looked up to rebuked her. The gymnast in question denied this to NBC News. USA Gymnastics said it had no knowledge of the conversation.
Geddert did not respond to NBC News' requests for comment. He was suspended by USA Gymnastics in January after gymnasts accused him of physical and verbal abuse. He said in a recent court filing for a Nassar-related lawsuit that he was "fooled" by the former doctor, a friend, NBC News said.
USA Gymnastics had hired a private investigator to look into allegations made against Nassar in 2015 after elite gymnast Maggie Nichols's coach reported to the group that the athlete had talked about the former doctor's sexual abuse of her to Raisman. After the latter Olympian and Maroney also confirmed abuse by Nassar, the organization called the FBI, five weeks after Nichols' report.
USA Gymnastics said in a statement to NBC News that it "denies any allegation that it had wide-ranging knowledge of abuse by Nassar or that it concealed or ignored his abuse."