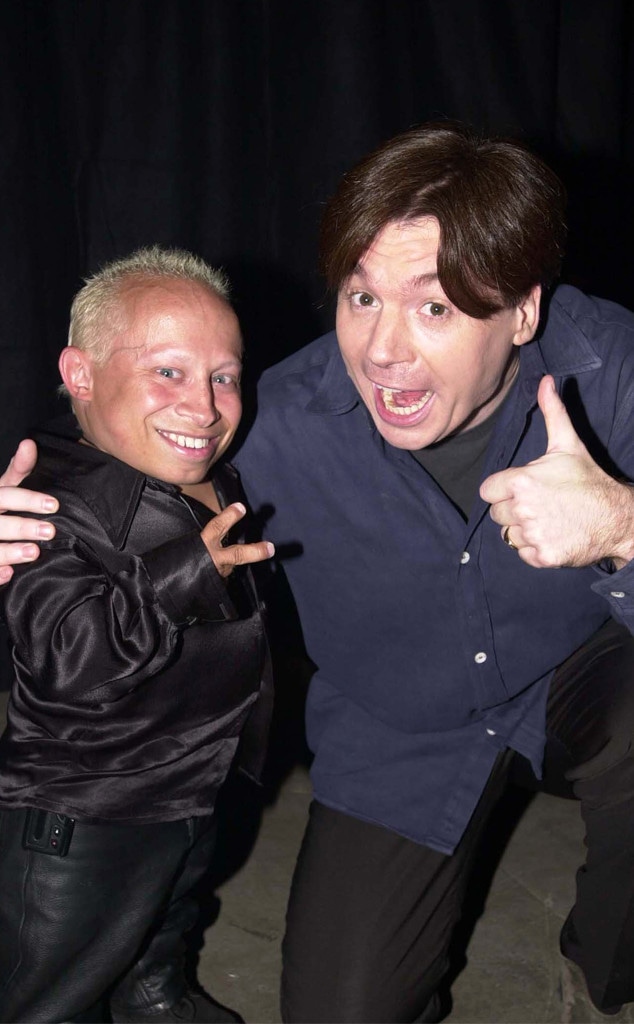 Jeff Kravitz/FilmMagic
Mike Myers is paying tribute to his late Austin Powers; The International Man of Mystery co-star Verne Troyer, who died earlier today. The 49-year-old actor made a name for himself as Dr. Evil's Mini-Me in the film trilogy, which by Myers.
Ryan Parker, senior staff writer for The Hollywood Reporter, tweeted Myers' statement following the actor's passing.
"Verne was the consummate professional and a beacon of positivity for those of us who had the honor of working with him. It is a sad day, bu I hope he's in a better place. He will be greatly missed."
In addition to the original 1997 film, Verne, who stood at 2 feet 8 inches, played the mini version of Myers' arch-nemesis its 1999 sequel Austin Powers: The Spy Who Shagged Me and the third installment, Austin Powers in Gold Member.
Several celebs, including Patrick Schwarzenegger, Carmen Electra and Shannon Elizabeth have mourned the loss of Troyer on social media. 
Ludacris wrote, "R.I.P. Verne Troyer aka Mini Me. You made it to that #1 Spot Glad we got to make history together. #goontosoon #love."
Vanilla Ice, who also appeared on a season of The Surreal Life, wrote, "#RIPVerneTroyer sad to loose a #LEGEND and friend — LONG LIVE my little Buddy @VerneTroyer #VerneTroyer."
News of the actor's death was shared via his official Instagram on Saturday.
The statement read, "It is with great sadness and incredibly heavy hearts to write that Verne passed away today. Verne was an extremely caring individual. He wanted to make everyone smile, be happy, and laugh. Anybody in need, he would help to any extent possible. Verne hoped he made a positive change with the platform he had and worked towards spreading that message everyday."
The actor, who was born with the genetic disorder known as achondroplasia dwarfism, had openly battled depression and alcoholism.
The statement also alluded to a possible suicide: "Verne was also a fighter when it came to his own battles. Over the years he's struggled and won, struggled and won, struggled and fought some more, but unfortunately this time was too much."
On April 17, 2017, Troyer wrote about his addiction problem on Instagram: "I've battled alcohol addiction in the past and while it's not always been an easy fight, I'm willing to continue my fight day by day."
In early April, Troyer was hospitalized following an incident at his home, according to USA Today.
After the incident, a statement was written on his Instagram that said, "Asking you to keep Verne in your thoughts and prayers. He's getting the best care possible and is resting comfortably. Appreciate the support from family, friends, and fans around the world. We will keep you updated here."
At the time, TMZ reported that he had been placed on a 5150 (72-hour) hold after police got a report that the actor was drunk and suicidal.
If you or someone you know needs help, please call the National Suicide Prevention Lifeline at 1-800-273-TALK (8255).