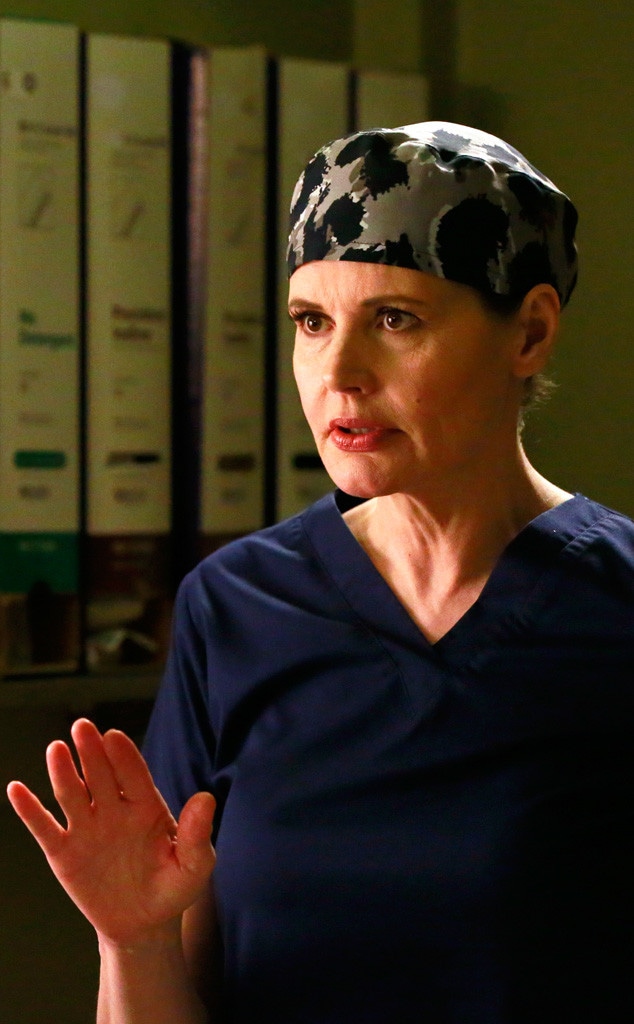 ABC/Mitchell Haaseth
Another familiar face will return to Grey Sloan Memorial before season 14 is through—and it just may be to help say goodbye to one of those departing fan-favorite characters.
E! News has confirmed that Geena Davis will reprise her role of Dr. Nicole Herman in the May 10 episode of Grey's Anatomy, the season's penultimate episode, and her presence will probably be the key to Jessica Capshaw's exit. Per the logline for the episode, entitled "Cold As Ice," Herman returns to Grey Sloan to pay a visit and present Arizona with an exciting opportunity. And while no one's confirming whether that opportunity will be the thing to take Arizona away from the hospital, it's not hard to reach that conclusion.
As fans of Grey's will recall, Davis's Dr. Herman was the head of fetal surgery at Grey Sloan who selected Arizona for a fellowship in her department, becoming her mentor. After successfully having a brain tumor removed, she lost her eyesight and, when last seen, was recovering at the Blind Institute, where she was learning to live daily life in her new condition. She appeared in a total of 12 episodes from 2014-15.
Ever since it was revealed that Capshaw and her co-star Sarah Drew—who just completed their final days on set—were being written out of the series at the end of the season, fans have been speculating just how it will happen. While this seems to clear up the mystery surrounding Arizona's exit, there's still Drew's April Kepner to consider. And the rest of the "Cold As Ice" logline sure does have us worried: One of Grey Sloan's own is "seriously injured, making the team reflect on what is truly important to them." Could another patented Grey's Anatomy tragedy be just around the corner?
What do you think about Herman's return? It's totally how Arizona's taking her leave, right? Sound off in the comments below!
Grey's Anatomy airs Thursdays at 8 p.m. on ABC.