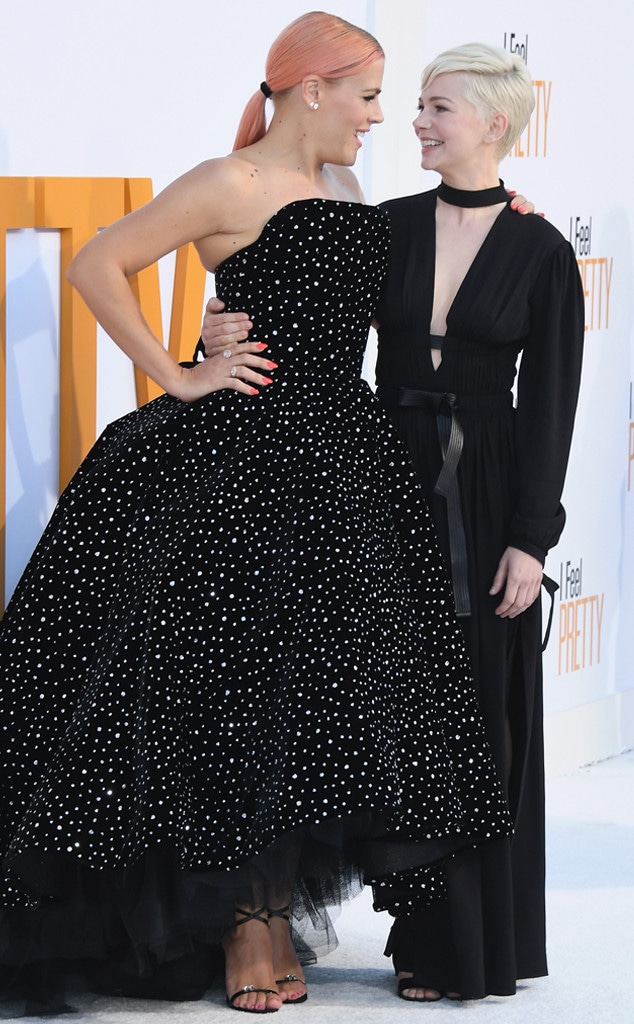 Jon Kopaloff/FilmMagic
Busy Philipps and Michelle Williams' friendship is actually the best thing to come out of Dawson's Creek (sorry Pacey and Joey!). But seriously, this BFF duo is truly the gift that keeps on giving. 
In case you'd like a little refresher, Philipps and Williams, who recently co-starred in Amy Schumer's film I Feel Pretty, met on the set of the WB series back when Philipps joined the cast in 2001.
On screen, their characters—Philipps played Audrey and Williams played Jen—didn't have a lot of scenes together, but off screen, these two have been almost inseparable ever since.
Now that Philipps has a new talk show coming to E! in October called Busy Tonight, we can't help but wonder what sort of BFF stories the actress will share about her ride or die on the daily.
Will the two exchange texts or calls on the series? Will Williams make a few guest appearances?
Only time will tell how much of the ladies' friendship we will see on screen, but we do have a long list of reasons we currently love this best friend pair.
Whether its attending each other's events or taking sweet bestie selfies for Instagram, Philipps and Williams are the ultimate friends and they continually give us #FriendshipGoals.
OK, enough chatter, let's get to all of the reasons we love these two together...there are a lot.
Once you've gotten serious friendship jealousy make sure to mark your calendars to watch Philipps take over E! at night when Busy Tonight  premieres this month—Sunday, Oct. 28 to be exact!
1. When Philipps defended Williams and almost started a bar fight.
During an appearance on The Late Late Show with James Corden in April 2018, Philipps revealed that as both a teen and 20-something girl, she was a little "wild," but she always had her friends' backs, especially Williams, even during an almost-bar fight.
"Michelle and I were at a bar one night, and this girl kinda was a little drunk, and accused Michelle of being really rude to her on a flight. Michelle Williams is my best friend for many, many years. She has never been rude to anyone ever. She is the sweetest, kindest, most loving human," Philipps recalled telling the story to James Corden. "If it had been me she'd accused, I would have been like, 'That kinda tracks,' but she accused Michelle of being rude, and I was just like, 'I will not stand for this.'"
She took it a step further and defended her BFF's honor by pulling out her nose ring and getting in her face a little bit. "I had my nose pierced, you know in the middle, like a bull, at the time, in my early 20s, which people didn't know," she continued. "And I would hide it when I was doing my acting jobs. And so, I flipped my nose ring down and was like…'Should we take this outside?'"
2. The time Philipps consoled Williams on the anniversary of her ex's death.
As many people remember, Williams famously dated Heath Ledger—they have a daughter together—and after his death on Jan. 22, 2008, Philipps was right by her side to console her. That support over losing her loved one has never wavered. In January 2018, Philipps traveled to be with her friend on the 10th anniversary of Ledger's death and later posted a photo of herself with a sad Williams with the words "It's ok" written on it showing that she is still there for her longtime friend no matter what.
3. When Williams' called Philipps the "love of my life."
Philipps isn't the only half of this dynamic duo who shows constant support and love for the other. Williams has done her fair share of gushing over her best friend over the years too. In 2016, while promoting her film Manchester By the Sea, Williams told People that she was attending the screening with her best friend because she was "so in love with her."
She continued saying, "She's proof that the love of your life does not have to be a man! That's the love of my life right there." Williams' honest feelings about how important Philipps is to her is just another reason we love these two actresses.
Ethan Miller/Getty Images
4. Red carpet date nights forever.
Whether it's a movie premiere for Philipps or an award show for Williams, these two stars are frequently seen on the red carpet as each other's dates. They are constantly promoting one another's projects and are each other's biggest fans.
"So insanely proud of my super talented best friend for her Golden Globe nomination (her 5th!!!). And also I love that she's so tiny I can wrap her up like a perfect little pixie present when I hug her," Philipps shared on Instagram back in 2017 during the duo's red carpet award show tour that year.
5. Godparent extraordinaire.
When Ledger and Williams had their daughter Matilda in 2005, the couple chose Brokeback Mountain co-star Jake Gyllenhaal and Williams' forever friend Philipps to be her godparents. This honor once again proves that these two have each other's backs and support through thick and thin.
6. They wear their love on their sleeves.
This duo doesn't always match, but when they do they do it in style. Take for example the time they wore matching "Best Friends" leather jackets last year. It was both cool and super sweet.
7. The time Williams revealed how Philipps "saved her."
When talking to People about her friendship with the Cougar Town star, Williams summarized it by simply revealing that without Philipps she doesn't know where she'd be, and for that fans of both stars can be grateful.
"I said to her recently, 'You have really saved me from every being lonely because you are always right there,'" Williams told the magazine. "We are so close and can tell each other everything. I don't know what I would be or who I would be without Busy."
8. When Philipps had to gush about Williams in her book.
Philipps has written a book—yes, we already have it pre-ordered (it comes out Oct. 16)—and after the Dawson's Creek reunion happened, courtesy of Entertainment Weekly, the Freaks and Geeks star gave fans a little taste of what will be in it. Spoiler alert: there will be kind words about her ride or die.
"I'll tell you a line that's in my book right now (you'll have to wait until fall for the rest of the book...)," she wrote on Instagram earlier this year. "'Michelle is a very easy person to fall in love with. Anyone who really knows her will tell you that. And probably anyone who barely knows her would say that, too.' #creekweek."
9. They are always together...even when they aren't.
In case Philipps ever misses her bestie, the two have come up with a hilarious solution...Williams sent her a life-size cutout of herself! Yes, this is real life and it all went down in May of 2018. The two friends spend a lot of time together, but when Williams couldn't be by Philipps' side following her sinus surgery, she came up with the next best thing. 
"Michelle sent me a life size cardboard cutout of herself to keep me company while I recover and it's so hilarious and also keeps scaring me when I come into the room, which is also kind of hilarious," Philipps shared on Instagram with a photo of the gift. "Truly one of the best gifts I've ever gotten."
10. When Philipps said "I do."
Philipps has been married to Mark Silverstein since 2007 and who was by her side when she tied the knot? Williams, of course! She was there when the actress was getting ready to walk down the aisle, and she's been by her side through everything that's happened since. Come on, these two are too stinking cute!
Which Busy and Michelle BFF moment is the sweetest, or just your favorite? Vote in our poll below!
(E! and NBC are both a part of the NBCUniversal family).
Busy & Michelle's Best BFF Moments