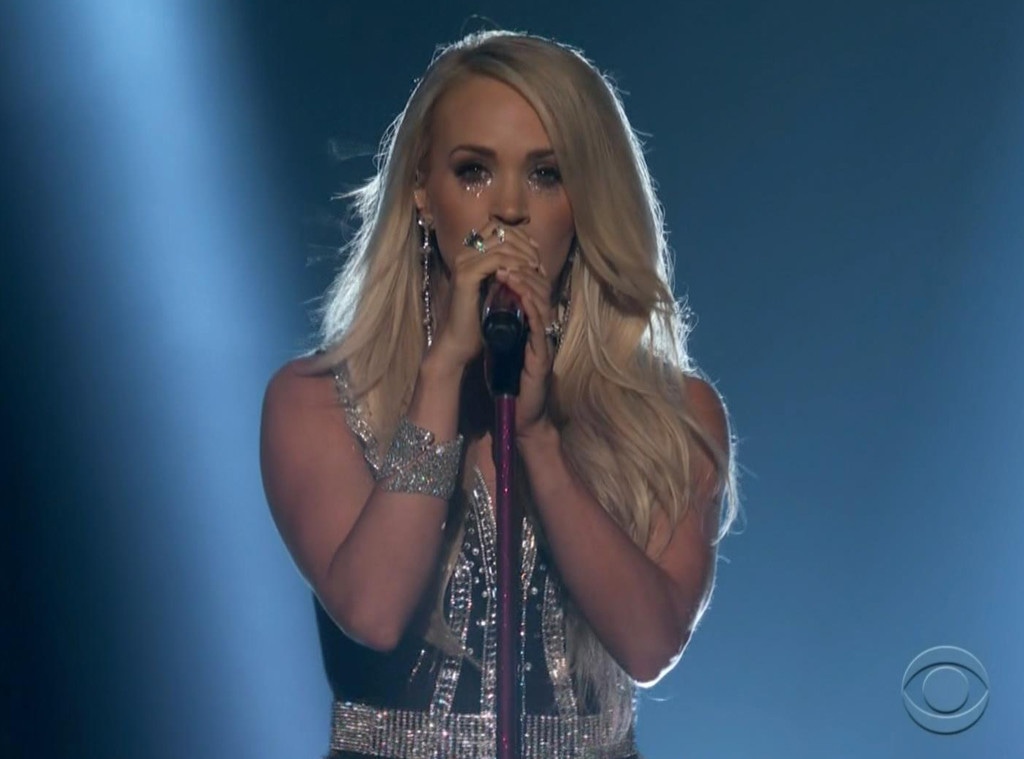 CBS
She was prepared for a little blood.
When Carrie Underwood stumbled and fell on a single stone step outside her Nashville-area home last November, "I thought I just busted my lip," she recalled during an interview on SiriusXM's The Highway Apr. 19. So she calmly walked pups Ace and Penny back inside, removed their leashes and her coat and then "went to go survey the damage." When she caught sight of her chipped tooth and the wounds around her mouth, she was horrified. As she explained on The Storme Warren Show, "It wasn't pretty."
Neither were the months that followed. In the wake of the fall she labeled "a random freak accident," the three-time CMT Artist of the Year, 35, endured surgery to implant a plate into her wrist, some 40-50 stitches and a frustrating recovery that left her unable to use her right hand. And then there were the rumors. As Underwood privately feared her famous face would never look the same, she had to confront reports that her seven-year marriage to NHL star Mike Fisher was on thin ice.
But as the seven-time Grammy winner re-embraces the spotlight—weeks after her performance of "Cry Pretty" at the Apr. 15 ACM Awards was met with a standing ovation, she'll take the stage at tonight's CMT Awards, where she's up for four trophies—it's clear her good looks, career and relationship are in tact. Plus the mom of 3-year-old Isaiah has gained a healthy new perspective. In an. Apr. 10 letter to fans, Underwood said that getting more time with Fisher, 37, and their son was "one of the silver linings in this healing process." Continued the star, "Sometimes I think things happen in order to make us slow down."
In her case, it was a full stop. Just four days after she co-hosted the CMA Awards with Brad Paisley (for the tenth straight year), the singer took a tumble while taking her dogs out for a quick walk on their 400-acre property. "I was clumsy and I tripped," she told Warren. "I held onto the dog leashes in my left hand and went to catch myself with my right and just missed the step. There's one lone step. I said if I had fallen anywhere else, I would have been absolutely fine, but it's just because there was, I went to catch myself and I missed."
Of course she wasn't fine, having broken her wrist and severely damaging her face. "When I came out of surgery the night of my fall, the doctor told Mike that he had put between 40 and 50 stitches in," she wrote in a January post to her fan club.
But even then, when her fears about her recovery were at her highest, she managed to stay positive. "I am grateful that it wasn't much, much worse," she added. "And I am grateful for the people in my life that have been there every step of the way."
For instance Fisher, who immediately stepped up as a nurse. Though Underwood admitted to Warren he had his work cut out for him.
"I mean, I'm really terrible at letting anybody help me with anything, to be honest," she said. "I'm probably not a very good patient because I'm like, 'I can do it. I'm not completely broken. I can do this.'" Her toughest struggle was navigating life with a bum right wrist. "Like, I can't use my appendage," she explained, "and I'm trying to pick my kid up and make food and do mom stuff."
Then there were the psychological issues. With some severe scarring around her mouth, she explained on The Bobby Bones Show podcast Apr. 19, "I didn't know what was going to go on. I didn't know what it was going to heal like."
At her lowest point, she worried that her son "would be scared of me," she confessed, though she notes now, "If I put makeup on, he's like, 'Mommy your boo-boo's all gone."
She also feared the reaction of her fans. So in the initial weeks she placed herself in a sort of self-imposed exile. "I was lucky that when it happened, everything was kind of shutting down in the music world and we had the holidays and stuff like that."
At first she chose to keep completely quiet about her pain, directing her publicist to release a simple statement detailing that she had broken her wrist and had "some cuts and abrasions." With no work obligations or red carpets to walk, she could sequester herself on their massive Tennessee property and maintain a social media presence with the help of a thick Calia by Carrie scarf, some careful head placement and—in one instance—a red X covering her mouth to promote the End It Movement to stop modern day slavery.
But as she started venturing out in public, even agreeing to take a photo with Below Deck star Adrienne Gang when they worked out next to one another at their gym, she decided it was best to come clean. In her January letter to fans, she admitted the accident was far more severe than she initially let on, explaining, "I want you all to understand why I might look a bit different."
Michael Loccisano/ACMA2018/Getty Images for ACM
She was motivated primarily by fear, she admitted to Warren, "Because I was like, 'Man, somebody's gonna catch me at the Kroger. I'm gonna be buying groceries and somebody's gonna post something on Instagram, and people are gonna be like, What's going on?'"
Around that time, Fisher made a revelation of his own. Just five months after declaring an end to his 17-year career, which he called "the hardest decision I've ever had to make," the Ontario, Canada, native started second-guessing his move. So on Jan. 31 he made it official: the former captain would be rejoining his squad, the Nashville Predators.
By all accounts, the pro had healed from the injuries that plagued him in 2017 and simply missed the sport he'd been playing nearly his entire life. And with the Predators coming up just short the year before in their quest for the Stanley Cup, he felt they had a real shot at nabbing hockey's top prize.
"I believe this team is built to win and has a very good chance, so that is part of the reason why I want to come back and compete and be a part of it," Fisher said. "But we didn't win last year, and it was the best time in my career and we didn't win. So I believe that this year can be our year, and that's why I want to be a part of and have some fun."
Kevin Mazur/Getty Images for TIME
But detractors assumed he had an ulterior motive—that this was his way of escaping Underwood and their failing marriage.
As magazines proclaimed they were done—"Carrie's Divorce Heartbreak" read one; "Pregnant and Alone" asserted another—the rumors became so heightened that fans began praying for the religious pair, who tied the knot in July 2010, two years after connecting at one of the singer's meet and greet events.
Rick Diamond/Getty Images for ACM
When the athlete shared a bible verse on Instagram Feb. 22 that read, "Search me, God, and know my heart; test me and know my anxious thoughts. See if there is any offensive way in me, and lead me in the way everlasting," some of his 394,000 followers interpreted it as a secret signal. Among the more than 22,000 comments was one from a woman who instructed them to "Hold tight to each other. There are always bumps in the road. Keep focusing on Jesus! He will guide you thru!"
Fisher's response was quick and straightforward: "We've never been better. Thanks."
Because, as Underwood told Cosmopolitan in 2015, they were prepared for moments like this when they exchanged vows. "It helped that we were both established before we were married. Neither one of us could be like, 'I didn't know it would be like this!'"
And to be clear, it's not like Fisher went rogue with his decision. Not only did he talk it over with Underwood, but the way the singer sees it, she basically forced him to lace up his skates.
"I would say I was the main factor in that," she revealed on The Bobby Bones Show. "I completely disregarded his emotions in the whole situation. I'm like, "Yeah, do it! Why wouldn't you want to come back?"
Because if anyone understands the thrill of victory, it's the country music sensation who's nabbed more than 75 trophies since being named the winner of American Idol's fourth season in 2005.
"I was just kind of like, 'What's the worst that could happen? Barring an injury. Let's take that off the table," she told Bones. "You know, you make a run for it and it's a repeat of last year. You know, hopefully not. But I was like, 'What's the best thing that could happen?'" After nearly two decades of playing professionally, she said, she was eager to watch him celebrate big: "To see someone who's worked so hard for so long at something he loves, you know, I just, I want to see him win."
While he fell short, announcing he was hanging up his skates in May after taking his team to the brink of the Western Conference finals, Underwood is notching plenty of victories.
When the singer, who hasn't put out an album since 2015's Storyteller, released the music video for her and Ludacris' Super Bowl jam "The Champion", it garnered nearly three million views in the first three days. She also scored her 13th ACM Awards nod for Female Vocalist of the Year and, along with collecting a trophy for Vocal Event of the Year for her work on Keith Urban's track "The Fighter", she earned a standing ovation for her "Cry Pretty" rendition at the Apr. 15 Las Vegas event. 
"When you're singing something that is straight from your heart, it's easy to just be in the moment and be connected to it," she told Hoda Kotb on Today May 10. "I never realized how much it translates until after the ACM Awards. It was, like, wow, you know, there was something different about that performance."
Paul Drinkwater/NBC Sports
And since she made the most of her self-imposed seclusion, more awards likely lie ahead. "I've been in the studio writing and singing a TON, but I've also been able to be creative in a way that I've never been before, which has been very fulfilling and empowering," Underwood wrote.
Her recent struggle helped inspire "Cry Pretty", which she crafted with the Love Junkies songwriting team. "The title refers to when emotions take over and you just can't hold them back. It really speaks to a lot of things that have happened in the past year and I hope when you hear it, you can relate those feelings to those times in your life," she noted. "It's emotional. It's real."
And it's just the beginning of her comeback. Having released the title track—and debuting the emotional music video—she's putting the finishing touches on her sixth album Cry Pretty (out Sept. 14) and, she admits, "We're already talking about a tour."
With everything she's been through the past six months, reclaiming her place on arena stages will be pretty sweet. "It feels good," she admitted to Bones of her return. "It feels good every time around, but it feels good."