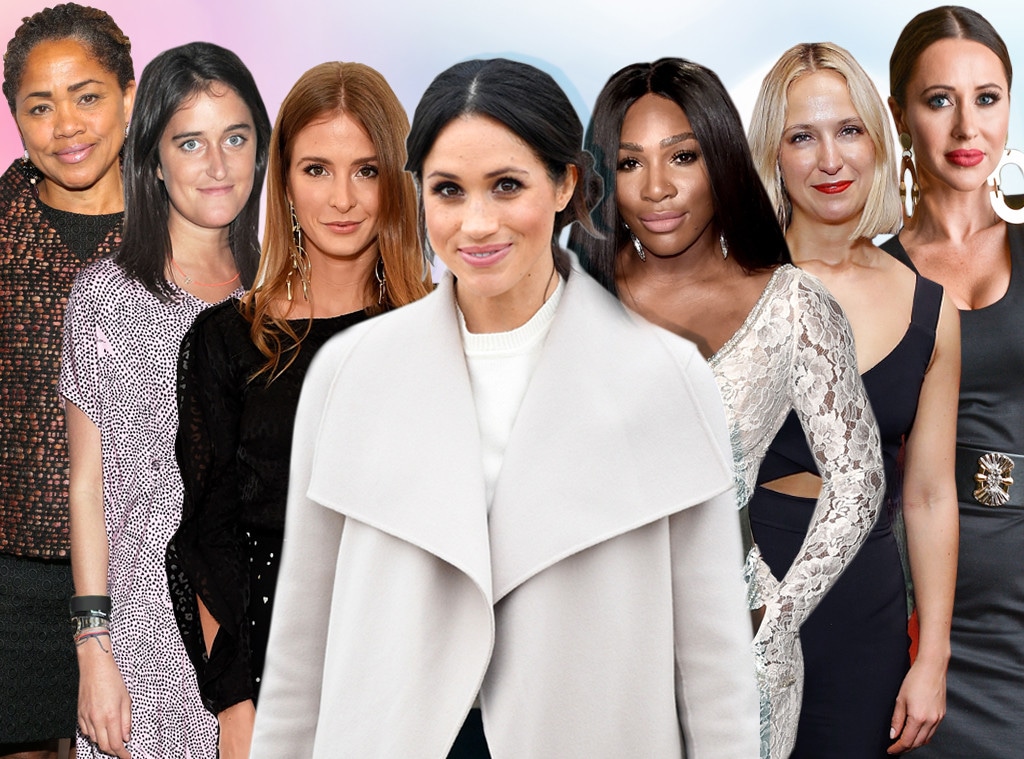 Jessica Rubenstein - E! Illustration
With just four weeks to go until Meghan Markle ties the knot with Prince Harry, her metamorphosis into a real-life duchess is almost complete. She's gone from a once struggling actress to one of the most famous women in the world.
Her new reality comes with all the trappings of joining one of the richest families in the world. There will be butlers and palaces and jewels at her disposal. But among the many things Princess Diana taught us, being a full-time member of the royal family can be far from easy.
For a start, there's a lot Meghan has had to give up. There'll be no more impromptu dinners with friends at her favorite restaurants, or trips to New York to sip champagne with stylish pals at fashion shindigs. Those quick jaunts to LA to see her mum will also be off the table. Any anonymity and freedom is a thing of the past, unless you consider alone time to include being followed around by royal protection officers and a slew of paparazzi and fans. Any remnants of her previous life will soon become a distant memory.
The palace is well aware of the pitfalls that have haunted them in the past, so they've been working hard to make sure she is surrounded by compassionate people to help her settle in comfortably. Team Meghan is headed up by a newly appointed royal aide, a woman called Amy Pickerill (you might have spotted her walking beside Meghan during her recent appearances with Prince Harry). Amy's role will entail managing Meghan's hectic diary, correspondence and guiding her as she takes on more and more responsibility.
But at least there's one thing Meghan hasn't had to say goodbye to: her close-knit circle of friends. Meghan's squad is more important than ever as she tries to navigate her final few weeks without a royal title attached to her name. Their loyalty, kindness and easy-going spirit is what got her through the ups and downs of the past. Many have been there since before that infamous first date with the current (right this moment, anyway) fifth-in-line to the throne.
They are her ride-or-dies, but who exactly are they? Here is E!'s guide to Meghan's most coveted group of gal pals:
There's been a lot of speculation over who will take the coveted spot as Meghan's maid of honor on May 19. Many point to Jessica Mulroney (more on that later) but, personally, we'd put Lindsay Roth at the top of the list.
Lindsay and Meghan met when they signed up for the same Toni Morrison literature class while students at Northwestern University. After graduation, they remained each other's rock—so much so that when Lindsay tied the knot in August 2016 she chose Meghan as her maid of honor. Lindsay has been a loyal and devoted pal to the actress and was by her side during her split from her first husband, Trevor Engelson. Her devotion is in stark contrast to the betrayal Meghan had to endure when her friend of more than 30 years Ninaki Priddy sold stories about her childhood.
They call each other one another's "partner in crime" and, thanks to Lindsay (who is the author of the book What Pretty Girls Are Made Of) choosing to marry an Englishman, like Meghan, she is also now based in London, which is very convenient for the bride-to-be.
George Pimentel/WireImage
Jessica Mulroney
Jessica is used to hobnobbing with high society, being married to the son of the former Canadian prime minister.
She and Meghan became fast friends soon after the actress moved to Canada to take up the role of Rachel Zane in Suits. Whether it's through their shared love of fashion, traveling the world or working out together (yoga and pilates being their preferred calorie busters), while in Toronto they used to be constantly featured on each other's social media (before Meghan deleted all her accounts, of course).
It was Jessica whom Meghan chose to spend time with following those first blissful few dates with Harry. The girls jetted off to Italy and snapped pictures as they basked underneath the setting Mediterranean sun. We can only imagine the kind of details that were shared as they lounged around the pool drinking wine, as the reality of Meghan dating the world's most eligible bachelor started to sink in.
Despite her change of home address, from Toronto (where Jessica is based) to Kensington Palace in London, Jessica remains of Meghan's chief advisors. The pair stay in contact via regular phone calls and secret trips to London. And when it comes to helping pick a wedding dress fit for a duchess, Jessica certainly possesses the qualifications as she also styled the Canadian Prime Minister Justin Trudeau's wife, Sophie, for her husband's swearing-in ceremony. If she manages to pull off the same duties for Meghan then she's in the running to not just be a proven and steadfast BFF but also one of the most powerful stylists on the planet.
John Phillips/Getty Images for Escada
Millie Mackintosh
Mille and Meghan were introduced a month after the 36-year-old first met Harry and they instantaneously formed a strong bond. If they are not meeting up around their upmarket Kensington and Chelsea neighborhoods then they are sneaking off for girls' weekends at Meghan's favorite getaway, Soho Farmhouse, in the English countryside. The two even have matching friendship bracelets.
At 28, Millie is a few years younger than her new American buddy but she's the perfect ally to help introduce Meghan to the upper echelon of the London jet set. She's deeply ingrained in the tight social circle that surround Harry and Prince William. Her family made their name by inventing a very famous brand of British chocolates (known as Quality Street, which are eaten by the royal family at Christmas time) but Millie really made headlines after starring in a reality TV show called Made in Chelsea. Through that she became good friends with her former co-star Spencer Matthews, whose brother, James, went on to marry Pippa Middleton. Meanwhile Millie's fiancé, Hugo Taylor, is also said to have enjoyed a brief fling with Princess Eugenie in 2008—oh, to be a fly on the wall at Harry and Meghan's intimate wedding reception.
Dimitrios Kambouris/Getty Images
Misha Nonoo
Clothing designer Misha Nonoo used to be married to one of Harry's best friends, Alexander Gilkes, but she and Meghan met years before at an event in Miami. "We were seated next to one another at a lunch, and we got along like a house on fire," Nonoo once told the Evening Standard. "I love her to death. She is the coolest girl in the world."
While Misha was long rumored to be the secret matchmaker behind Harry and Meghan's love story, alas, that honor belongs to Violet von Westenholz. However, Misha is certainly part of the welcoming committee helping Meghan adapt to her new life in the British capital. The two have a lot in common, they are both huge philanthropists, animal lovers and international transplants (Misha was born in Bahrain but has lived in London, Paris and New York). And as a caption posted during a recent three-week holiday to Europe proves, they've become like family to one another. Next to a snap of the pair clinking wine glasses in Madrid, Misha wrote, "'When only children find sisters."
Serena Williams:
The tennis champ is the unsung hero of Harry and Meghan's love story. The celebrity friends met four years ago at a fundraiser and had such a connection that Meghan soon became a regular courtside presence at some of Serena's most important matches.
It's this kind of support that led Meghan to watch Serena play at Wimbledon in the early summer of 2016 (and ironically for the Suits actress to be seated just rows away from Pippa Middleton).
Meghan's other guest at that tennis match was Violet, the childhood friend of Harry's who encouraged the love birds to swap digits so they could meet up for their now storied chemistry-filled first date.
Out of all the A-listers expected to attend the wedding in May (we'll be looking out for Priyanka Chopra, David Beckham, Elton John and, of course, Meghan's Suits co-stars), it's almost certain Serena will be first in line. As Meghan once wrote, "We are both the same age, have a penchant for hot sauces, and adore fashion, but what connects us more than those things is perhaps our belief in exceeding expectations–our endless ambition."
Nick Harvey/REX/Shutterstock
Violet von Westenholz
We've saved the best till last because little could Meghan have known when she was first introduced to Violet von Westenholz that she was meeting the woman who would eventually set her up with the man of her dreams.
Violet is a super-successful PR in London who most recently has been working with Ralph Lauren. But as we exclusively revealed earlier this year, when she wasn't working hard for the iconic fashion house, she was being a confidante for Harry when it came to matters of the heart. (Her dad is good friends with Prince Charles and she has been in Harry's inner circle for years.)
As our well-placed source revealed, "Harry was having a really hard time finding anyone. It's hard enough finding someone new to date. He can hardly go on Tinder or a dating app like normal people, but to meet someone that you actually connect with, that was proving to be almost impossible. It was something he had confided in his closest friends about; he was ready to meet someone but it was so hard to actually find the right person."
We all have Violet to thank for her magical matchmaking skills because, without her, Harry and Meghan would have never found their happily ever after and we wouldn't be excitedly waiting to witness another royal wedding.
No matter how nerve-wracking Meghan's new life might be, rest assured she has a super tight group of women around her to support her as she makes the transition. Each brings her own qualities to the friendship, whether it is Jessica with her fun spirit and amazing sense of style, Lindsay with her ever-lasting loyalty, Millie for her connections and relatability (her wedding is set for June), Misha for her mutual love of philanthropy or Serena for being an incredible inspiration in Meghan's life.
The royal-to-be is certainly being supported not just by people inside the palace, but a circle of superwomen beyond the palace gates. And, of course, at the center of it all is her biggest fan and cheerleader, her mum, Doria Ragland.
Come what may, Meghan Markle is ready to face the challenges of being a royal—and should she need any extra help, she can always call for backup.