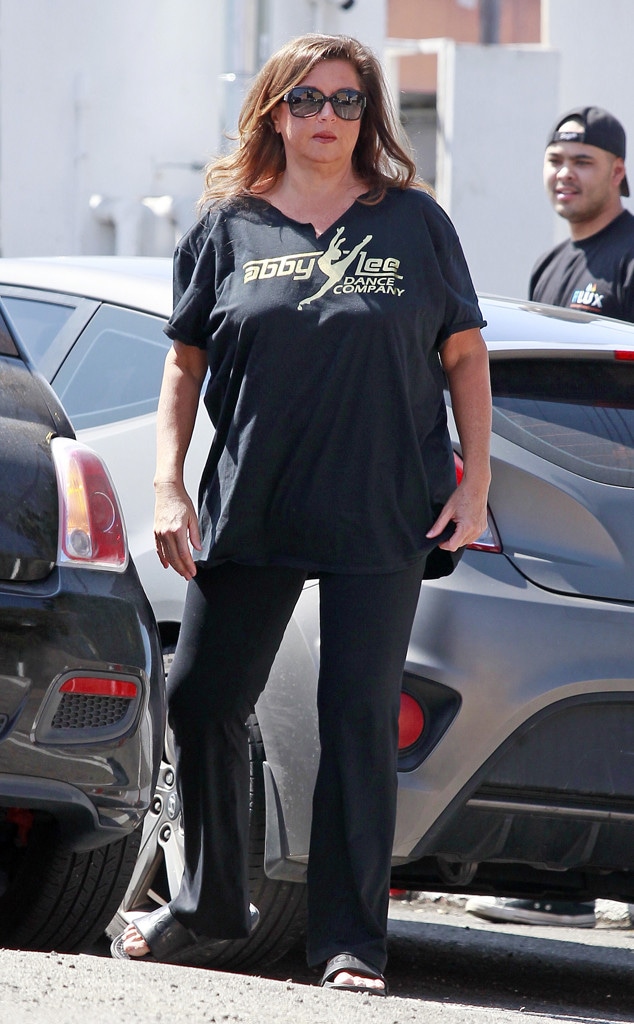 Splash News
She's not out of the woods...
One day after undergoing emergency spinal surgery for what was believed to be an infection in her spine, reality star Abby Lee Miller has now been preliminary diagnosed with Burkitt lymphoma, a form of non-Hodgkin's lymphoma, a cancer of the lymph nodes, confirms E! News.
Samer Saah, a rep for Dr. Hooman Melamed, a spinal surgeon at Cedar Sinai Marina Del Rey Hospital, tells E! News that they'd thought the Dance Moms star, who left prison late last month, was in pain due to an infection on the spine but it turns out that it's likely Burkitt lymphoma, however pathology results are still pending.
The doctor's rep also states that he's unsure if the lymphoma has spread at this point, however, he there's a "good prognosis" for those who are diagnosed with Burkitt lymphoma
As for her spinal cord recovery, Dr. Melamed told E! News that "it's looking good" and that he's optimistic about her recovery. However,  he cautions that Abby Lee is "not out of the woods yet" and that she will likely need another spinal surgery.
As for her movement, Melamed says she's been able to move her arms, legs and toes, which is a "very good sign."
Melamed said despite the preliminary diagnosis the reality star was in better spirits than in recent days.
Yesterday, E! News reported that the 51-year-old underwent surgery in order to remove a mass close to her spine. At the time, Saah explained that if the mass had not removed it could have caused Miller to die or be paralyzed.
According to the doctor, the reality star, who recently was released from prison, was paralyzed and could not move on Monday. However, she is now able to move her arms, toes and could feel touches from the doctor, post-surgery.
On March 27, Miller was transferred from the FCI Victorville prison in California to a halfway house in Long Beach, after spending over eight and a half months in federal prison. As E! News reported in March, Miller's  June 21 release date was moved up to May 25 and now it's expected she'll serve the remaining two months of her term at the halfway house.
Miller was famously sentenced to one year and one day in prison followed by two years of supervised release in May 2017 after she pleaded guilty to the charge of concealing bankruptcy assets and to one count of not reporting an international monetary transaction. She was also fined $40,000 and ordered to pay a $120,000 judgment. The reality star reported to FCI Victorville two months later. 
"Sometimes in life you make mistakes," she wrote on social media in January. "I trusted the wrong people and didn't pay any attention to things I should of. I'm more than sorry for the mistakes I have made. My world flipped upside down when I had to enter prison. I did so with grace."
During her time in prison, Abby Lee passed  a real estate class and received a personal finance class diploma.
As she later updated in February, "I'm surviving because the fire inside me burns brighter than the fire around me."
People magazine was the first to report this story.