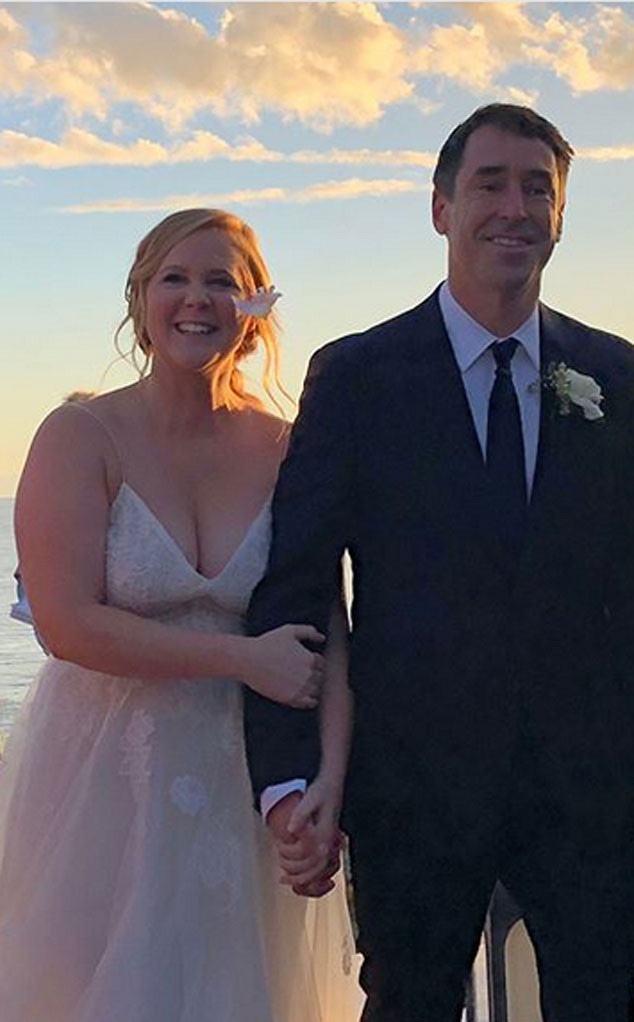 Instagram
Even Ellen DeGeneres couldn't believe Amy Schumer was getting married earlier this year! To everyone's surprise on Feb. 13, Schumer tied the knot with chef Chris Fischer in Malibu. A few famous friends, including Jake Gyllenhaal and Jennifer Lawrence, received last-minute text message invites and were able to attend the sunset ceremony—but DeGeneres was sadly M.I.A. Schumer revealed on The Ellen DeGeneres Show Wednesday that she and Fischer had decided to get married on Feb. 10, shortly before the talk show host's star-studded 60th birthday party.
"Celebrities are supposed to be quiet when they're getting married. We got engaged that morning, so we were going around and going, 'We're getting married!' We were going around and we were getting advice from everybody, and I was looking for you," said Schumer, who stars in I Feel Pretty. "I never even got to say hi to you! I saw you—you were on the dance floor—and you were in the zone. I couldn't stop you; it was like a flash-dance situation." Later, Schumer said she texted the host about her engagement and invited her to attend the wedding.
DeGeneres said her wife, Portia de Rossi, clued her in after the party. "Portia said, 'Amy kept telling everybody she's getting married,'" she recalled. "She really thought you were kidding!" As for why she missed the ceremony, DeGeneres said, "I was doing a show. I would have gone."
"No, everyone has an excuse..." the newlywed replied, pretending to be miffed.
Later in the episode, during a round of "Burning Questions," Schumer revealed some NSFW details about her sex life with Fischer—and temporarily forgot her mom was in the audience.
Watch the video to see how it all went down!