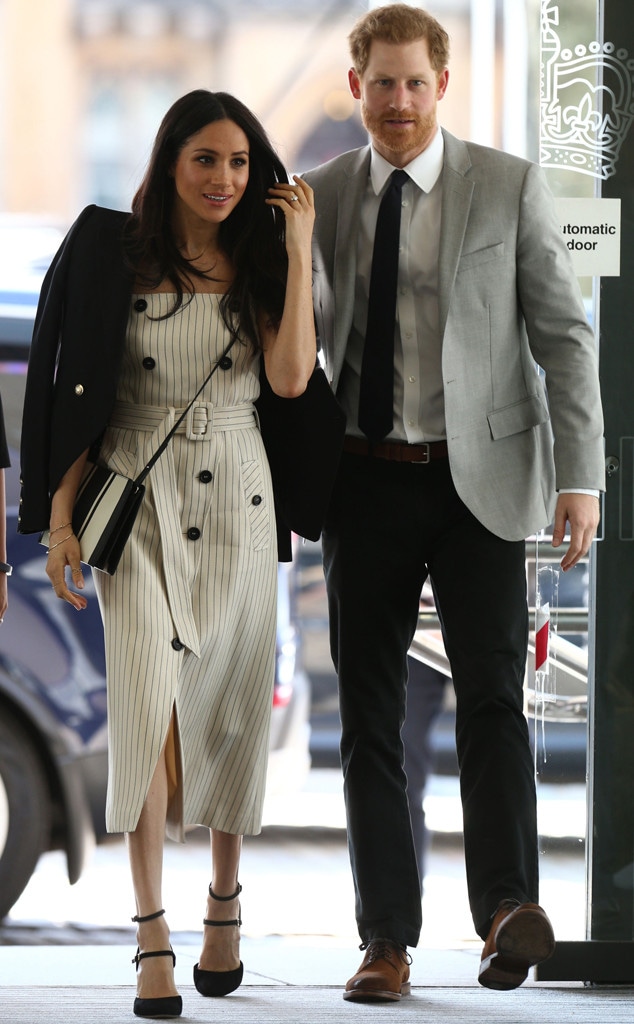 Associated Press
They may not be wife and husband just yet, but Meghan Markle and Prince Harry are already working like an official pair. 
Just two months ago, the American star shared how she has been preparing to join the Royal Foundation by working "quietly" behind the scenes ahead of their May nuptials. It seems Markle is ready to move into the forefront as evidenced by her Wednesday appearance at the Commonwealth Youth Forum alongside her royal beau. 
A few days earlier on Monday, Prince Harry arrived to the ongoing forum in London without his fiancée as the new Commonwealth Youth Ambassador, appointed by his grandmother, Queen Elizabeth II. 
"I am also incredibly grateful that the woman I am about to marry, Meghan, will be joining me in this work, of which she too is hugely excited to take part in," he teased in a speech earlier this week. 
That time finally arrived today when the future bride and groom arrived in tandem to the Queen Elizabeth II Conference Centre, where they mingled with young delegates from all over the Commonwealth. As the couple chatted with the delegates, the young people shared what they have learned from each other during this week as they debate challenges their generation faces and work to create initiatives to influence decision makers. 
"You have this umbrella to hold you together," Markle told some of the delegates. "It's incredible. Stay in touch—maximize it."
The work plays into the forum's theme this year of "Powering Our Common Future." For the soon-to-be royal couple, Prince Harry and Markle seem to be shaping their future on their own terms. Seemingly keen on being involved, Markle's appearance on Wednesday marks a rare moment as it is typically unusual for someone who has not yet married into the royal family to be involved in a high-profile occasion like the Commonwealth Heads of Government Meeting Summit, which the Commonwealth Youth Forum falls under. 
However, Markle's relationship with the royal family continues to break with tradition as she was also the first fiancée to join the family for Christmas. 
The work is just beginning for the soon-to-be married pair as they will also attend a women's empowerment reception on Thursday, hosted by Foreign Secretary Boris Johnson. 
The event will involve charities and organizations that work to promote global gender equality through education for girls—a cause close to Markle's heart. 
"I said she was a great champion and ambassador for women and that she should start a SheForShe campaign," Karuna Rana, a Commonwealth Youth Climate Change Network leader,  said of Markle. "She said she'd think about it—right after May 20."